Garlic Gnocchi with Paneer and Spinach
I first came up with the idea for Garlic Gnocchi after a trip to Costco unearthed the treasure of Kosher paneer cheese. Those of you that shop at Costco know that each trip can be a hunt for the latest, most interesting things – food and otherwise.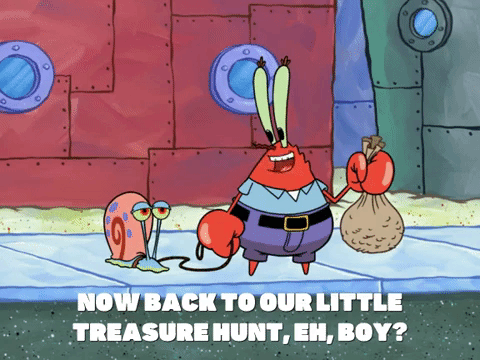 Paneer cheese is a firm, diceable, mild cheese that is often used in Indian food. It's similar in texture to Haloumi cheese, which can be substituted in this recipe if you can't find Paneer.
The truth is I had to Google what to do with it when I found it.
The problem with Paneer
The problem with Paneer cheese is that it's hard to find Kosher. The only place I was able to find it was at Costco, and I couldn't even order it online from Costco. I had to go to the store.
So…when I wrote this recipe I actually made the Paneer from scratch. It's true.
Homemade Paneer Cheese requires three ingredients: whole milk, fresh lemon juice and salt.
Since I couldn't find it, I made it. It came out a little softer than the store bought variety, but it was delicious and worked perfectly in the dish. Here's a link to Homemade Paneer Cheese recipe.
Don't despair though. You don't have to make cheese from scratch. If you can't find Paneer, you can use Haloumi or even extra firm tofu. Yes…tofu.
Don't forget about the Garlic Gnocchi
The original gluten free Gnocchi recipe was developed during Passover one year. I was trying to duplicate the expensive store bought Passover noodles (which I did…yay me!), and got lazy at one point and made them into Gnocchi.
They were wonderful.
I didn't expect it.
What I really liked about the Gnocchi was they were very quick to make. Mix a few ingredients in a bowl, roll into four ropes, cut into small pieces, press with a fork then cook.
Similar to the Paneer cheese, if you don't have the time to make Homemade Garlic Gnocchi, I suppose you can use the store bought kind. Sigh.
Putting it all together
I sautéed and browned the Paneer in butter. Yes butter.
If you're going to do it dairy, do it right.
Then I added the cooked Garlic Gnocchi to brown it ever so slightly, then the spinach.
Spinach is a regular laugh riot.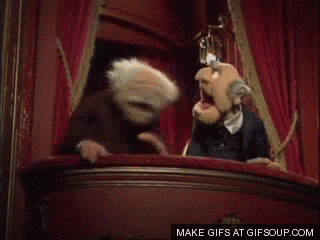 You start with a huge bag of baby spinach, and when you're done cooking it it's like a cup of wilted spinach. What's up with that?
Anyway…
The point is…when you start to cook the spinach it looks ridiculous. There's this big pile of spinach in the pan. The reality is that in a few short minutes it will completely cook down. You can add it to the pan in phases, I added it in two.
It's actually kind of fun to pile the spinach on top of the Garlic Gnocchi and Paneer.
Here's the Recipe
I also added a tablespoon of grated parmesan to give the Garlic Gnocchi with Paneer and Spinach additional richness.
Instead of traditional extra virgin olive oil, I used my favorite garlic oil to give a huge garlicy punch to the gnocchi. You do not have to use the same amount of garlic oil, and can substitute some or all of it with extra virgin olive oil.
Print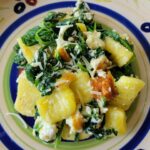 Garlic Gnocchi with Paneer and Spinach
Author:

Prep Time:

45

Cook Time:

30

Total Time:

70 minutes

Yield:

48

garlic gnocchi

1

x

Category:

Pasta

Method:

Cooking

Cuisine:

Gluten Free

Diet:

Kosher
---
Description
Garlic Gnocchi with Paneer and Spinach is a wonderful melding of flavors. The cheesy flavor of the paneer compliments the taste and texture of the Garlic Gnocchi. The spinach adds taste, color and a little healthiness to this rich dish!
---
For the Garlic Gnocchi
1 1/4 cups

potato starch

1/2 cup

mashed potato flakes

2

–

3

tablespoons garlic oil

3

large eggs
Additional water
To finish
2 tablespoons

butter

1

recipe Homemade Paneer Cheese, or 1 (

8

–

10

ounce) package paneer cheese, diced

10 ounces

baby spinach

1 tablespoon

grated parmesan

1/4 teaspoon

crushed red pepper
salt and freshly ground black pepper to taste
parmesan to garnish
---
Instructions
Combine the potato starch and mashed potato flakes in a large bowl.
Add the eggs and garlic oil. Using a large spoon or your hands, knead the dough until soft and smooth. You can add additional oil up to 3 tablespoons and a little water if necessary to achieve the proper consistency.
Cut the dough into four pieces. Roll each piece into a long log, around and inch thick. Cut the log into one to one and a half inch pieces. Press the tines of a fork into each gnocchi, making the cute little lines on top.
Bring a large stock pot of water to a boil. Add the gnocchi to the water, working in batches if necessary. Cook for five minutes. Transfer the cooked gnocchi to a bowl and set aside.
To Finish
Melt the butter in a large skillet (12-inch). Add the dices paneer and sauté until the paneer is lightly browned.
Add the cooked gnocchi, and toss with the paneer. Allow the gnocchi to brown slightly and to heat completely through.
Pile the spinach on top of the pan, and cook stirring frequently, until the spinach is wilted. You can cook the spinach in batches if necessary, leaving the already wilted spinach in the pan.
Season the gnocchi with the parmesan, crushed red pepper, salt and pepper.
Serve hot garnished with additional parmesan.
---
Notes
Serve this dish hot, the gnocchi are not as tasty cold.
If you don't have time to make the paneer, feel free to use store bought paneer. Dice it as directed in the recipe.
If you don't have time to make the paneer and can't find Kosher paneer cheese in the store, you can substitute halloumi cheese or even super extra firm tofu. Note: if you do use tofu you can make this dish dairy free by using plant based parmesan.
If you don't have time to make the Garlic Gnocchi, feel free to use store bought gnocchi. While it won't be as delicious as the home made, it will still be exceptionally tasty in this dish.
From what I was able to tell from my research, I wasn't able to find a plant based recipe for paneer cheese. Using almond milk to make it didn't seem to work as well. If you happen to find a good recipe please let me know.
If you are not a huge garlic fan, feel free to substitute extra virgin olive oil. Additionally, if three tablespoons of garlic oil makes the gnocchi too garlicy, you can use a mixture of garlic and extra virgin olive oil instead.
Keywords: Gnocchi, Paneer, Gluten Free, Spinach, Kosher Recipe, Dinner
Recipe Card powered by
Here are some more perfect pasta recipes
FOLLOW ME!
Don't forget to follow Kosher Everyday on Instagram @koshereveryday! and on Facebook You don't want to miss all the fun and interesting posts and reels that can be found nowhere else!
You can find reels showing how to make most of my recipes on Instagram!
Also, make sure to tag @koshereveryday when you make Kosher Everyday recipes! I LOVE to see your creations!!!
Please note that this post contains affiliate links. Thanks for your ongoing support!