Cauliflower Shawarma with Cashew Tahini
I've been seeing recipes for Cauliflower Shawarma floating around for a little while, like in the Chicago Tribune and New York Times, and I'm intrigued. For those Flexitarians, or vegetarians, or people who just want to eat healthier, the concept of substituting cauliflower for lamb or turkey in a shawarma is an interesting one.
As someone who has eaten her share of authentic Shawarma Laffa's in Israel and at Kosher Middle Eastern restaurants here in Chicago, I know what a Shawarma Laffa is supposed to taste like.
I happen to love Shawarma.
The Challenges in Making Cauliflower Shawarma
The truth is there aren't a lot of challenges in making Cauliflower Shawarma. When I made mine, I simply roasted cauliflower with oil, ready made (Kosher for Passover) shawarma seasoning and called it a day.
The real challenge is in making the add-ons, like tahini and laffa, gluten free and Kosher for Passover.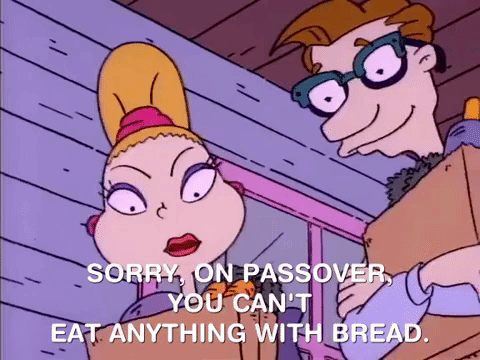 Why is this Tahini different from any other Tahini
Because I'm making my Cauliflower Shawarma on Passover, and because I'm of Ashkenazi decent, I don't eat a type of food called "kitniyot".
According to Wikipedia:
Kitniyot (Hebrew: קִטְנִיּוֹת, qitniyyot) is a Hebrew word meaning legumes.[1] During the Passover holiday, however, the word kitniyot (or kitniyos in some dialects) takes on a broader meaning to include grains and seeds such as rice, corn, sunflower seeds, and sesame seeds, in addition to legumes such as beans, peas, and lentils.[2]
The bottom line is that tahini is, by definition, made from sesame seeds – which are classified as Kitniyot.
What's an Ashkenazi girl to do?
Get creative.
Cashew Tahini
I tried to come up with a nut that might have similar, but realistically not exact, taste to toasted sesame seeds. I've used cashews in sauces before, Claudette's Haystacks comes to mind, and I figured if I added the same ingredients that are in tahini found in a shawarma restaurant it might be pretty darn close.
The recipe started with the same ingredients as traditional tahini – nuts (instead of seeds), water and oil. I ground those in a food processor then added parsley, cilantro, garlic powder and water. It turned out even better than I imagined.
One of the major differences is that it's ever so slightly sweeter than year round, sesame seed tahini.
I was pleased with it.
The Laffa
Last year I posted a recipe for Quinoa Tortillas. They're made from quinoa flour and are Kosher for Passover. They'd work really well in this recipe. In fact, I was going to use them in this recipe until my dear friend, @justonebite201 on Instagram, posted a recipe for Kosher for Passover Gluten Free Laffa. They looked SO good I simply had to try them.
They are amazing.
The recipe is simple, just a few ingredients, and they turned out extremely similar to glutenous wheat based laffas. I was impressed. I'll add the recipe to the recipe box.
The Rest of the Cauliflower Shawarma Ingredients
A key ingredient in a good shawarma laffa sandwich are the fries. I recently saw a post from America's Test Kitchen for making restaurant quality fries using cold oil. The concept was intriguing, and I decided to try it here. I fried my homemade fries in avocado oil, starting with cold oil. They turned out great! I also made some using hot oil and those also turned out well. Up to you.
I didn't have any pickles in the house or marinated carrots/cole slaw otherwise we could have added those as well. During the year I might have added some spicy hummus to the recipe. Given that it's Passover…I passed.
It's important to add diced tomatoes and cucumber to the laffa. I also tossed in some crushed red pepper to simulate the schug (spicy red pepper spread) that is traditionally put in a spicy laffa. It worked.
Passover vs Year Round
Assuming that the Cauliflower Shawarma stays as a year-round, plant based alternative, there are a few things that I might or might not have changed if making them not on Passover.
Making these Kosher for Passover is more challenging than making Cauliflower Shawarma during the year. I might have skipped the Cashew Tahini and used traditional store bought tahini, which would have saved some time. Making homemade fries are always best, but in a pinch I might have used a gluten free frozen variety (gasp!).
I still would make the laffas the way I made them this time. They're AWESOME!
I have yet to find a kosher, gluten free laffa that is as good as this one. Bonus that it wasn't too complicated to make.
The recipe for Cauliflower Shawarma with Cashew Tahini
Print
Cauliflower Shawarma with Cashew Tahini
Author:

Prep Time:

45 minutes

Cook Time:

40 minutes

Total Time:

85 minutes

Yield:

4

-

5

Cauliflower Shawarma Laffas

1

x

Category:

Main Dish

Method:

Baking

Cuisine:

Plant Based

Diet:

Gluten Free
---
Description
Cauliflower Shawarma with Cashew Tahini is made with healthy shawarma seasoned cauliflower, legume free cashew tahini and homemade laffa. It's the perfect Passover mid-week dinner, or year round healthy gluten-free/plant based alternative.
---
For the Shawarma Cauliflower
oil or non-stick spray for greasing the pan

1

pound

cauliflower florets, cut into small pieces

1

small (5 to 6-ounce) sweet onion, thinly sliced

2 tablespoons

extra virgin olive oi

2 tablespoons

(Kosher for Passover) shawarma seasoning
For the Cashew Tahini
1

cup

whole cashews

3 tablespoons

safflower or avocado oil

2 teaspoons

fresh cilantro,finely chopped

1/4 teaspoon

dried parsley flakes, or

1 teaspoon

fresh parsley, chopped

1/4 teaspoon

garlic powder

1/2 teaspoon

kosher salt

1/2

cup

water
For The Gluten Free Laffas (makes 4-5)
1 1/2

cups

almond flour

1 1/2

cups

tapioca starch

1/4 teaspoon

kosher salt

1 1/2

cups

water
oil to grease the pan
To Finish
1

large tomato diced

1

medium english cucumber diced
french fries, optional
crushed red pepper, optional
additional cilantro leaves, for garnish
---
Instructions
For the Shawarma Cauliflower
Preheat oven to 375°F.
Line a large baking sheet with foil, then grease with oil or non-stick spray. Set aside.
Place the cauliflower and onions in a large bowl. Toss with the oil and shawarma seasoning. Transfer to the prepared baking sheet, and spread evenly on the pan.
Bake for 30 minutes. Remove the pan from the oven and stir the cauliflower in the pan, distributing it evenly on the pan when done.
Bake an additional 10 minutes. Remove from the oven.
For the Cashew Tahini
While the cauliflower is baking, prepare the Cashew Tahini.
Place the cashews in a large skillet, and stir over medium heat until toasted, around 5-8 minutes.
Transfer the cashews to the bowl of a food processor. Add the oil and salt and process until smooth.
Add the water, cilantro, parsley, garlic powder and salt. Process until completely smooth.
Transfer to a storage container with a tight sealing lid. Can be made a day in advance.
To Finish
Place a laffa on a cutting board or large plate.
Layer the shawarma cauliflower, diced tomato, diced cucumber, french fries and crushed red pepper onto the laffa, finishing with spoonfuls of Cashew Tahini.
Fold the bottom of the laffa over the filling, then tightly roll the laffa around to tightly wrap.
Secure with a wax paper sheet.
For the Gluten Free Laffas
In a large bowl whisk together the almond flour, tapioca starch and salt. Blend in the water.
Heat a large, greased skillet over medium/high heat. Spoon batter onto the skillet and spread to make a large circle. Fry, turning, until browned on both sides.
Repeat with the remaining batter.
---
---
Notes
Make sure the cauliflower is completely dry before adding the oil and spices, otherwise it steams in the oven instead of caramelizing.
Feel free to double the Shawarma Cauliflower section of the recipe for fuller Cauliflower Shawarmas.
If not making this on Passover you can substitute:
Traditional tahini
Non-Kosher for Passover shawarma seasoning
Traditional Gluten Free Laffas
Keywords: Kosher For Passover, no kitniyot, non-gebroks, gluten free, dairy free, meat free, plant based vegan, flexitarian, reducitarian, kosher
Recipe Card powered by
MORE PASSOVER RECIPES
Please let me know what your favorite Passover foods are. I'd love to hear from you!
I'm sure you're looking for Passover recipes…
Here are a ton! Click on the image!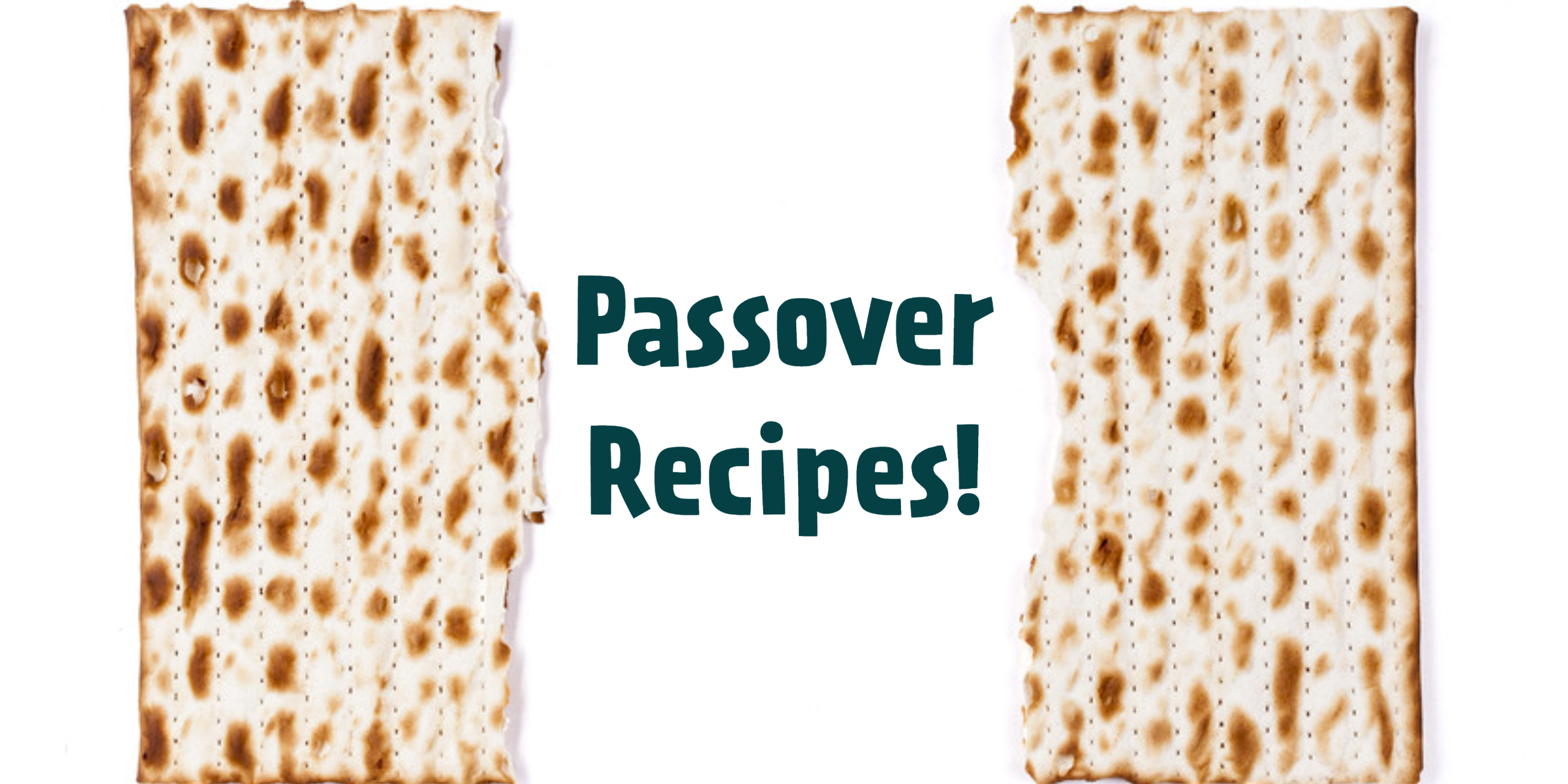 SHABBOS UNDER PRESSURE MEANS PRESSURE FREE PASSOVER!
FYI: I'm here to help make it way easier for you and reduce your pressure with my book "Shabbos Under Pressure". I've found that using my electric pressure cooker to prepare for Passover, makes the cooking way easier and more efficient. For example, instead of cooking a huge pot of chicken soup on the stove for three hours, taking up valuable space on my stovetop, I can make even better soup in just an hour/hour and a half in my Instant Pot. I've even put together a Shabbos Under Pressure Passover Recipe Guide to help you convert the recipes in the book to Passover friendly recipes. If you don't already have "Shabbos Under Pressure" now would be a great time to order it to ensure that you receive it with enough time to plan and cook your Passover meals.
You can order it here: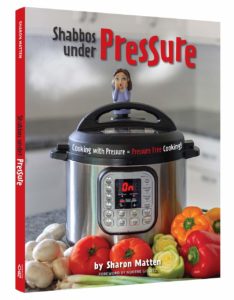 Here's the Passover Under Pressure – The Shabbos Under Pressure Passover Guide: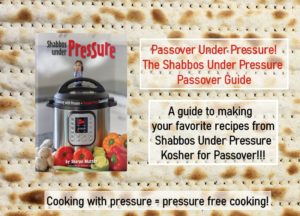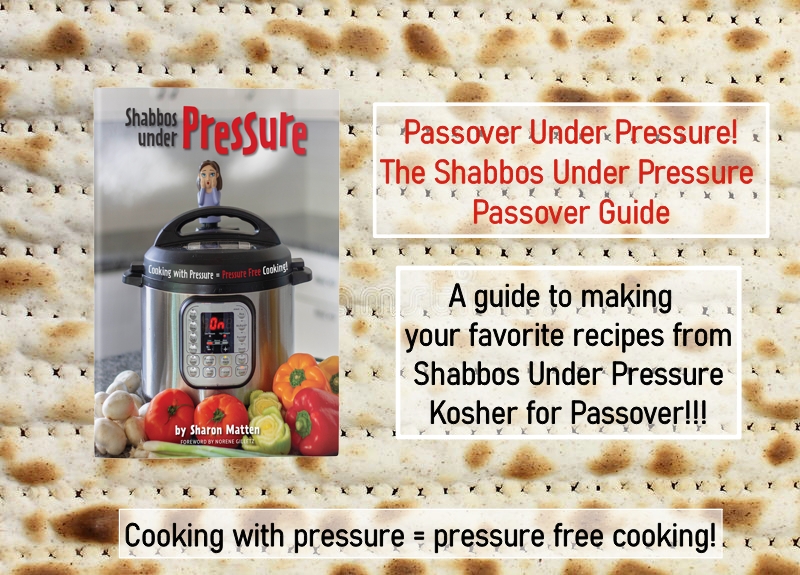 MAKE SURE TO CHECK OUT MY "I CAN'T BELIEVE THEY'RE PASSOVER BAGELS"!!
PASSOVER IDEA LIST ON AMAZON
I also put a Passover Idea List on Amazon.
These are item's I recommend to help make your Passover even more wonderful.