A Dozen Corned Beef Roses
While Dear Husband and I don't take Valentines day all that seriously, we do acknowledge the day with simple things like chocolate, cards and sometimes inexpensive stuffed animals. A number of years ago, I decided to do something out of the box and made Dear Husband a Dozen Corned Beef Roses.
Yes.
A Dozen Corned Beef Roses.
Making the Corned Beef Roses
Making the Corned Beef Roses is actually fairly simple. I used a package of corned beef/pastrami with large, long, wide slices. Then I wrapped them around a stick, tied them with a ribbon, put them in a vase/mason jar, and added some fresh parsley for the greens. It was surprisingly easy with just a few ingredients.
When I made a Dozen Corned Beef Roses the first time and Dear Husband Loved them!
When I made them the first time Dear Husband loved them. I made them out of corned beef that time rather than pastrami (which is really a type of corned beef).
Making A Dozen Corned Beef Roses This Year
This year I actually ordered sticks from Amazon as opposed to using shish kabob skewers. They were way nicer and were pretty reasonably priced.
This is what the roses looked like before adding greenery.
Dear Husband was thrilled. He likes beef.
Here's my Instagram reel to show you how to make them!
View this post on Instagram
More Flower Recipes for your Sweetheart
CHECK OUT THE KOSHER EVERYDAY AMAZON INFLUENCER STOREFRONT!
I'm excited to announce the launch of my brand, spankin' new, Amazon Influencer storefront. The purpose of this store is to share with you all of my favorite tools, ingredients and accessories that I use on Kosher Everyday. If there's something you'd like to see please let me know and I'll make sure to add it. I'm updating the storefront all the time.
I've put together a complete Gluten Free Challah Storefront with everything you need to make fabulous Gluten Free Challah!
Additionally there is a Small Appliance Storefront with many awesome small appliances that I recommend for your kitchen…even if you have a small space!
I'd love to hear what you think!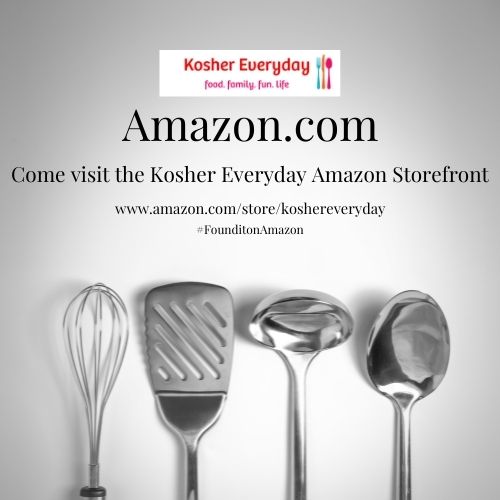 FOLLOW ME!
Don't forget to follow Kosher Everyday on Instagram @koshereveryday! and on Facebook You don't want to miss all the fun and interesting posts and reels that can be found nowhere else!
You can find reels showing how to make most of my recipes on Instagram!
Also, make sure to tag @koshereveryday when you make Kosher Everyday recipes! I LOVE to see your creations!!!
Please note that this post contains affiliate links. Thanks for your ongoing support!