Before my father (z"l) passed away he suggested taking the horseradish root tops used on the seder tray and planting them in our Optimistic Garden. The idea was that if we remembered to save the tops and plant them, in future years, we'd have our very own fresh, homegrown horseradish root.
A few years ago, I finally remembered.
Last year I dug up a small, mini sized horseradish root. There were great greens on the top, but the roots themselves were not stellar. I pulled up enough for the seder tray but had to purchase (very dirty) horseradish root for Zadie's Chrayn.
If you don't already know, chrayn is ground fresh horseradish root combined with rossel – fermented beat juice. You can read about my father and his special chrayn here.
This year I've already put the beets up to ferment to make the rossel to add to the ground horseradish to make the final chrayn.
Dad always said the dirtier the horseradish, the fresher, hotter and more potent the roots were. By using the dirtiest roots the ground chrayn that was made from them would be killer.
He was right.
This year's horseradish should be epic.
I always make too much chrayn.
I can't help it. I manage to find a gorgeously dirty horseradish in one store and then another even dirtier one in another.
So…the question is, what to do with all the extra Chrayn. I, of course, give out jars to friends and neighbors, but there is still a lot left over. I've decided to use some to make a fabulous Horseradish Cream to accompany my most excellent Chopped Steak Pastries!
The dough for the pastries is very similar to the one that I used for the Savory Tri-Colored Triangle Pastries on Purim. I modified it so that it can be made without xanthan gum, which can be challenging to find on Passover. If you like, you can add additional ingredients/spices to this dough as well.
I also bought adorable little flower press molds on Amazon.com. They come in three different sizes in the package, so you can make multiple or just one size pastry.
If you don't get the presses you can cut out circles and either make circle shaped pastries or half circle shaped pastries…just crimp before frying in avocado oil.
The key to using the molds and working with the dough is to wear vinyl gloves, spray/grease the mold and working surface. Using additional almond flour isn't as effective.
Chopped Steak Pastries will also last in the fridge for a few days so you can make them in advance, just heat them uncovered in the oven before serving. They make a great appetizer or side dish.
For the sauce you can either use store bought horseradish cream or add some Kosher for Passover mayonnaise to the jarred horseradish sauce/chrayn.
Here's the recipe:
Chopped Steak Pastries with Horseradish Cream
---
Description
These cute little pastries are perfect for your seder as an appetizer or side dish. The Horseradish Cream is the perfect way to use up your seder's leftover horseradish!
---
For the Pastry
2 cups

almond flour

1/4 cup

coconut flour

1 teaspoon

kosher salt

2

large eggs plus 1 large egg white
Oil for frying (I prefer olive or avocado)
Baking sheet lined with paper towels
For the Filling
1/2

pound cooked chuck steak, finely chopped

2

medium shallots, chopped

2

garlic cloves, chopped

2 tablespoons

extra virgin olive oil

1/2 cup

cilantro, coarsely chopped

1/2 teaspoon

kosher salt

1/2 teaspoon

freshly ground black pepper
For the Horseradish Cream
1/4 cup

prepared horseradish sauce

1/4 cup

mayonnaise
or

1/2

store bought horseradish cream
---
Instructions
For the Filling
Heat the 2 tablespoons oil in a medium skillet. Add the onion and garlic and sauté until soft and slightly caramelized.
Mix in the chopped steak, cilantro, salt and black pepper. Set aside.
For the Pastry Dough
In a large bowl combine the almond flour, coconut flour and kosher salt.
Knead in the eggs and egg whites until completely combined.
To Make the Pastries
Roll or press small pieces of dough until approximately 1/8-inch thick. Cut the dough into the desired shape using the greased bottom of the mold or a round cutter. Repeat with another piece of dough.
If using a mold, place the first piece of dough on the greased open mold. Add a small amount of filling to the center. Top with the second shaped piece of dough. Carefully and gently press the mold closed, removing the excess dough from the sides of the mold. Open the mold and remove the pastry.
If using a round cutter or glass, place a piece of dough on a work surface. Place a small amount of filling in the center. Top with the second piece of dough and crimp the edges by hand or with a fork.
Repeat with the remaining dough and filling.
To Finish
Heat around 1-inch of oil in a large skillet or Dutch oven. Add several pastries to the hot oil, being careful not to crowd the pan, and fry on both sides until golden brown. Transfer to a prepared pastry sheet. Serve with Horseradish Cream.
For the Horseradish Cream
Blend together the prepared horseradish sauce and mayonnaise. Refrigerate if not serving immediately.
Repeat with the remaining pastries.
---
Recipe Card powered by
Please let me know what your favorite Passover foods are. I'd love to hear from you!
I'm sure you're looking for Passover recipes…
Here are a ton! Click on the image!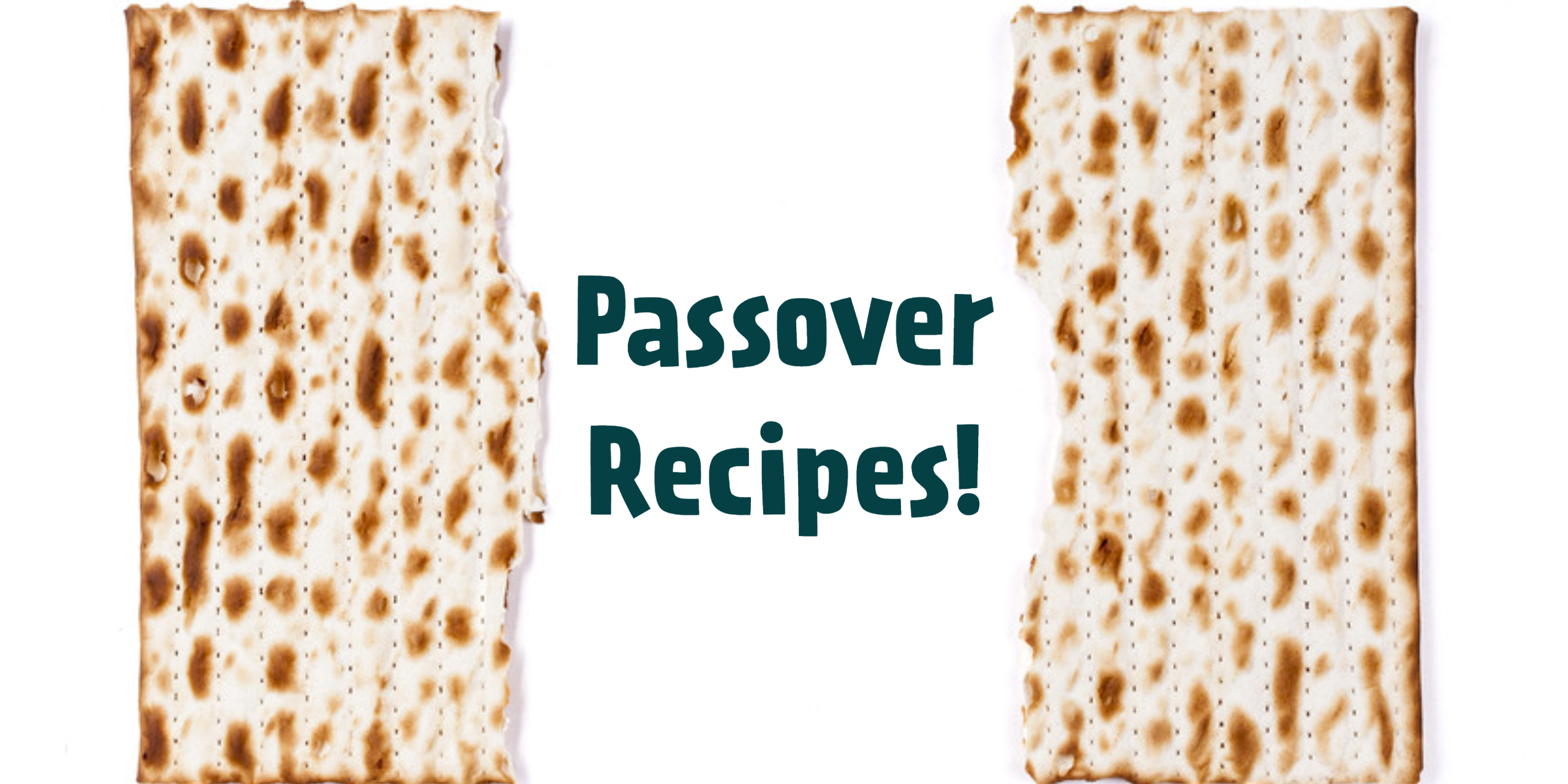 FYI: I'm here to help make it way easier for you and reduce your pressure with my book "Shabbos Under Pressure". I've found that using my electric pressure cooker to prepare for Passover, makes the cooking way easier and more efficient. For example, instead of cooking a huge pot of chicken soup on the stove for three hours, taking up valuable space on my stovetop, I can make even better soup in just an hour/hour and a half in my Instant Pot. I've even put together a Shabbos Under Pressure Passover Recipe Guide to help you convert the recipes in the book to Passover friendly recipes. If you don't already have "Shabbos Under Pressure" now would be a great time to order it to ensure that you receive it with enough time to plan and cook your Passover meals.
You can order it here: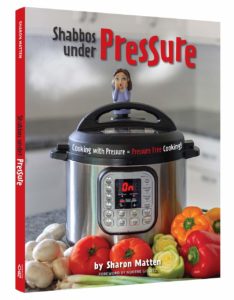 Here's the Passover Under Pressure – The Shabbos Under Pressure Passover Guide: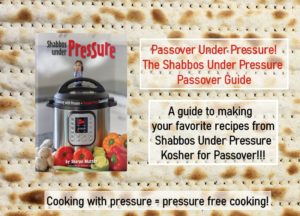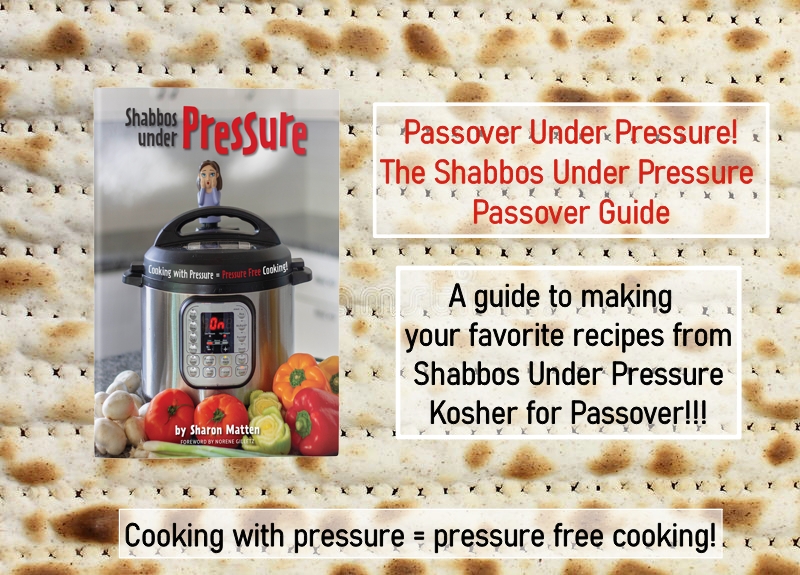 Make sure to follow Kosher Everyday on Facebook and Instagram so you don't miss the latest and greatest Passover recipes and fun from Kosher Everyday!