Triple Citrus Basque Cheesecake
Last week I was on Jury Duty. It was an incredible experience, and if you can sit on a jury I highly recommend it. As a Juror I had to be in court, but there was a lot of waiting and off time. I spent that time catching up on my magazine reading, primarily my Better Homes and Gardens. I was insanely excited when I came across the recipe for Triple Citrus Basque Cheesecake. With Shavuot, The Dairy Holiday, right around the corner this cheesecake was going to be our new family favorite!
What is a Basque Cheesecake?
According to bhg.com:
"Basque cheesecake is said to have originated in 1990 in San Sebastian, Spain. Unlike American cheesecake, it bakes at a very high temperature that creates a caramelized exterior while its interior remains scrumptiously soft."
This is what the picture of the cheesecake looks like in the magazine:
In reality a Basque Cheesecake is so much more. It's light and fluffy and almost souffle-like on the inside and a little caramely on the outside. It's like eating a slice of heaven. I was stunned after taking my first bite.
It's. That. Good.
Triple Citrus Basque Cheesecake is naturally gluten free
Another thing that's great about the Triple Citrus Basque Cheesecake is that it has no crust, making it naturally gluten free.
It also means you don't have to patchke with a crust.
HUGE BONUS!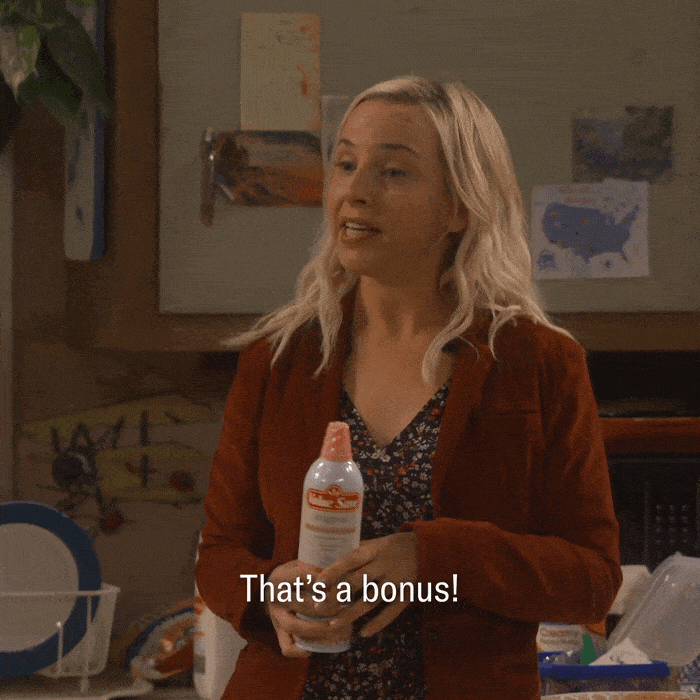 Making Triple Citrus Basque Cheesecake
What's great about the Triple Citrus Basque Cheesecake is that it's fairly straight forward to make: citrus zest, cream cheese, marscapone, cream and citrus liqueur.
I actually had all the ingredients this time and didn't even need to order anything last minute!!!
The most important thing to remember is to make sure that all your ingredients are room temperature. That's the case for any cheesecake. According to Thermoworks:
"If they're added to the batter cold they will chill the cream cheese, causing it to solidify and make the batter lumpy even if it started out completely smooth".
And there you have it.
A few little tips
I was really surprised by how hard it was to move the cheesecake off of the parchment paper. It took two spatulas and a few words I generally don't say to get it onto the cake plate. Putting it back into the pan to store was a joke.
I'm going to give everyone fun looking slices and tell them that's what it's supposed to look like.
My Dear Friend Paula Shoyer, The Kosher Baker, wrote a recipe for Chocolate Basque Cheesecake. In that recipe she brilliantly suggests putting an additional parchment circle over the layers of square parchment. That makes it way easier to move from one plate to another without all the drama.
Thanks Paula! It's good to have smart friends.
Making Triple Citrus Basque Cheesecake even fancier
I wanted to make the cheesecake even fancier, for that crazy wow factor when served.
My kids often say "Mom…you're extra…"
I'm not sure if it's a compliment or not but in this case, it's totally true.
Piling on the Candied Citrus
I'll tell you about the candied citrus in a sec, however I just need to show you my initial Triple Citrus Basque Cheesecake piled high with the Candied Citrus.
It was totally extra.
I ended up taking a lot of it off in the end but I'm still on the fence about whether I liked the more fruity looking version.
Candied Citrus Fruit
I decided to make candied citrus fruit. I figured, how hard could it be?
Right?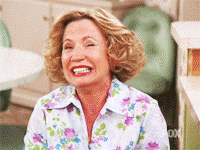 I washed all the oranges, lemons and limes with veggi wash to remove any waxy coating, pulled out my handy dandy OXO folding mandoline, pulled on my Microplane cut resistant gloves, then started slicing away.
Easy right?
Then I searched for a recipe online for making candied citrus fruit and found one on Taste of Home. I figured since I was doing oranges, lemons and limes I should probably double the recipe.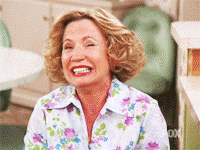 Everything was going swimmingly. I put the citrus in the pot and followed the directions.
The citrus looked really awesome when I took it out and put it on a silicone mat lined baking sheet.
The problem was the fruit never really dried out enough to be actually candied. I think I probably shouldn't have doubled the syrup recipe and left it as a single recipe.
The fix wasn't all that difficult though. I simply turned on the dehydrating mode on my oven and ran it for a couple of hours, and that did the trick.
I'll post the recipe below, and how you decide to proceed is totally up to you of course. You are the Executive Chef in your kitchen after all!
Here's the Recipe for Triple Citrus Basque Cheesecake
This is a fairly straight forward cheesecake to make. The only thing that was a little off-putting was lining the round pan with two square pieces of parchment paper. It's like putting a square peg in a round hole.
I think that this is supposed to be a more rustic looking cheesecake so, while I tried to shape the parchment as well as I could, in the end I kind of punted.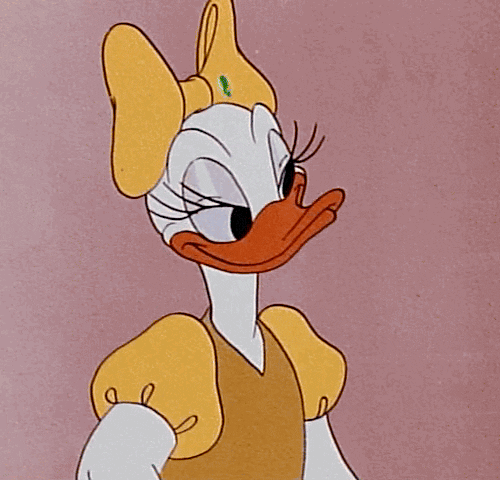 Print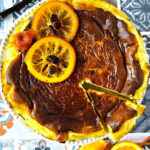 Triple Citrus Basque Cheesecake
Author:

Prep Time:

30 minutes

Cook Time:

55 minutes

Total Time:

85 minutes

Yield:

1

Cheesecake

1

x

Category:

Dessert

Method:

Baking

Cuisine:

Gluten Free

Diet:

Kosher
---
Description
Triple Citrus Basque Cheesecake is light, fluffy and airy on the inside and a little caramely on the outside. The addition of citrus makes Triple Citrus Basque Cheesecake the perfect light Shavuot dessert. It's easy to make and because there's no heavy crust, it's gluten free. This is one of the best cheesecakes I've ever had, and your family and friends will love it as much as I do.
This recipe was originally created by Better Homes & Gardens Magazine, May 2023, page 104.
---
For the Cheesecake
1 1/3 cups

granulated sugar

1 1/2 teaspoons

grated lemon zest

1 1/2 teaspoons

grated lime zest

3

(8-ounce) packages cream cheese, room temperature

1

(8-ounce) carton mascarpone cheese, room temperature

6

large eggs, room temperature

1 1/4 cups

heavy cream, room temperature

1 tablespoon

orange-flavored liqueur or fresh orange juice

1 teaspoon

salt

1 teaspoon

pure vanilla extract
sea salt flakes (optional)
1

large navel orange, thinly sliced

2

large lemons, thinly sliced

4

limes, thinly sliced

2 1/4 cups

granulated sugar

2 cups

water
---
Instructions
For the Cheesecake
Preheat oven to 425°F. Line a 9-inch springform pan with two 15×15-inch pieces of parchment paper, extending over edges of pan 2 to 3 inches. Place prepared pan on a large rimmed baking sheet.
For filling, in a large bowl beat together sugar, lemon zest and lime zest until the zest is evenly distributed througout.
Add cream cheese and mascarpone; beat on medium until smooth and sugar has disolved.
Beat in eggs, one at a time, until combined.
Add cream, liqueur, salt and vanilla. Beat on medium until combined, scraping bowl as needed (mixture will be thin)
Pour filling into prepared pan. Tap on counter a few times to remove any air bubbles.
Bake 50-55 minutes or until the center is still jibbly and cheesecake is set an inch from the edge when shaken. Surface should be dark brown.
Cool in pan on a wire rack 15 minutes.
Remove the sides of the pan, the cool completely on a wire rack.
Gently peel off parchment. Serve at room temperature or cover and chill up to 3 days.
Let stand at room temperature 30 minutes before serving. Top with salt flakes (if using), and garnish with Candied Citrus Fruit (optional).
In a Dutch oven, combine sugar and water; bring to a boil. Add citrus slices; reduce heat to medium.
Cook until slices are translucent, about 20 minutes, turning occasionally.
Reduce heat; simmer until slices are tender but still intact, about 10 minutes, turning occasionally.
Using a slotted spoon or tongs, remove slices to a wire rack or a parchment-lined baking pan. Let stand at room temperature overnight to dry. (Save syrup for another use.)
If desired, cut slices in half; use to decorate a cake, pie or other dessert, or to garnish drinks.
---
---
Notes
The time below does not include the Candied Citrus Fruit. Please allocate additional time for it if you choose to make it.
Nutrition
Serving Size:

1 slice

Calories:

489

Sugar:

25.2 g

Sodium:

425.3 mg

Fat:

39.6 g

Saturated Fat:

22.6 g

Carbohydrates:

26.7 g

Fiber:

0.1 g

Protein:

8.7 g

Cholesterol:

202.4 mg
Keywords: Citrus Cheesecake, Basque Cheesecake, Shavuot, Gluten Free, Dairy, Jewish Holiday
Recipe Card powered by
Here's how I made Triple Citrus Basque Cheesecake on Instagram!
View this post on Instagram
More Delicious Dairy and Cheesecake Recipes

CHECK OUT THE KOSHER EVERYDAY AMAZON INFLUENCER STOREFRONT!
I'm excited to announce the launch of my brand, spankin' new, Amazon Influencer storefront. The purpose of this store is to share with you all of my favorite tools, ingredients and accessories that I use on Kosher Everyday. If there's something you'd like to see please let me know and I'll make sure to add it. I'm updating the storefront all the time.
I've put together a complete Gluten Free Challah Storefront with everything you need to make fabulous Gluten Free Challah!
Additionally there is a Small Appliance Storefront with many awesome small appliances that I recommend for your kitchen…even if you have a small space!
I'd love to hear what you think!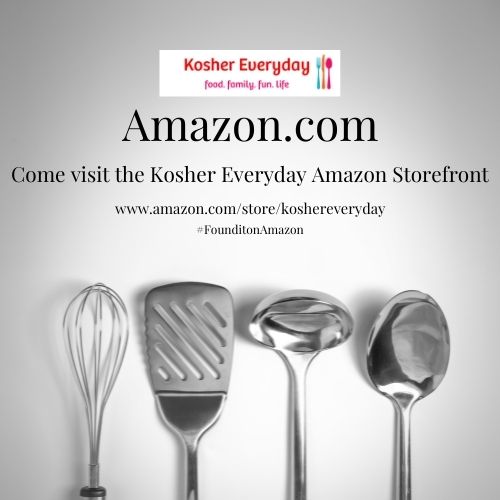 FOLLOW ME!
Don't forget to follow Kosher Everyday on Instagram @koshereveryday! and on Facebook You don't want to miss all the fun and interesting posts and reels that can be found nowhere else!
You can find reels showing how to make most of my recipes on Instagram!
Also, make sure to tag @koshereveryday when you make Kosher Everyday recipes! I LOVE to see your creations!!!
Please note that this post contains affiliate links. Thanks for your ongoing support!