Blueberry Lemon Cake with Lemon Curd
Blueberry Lemon Cake with Lemon Curd is one of the simplest, most delicious cakes you will ever make. I know that seems like a tall order from a simple cake, but there's nothing simple about the way this cake tastes!
How I came up with Blueberry Lemon Cake with Lemon Curd
A while ago, I was doing my seasonal perusal of the internet searching for inspiration. I came across a Blueberry Pancake Cake on the Food Network and loved the idea of making a huge pancake into a cake.
But I'm tired. And Lazy. And SO don't want to put a lot of effort into making just about anything.
Can you relate?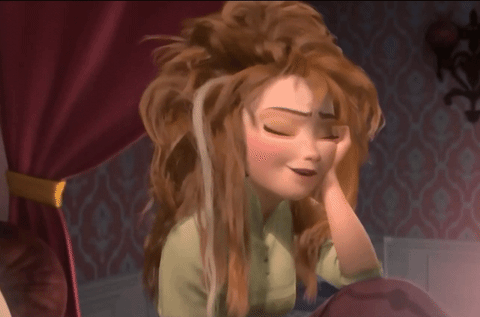 Additionally, no matter how well I seem to plan, I always seem to be missing an ingredient (or two) for the recipe I'm making. It's getting particularly annoying.
Although Instacart absolutely loves me.
The starting point for Blueberry Lemon Cake
Note the lack of "Lemon Curd" in the title of this section. I'll get to it…don't worry.
I KNEW I had two packages of Bob's Red Mill gluten free pancake mix in my cabinet. I double checked. Given that I had the mix already- beyond any doubt, I decided to make the cake as easy as possible, using ready made pancake mix instead of mixing a bunch of ingredients together.
Did I mention feeling lazy?
Using ready made pancake mix was going to be the key to the whole easy cake extravaganza.
The first trial of Blueberry Lemon Cake
Just before Shabbat I threw together the first batch of what we'll now refer to as: The Blueberry Cake. Of course it wasn't quite done baking before I lit candles, so we just left it in the hot oven (with the oven light on) and let it finish for around another 15 mintues.
Surprisingly, it worked.
(Don't worry, I give you accurate baking times in the actual recipe).
The feedback
Sadly, I don't have any pictures of the original cake, but trust me when I tell you it looked virtually identical to the final version that looked like this:
I was very excited to try The Blueberry Cake out on my human guinea pigs at Shabbat Lunch. I often serve my experiments to unsuspecting victims and then require them to submit to an inquiry before they're allowed to leave.
I served everyone large hunks of the cake, that at the time I called: Blueberry Pancake Cake.
It was very blueberryey, but kind of bland.
Batya suggested that it needed some lemon to add some zing, and Dear Daughter In Law suggested "you know that lemon cream stuff you make that's so good and lemony (a.k.a. lemon curd).
I immediately zested a lemon directly onto the cake and passed the piece around.
Everyone cheered at the improvement.
The new cake looked like this:
Naming the new cake…ultimately the Blueberry Lemon Cake with Lemon Curd
I had a bit of a tiff with (not so) Dear Social Media Guy about the name of the cake.
I really really wanted to call it Blueberry Lemon Pancake Cake with Lemon Curd, however he strongly disagreed.
I was going to give you the entire conversation, but I have compassion for my Dear Readers. Suffice it to say, he didn't get the concept of my concept of a Pancake Cake. We agreed to disagree, with my giving in and calling the cake Blueberry Lemon Cake and he's back to being Dear Social Media Guy again.
But…we know what the name of the cake really is… don't we 😉
The Lemon Curd Part of Blueberry Lemon Cake with Lemon Curd
I would just like to start this section by saying Dear Daughter In Law is a genius.
But everyone already knew that.
Adding the Lemon Curd to the cake was the perfect addition to bring the cake to a whole new level.
Seriously. I couldn't stop eating it.
Be glad there was enough cake left for me to photograph.
Really.
Making the Lemon Curd
Once I had decided that I was going to make the lemon curd, I went to my trusty recipe rolodex (a.k.a Mastercook), and found my favorite recipe for lemon curd. It turns out that the recipe is one from all the way back in 2003 from the Martha Stewart Annual Recipes Book. As a subscriber to the Martha Stewart Magazine at the time, at the end of the year the magazine would send a compilation of the best of the year's recipes in book form.
The recipe for Lemon-Curd Filling is from the 2003 edition of that book.
It's a tried and true recipe. My only issue with making it this time is that it seemed a little looser than I remembered. It may be the margarine I used, Imperial Brand, which isn't normally my plant based butter of choice.
(Please don't ask me why I have it in the house, and why it was the only plant based butter I happened to have in the house.)
Here's the recipe for Blueberry Lemon Cake with Lemon Curd
I tried to make this cake as simple as possible to make. You can use your favorite pancake mix, just keep in mind that the one I used was 24-ounces for the bag. I'd imagine if you weighed the mix you're using and it came to 24-ounces you're good to go.
Regarding the lemon curd, you can often find ready made lemon curd in your local grocery store. If you're too tired to make it, feel free to buy some. The fresh is really incredible though and worth the little bit of extra effort it takes.
I have some cool tools that also helped make the job a little easier. I put links to them below the recipe. Trust me when I tell you, a lemon peel grater and zester are super helpful for this recipe, especially the Microplane grater.
Print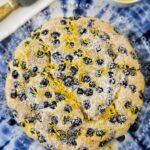 Blueberry Lemon Cake with Lemon Curd
Author:

Prep Time:

30 minutes

Lemon Curd Total Time:

20 minutes

Cook Time:

90 minutes

Total Time:

120 minutes

Yield:

1

Cake

1

x

Category:

Dessert

Method:

Baking

Cuisine:

Gluten Free

Diet:

Kosher
---
Description
Blueberry Lemon Cake with Lemon Curd is one of the most refreshing and easiest cakes I've ever made. The cake is a "Pancake" Cake made using a store bought pancake mix, jazzed up with zesty lemon and fruity blueberries. The tangy lemon curd topping knocks the Blueberry Lemon Cake out of the park with it's moist, citrusy flavor. This is a cake any blueberry and lemon lover will adore!
---
For the Blueberry Lemon Cake
1

(24-ounce) bag pancake mix, divided (I used Bob's Red Mill Glu

ten

Free)

3

cups

almond milk

1/4

cup

canola oil

1 teaspoon

pure lemon extract (optional)

1 tablespoon

pure vanilla extract

4

large eggs
grated zest of two large lemons

2

pints

fresh blueberries, divided (around 4 cups)

2 tablespoons

Turbinado sugar
For the Lemon Curd*
7

large egg yolks

1

large whole egg

1 1/2

cups

granulated sugar

3/4

cups

freshly squeezed lemon juice

3/4

cup

(1 1/2 sticks) plant based butter
To Finish
Zest of

1/2

lemon
Powdered sugar
Additional blueberries for garnish
---
Instructions
For the Blueberry Lemon Cake
Preheat oven to 350°F.
Spray a 9-inch springform pan with non-stick baking spray, line with a parchment circle, then spray the parchment with non-stick baking spray. Wrap a piece of aluminum foil around the bottom of the pan to keep any batter from leaking. Set aside.
Place a pint and a half (3-cups) of blueberries in a medium bowl. Toss with 1 tablespoon of the pancake mix until the blueberries are completely coated. Set aside.
In a large mixing bowl, gently whisk together the remaining pancake mix, amond milk, lemon extract, vanilla extract, eggs and lemon zest until just combined. The batter will be lumpy. Do not mix until completely smooth, just until it's slightly lumpy.
Fold the coated blueberries into the cake batter until they're evenly distributed.
Pour the cake batter into the prepared springform pan.
Evenly place the remaining cup of blueberries over the top of the cake, then sprinkle the Turbinado sugar over the top.
Bake for 90 minutes until a toothpick comes out clean from the center of the cake.
Allow to cool completely.
For the Lemon Curd
Prepare an ice bath large enough for a medium saucepan. Set aside.
In a medium saucepan, whisk together the egg yolks, whole egg, sugar and lemon juice until combined. Add in the plant based butter.
Whisking constantly, bring the contents of the saucepan to a boil over medium-high heat. Cook for 3-5 minutes until the contents start to thicken.
Transfer the pot to the ice bath, stirring until the lemon curd is cooled.
Cover with plastic wrap, pressing the wrap onto the surface of the curd to prevent a skin from forming. Refrigerate until ready to use, up to three days.
To Finish
Carefully run a knife or metal spatula around the edge of the cake. Release the lock on the springform pan and remove the side ring.
Gently transfer the cake to a serving platter, removing the parchment paper under the cake. I use a very large spatula to assist in the transfer.
Sprinkle the top of the cake with powdered sugar, then lemon zest, then again with powdered sugar.
Serve with Lemon Curd and additional fresh blueberries.
---
---
Notes
Don't throw the zested lemons away. The naked lemons are perfect for juicing for the Lemon Curd.
If storing the lemon curd for more than a few hours, I usually transfer it to an airtight container with a lid, still pressing plastic wrap onto the top of the curd.
*The original Lemon-Curd Filling recipe can be found in the 2003 edition of Martha Stewart Annual Recipes page 197.
Nutrition
Serving Size:

1 slice

Calories:

324

Sugar:

16.5 g

Sodium:

684.3 mg

Fat:

8.8 g

Saturated Fat:

1.3 g

Carbohydrates:

51.9 g

Fiber:

2.8 g

Protein:

8.4 g

Cholesterol:

63.1 mg
Keywords: Blueberry Lemon Cake, Pancake Cake, Lemon Curd, Dessert, Gluten Free, Dairy Free, Meat Free, Pareve
Recipe Card powered by
More Cravable Cake Recipes
And here are all the Cheesecakes you could possibly ask for!
Super Shavuot Recipes

CHECK OUT THE KOSHER EVERYDAY AMAZON INFLUENCER STOREFRONT!
I'm excited to announce the launch of my brand, spankin' new, Amazon Influencer storefront. The purpose of this store is to share with you all of my favorite tools, ingredients and accessories that I use on Kosher Everyday. If there's something you'd like to see please let me know and I'll make sure to add it. I'm updating the storefront all the time.
I've put together a complete Gluten Free Challah Storefront with everything you need to make fabulous Gluten Free Challah!
Additionally there is a Small Appliance Storefront with many awesome small appliances that I recommend for your kitchen…even if you have a small space!
I'd love to hear what you think!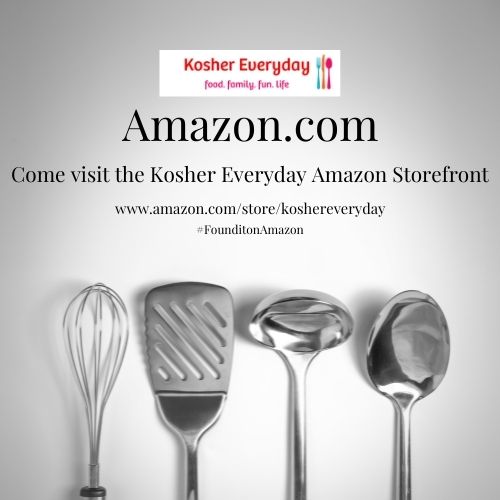 FOLLOW ME!
Don't forget to follow Kosher Everyday on Instagram @koshereveryday! and on Facebook You don't want to miss all the fun and interesting posts and reels that can be found nowhere else!
You can find reels showing how to make most of my recipes on Instagram!
Also, make sure to tag @koshereveryday when you make Kosher Everyday recipes! I LOVE to see your creations!!!
Please note that this post contains affiliate links. Thanks for your ongoing support!