Crème Brûlée Yogurt
I know, I know, this does not look like your everyday Greek yogurt. Crème Brûlée Yogurt isn't. It basically takes nonfat plain Greek yogurt to a whole other place. Crème Brûlée Yogurt is so stunningly beautiful, it's hard to believe it's yogurt. Surprisingly, it's not all that hard to make, even if you don't own a blow torch!
How I came up with Crème Brûlée Yogurt
Would you be surprised to know the orginal recipe came from none other than the famous Bobby Flay?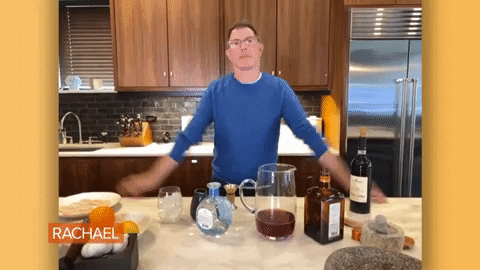 I was strolling through the Food Network website and came across Yogurt Crème Brûlée and I was hooked. The idea of having a crunchy, sugary topping on top of plain Greek yogurt, granola and fresh blueberry filling was incredibly appealing to me. Especially since I've been searching for some new breakfast ideas.
I couldn't wait to make it!
Making Crème Brûlée Yogurt
I had some of my favorite fat free, Fage Greek yogurt in my fridge already. I happen to really like the flavor and texture of Fage. It's smooth and creamy, already almost dessert-like, without the strong acidic taste.
Mariano's always has blueberries on sale, so a quick Instacart order, including the turbinado sugar (I was out after using it up on Purim) and I thought I was good to go.
Thought is the operative word.
More on that later…
The Greek Yogurt
The recipe has you mix vanilla or vanilla bean into the Greek yogurt. While it was delicious that way, and if you have excellent plain Greek yogurt it's the way to go, I had trouble understanding why you wouldn't just use vanilla flavored Greek yogurt.
The truth is, you can. It's a great recipe shortcut.
The Blueberry Filling
The Blueberry Filling is made by simmering fresh blueberries, water and a little sugar – the sugar is optional. A little lemon juice helps to cut the sweetness and maintain the color. You could also make the filling with other fruits like strawberries and it would still be absolutely delicious.
I recommend letting the filling set and cool before assembling the Crème Brûlée Yogurts.
In a pinch you could use blueberry pie filling or blueberry jam, but it wouldn't be even close in taste.
The Granola Filling
I had some gluten free granola in the house, and used that in the Crème Brûlée Yogurts. It turned out that the granola I had had almonds inside. I really liked the flavor and extra crunch the nuts gave the recipe.
You could use any type of granola you like. A fruit one would be good, and if you're so inclined you could even use a chocolate flavored one!
The Brûlée part of the Crème Brûlée Yogurt
This part is the MOST FUN!!!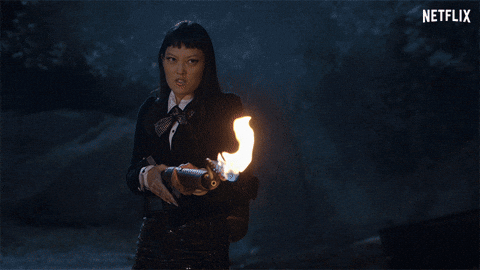 After putting the layered yogurt cups in the freezer to chill, you sprinkle some turbinado sugar on top, then let the kitchen blow torch do it's thing.
As a (self) proclaimed pyromaniac, this is the most fun I've had in a while.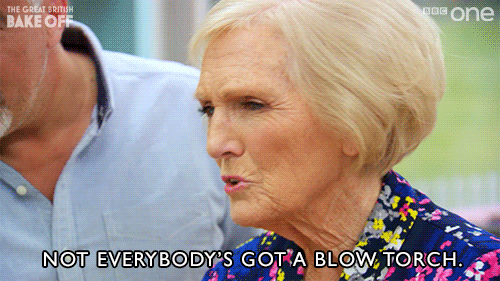 It's sadly true that not everybody's got a blow torch. Why, I'll never understand, but you can still make the hard candy shell even if you don't have one.
This method is especially useful if you want to make the Crème Brûlée Yogurt on a holiday like Shavuot, when traditionally we don't start flames, only transfer them.
It's as simple as making a caramel. Place the sugar in a small saucepan or skillet, heat over medium heat until it turns amber, then pour over the cold yogurt cups.
Easy peasy.
Making Crème Brûlée Yogurts in advance
If you're interested in making the Crème Brûlée Yogurts in advance, you can make all the components separately and then build the Crème Brûlée Yogurts when ready. If you put them together too much before you are going to serve them the granola will get soft and the Brûlée will turn into liquid.
I recommend assembling them when ready to serve, sprinkling the sugar on top and then blow torching them a few minutes before serving. This also works if serving them on Shavuot, just make the caramel that goes on top just before serving and pour it over then.
Back to the "I thought I had all the ingredients in the house" part of the story
You'd think I'd learn.
I really really thought I had everything I needed.
And I did. Except for the ramekins.
Sigh.
So I went back on Instacart and ordered a bunch of different 4-ounce ramekins for the recipe. I figured I needed some dairy ramekins and this would be a great opportunity to get them.
Until..I reread the recipe and realized I was supposed to have 8-ounce ramekins.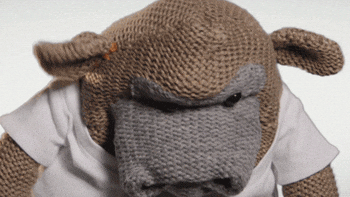 I went back to Instacart, my new best friend, and found some really beautiful ones at Big Lots. They were only $9.99 for four, and I ordered two packages. They ended up being 6-ounces each, but they worked very well. I also was super happy when I found them at Macy's for $61 for THE EXACT SAME CUPS!!!
Thank you Instacart and Big Lots!
Yup.
I'm going to include a bunch of fun and pretty ramekins as well as small spoons at the end of the recipe. Crème Brûlée Yogurt is way more entertaining with gorgeous cups and spoons.
Here's the Recipe for Crème Brûlée Yogurt
Print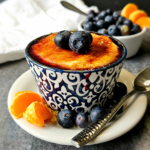 Crème Brûlée Yogurt
Author:

Prep Time:

30 minutes

Refrgeration/Freezing:

35 minutes

Cook Time:

5 minutes

Total Time:

70 minutes

Yield:

4

Creme Brulee Yogurts

1

x

Category:

Breakfast

Method:

Cooking

Cuisine:

Gluten Free

Diet:

Kosher
---
Description
Crème Brûlée Yogurt is a fancy way to eat your favorite Greek yogurt. Fresh blueberries simmered to perfection, topped with crunchy granola, smooth vanilla Greek yogurt and blow torched crunchy Crème Brûlée topping make this the upscale breakfast, brunch or Mother's Day special Mom will love. You can also make this as a Shavuot dessert with a slight modification of the brûlée recipe. Crème Brûlée Yogurt is creamy, sweet, fruity, gorgeous deliciousness.
This recipe was originally developed by Bobby Flay for The Food Media Network:
https://www.foodnetwork.com/recipes/bobby-flay/yogurt-creme-brulee-with-fresh-fruit-and-granola1-3364617
---
16

ounces

nonfat plain Greek yogurt

1 teaspoon

pure vanilla extract

1

pint

(2-cups) fresh blueberries or strawberries

1/4

cup

water

2 tablespoons

granulated sugar

2 teaspoons

fresh lemon juice

1/2

cup

granola (gluten free)

3 tablespoons

turbinado sugar
---
Instructions
Mix together the yogurt and vanill in a medium bowl until combined. Cover and refrigerate for at least 30 minutes to allow the flavors to meld.
Put the berries in a small saucepan, add water and sugar and simmer until just softened about 5 minutes. Stir in the lemon juice and allow to cool.
Divide the fruit among four 8-ounce ramekins and top with the granola.
Fill the ramekins and top with the yogurt, smoothing out the tops. Cover and put in the freezer for 5 minutes.
Evenly sprinkle the turbinado sugar over each ramekin. Caramelize the sugar with a blowtorch by slowly sweeping the flame back and forth. Let the sugar harden, about 2 minutes before serving.
---
Equipment
---
Notes
You can use vanilla Greek Yogurt instead of making the vanilla Greek yogurt.
If you're interested in making the Crème Brûlée Yogurts in advance, you can make all the components separately and then build the Crème Brûlée Yogurts when ready. If you put them together too much before you are going to serve them the granola will get soft and the Brûlée will turn into liquid.
If you don't have a blow torch, warm the sugar over medium heat until it turns amber colored. Be careful not to let the sugar burn. Pour the caramel over the cold yogurt.
Nutrition
Serving Size:
Calories:

587

Sugar:

49.2 g

Sodium:

250.6 mg

Fat:

6.6 g

Saturated Fat:

1.4 g

Carbohydrates:

60.4 g

Fiber:

3.1 g

Protein:

71.9 g

Cholesterol:

34 mg
Keywords: Parfait, Yogurt Parfait, Creme Brulee, Creme Brulee Yogurt, Breakfast, Brunch, Dessert, Mother's Day, Shavuot, Dairy, Kosher
Recipe Card powered by
More Beautiful Breakfast/Brunch Recipes
CHECK OUT THE KOSHER EVERYDAY AMAZON INFLUENCER STOREFRONT!
I'm excited to announce the launch of my brand, spankin' new, Amazon Influencer storefront. The purpose of this store is to share with you all of my favorite tools, ingredients and accessories that I use on Kosher Everyday. If there's something you'd like to see please let me know and I'll make sure to add it. I'm updating the storefront all the time.
I've put together a complete Gluten Free Challah Storefront with everything you need to make fabulous Gluten Free Challah!
Additionally there is a Small Appliance Storefront with many awesome small appliances that I recommend for your kitchen…even if you have a small space!
I'd love to hear what you think!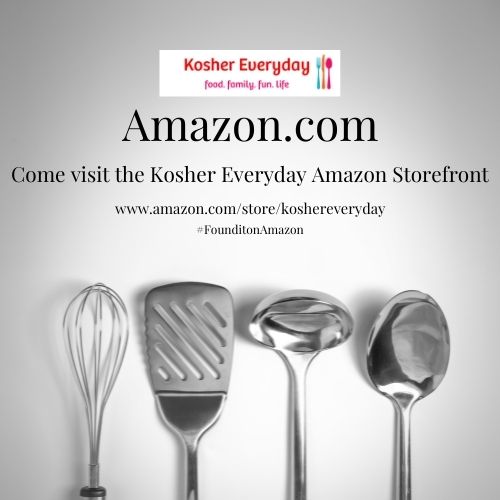 FOLLOW ME!
Don't forget to follow Kosher Everyday on Instagram @koshereveryday! and on Facebook You don't want to miss all the fun and interesting posts and reels that can be found nowhere else!
You can find reels showing how to make most of my recipes on Instagram!
Also, make sure to tag @koshereveryday when you make Kosher Everyday recipes! I LOVE to see your creations!!!
Please note that this post contains affiliate links. Thanks for your ongoing support!