Salsa Breakfast Burritos
I'm always struggling for what to eat in the morning, especially my crazy frazzled ones. Salsa Breakfast Burritos are the salvation of busy, hectic, must-get-going mornings. They're fairly simple to prep in advance and freeze, making them the perfect grab-and-go, protein-packed start to your day.
Filled with freshly scrambled eggs, crispy hash browns, protein packed black beans, vegan cheddar cheese and plant based beef sauteed with tangy chunky salsa, Salsa Breakfast Burritos are the perfect start to your busy day.
I make these gluten free and plant based, but of course, as the executive chef in your kitchen feel free to use dairy or glutenous ingredients as per your dietary requirements.
Making Salsa Breakfast Burritos in advance
I make an even dozen of the Salsa Breakfast Burritos at one time, then freeze them in pairs. Because they're already browned, you can simply microwave them while doing your morning prep to defrost, and then throw them on your panini or mini grill to crisp them even more. You can skip the grill step if you like, but I really like mine extra crispy!
The Salsa Breakfast Burrito Ingredients
There's actually an order to prepping the Salsa Breakfast Burrito ingredients that helps to minimize the prep work and pan washing.
The Hash Browns
I start with browning the hash browns in a large skillet with a little bit of oil. They brown fairly quickly and leave a clean skillet when transfered.
The Scrambled Eggs
I use real chicken eggs in the Salsa Breakfast Burritos, but you can use the equivalent amount of plant based eggs if that works better for you.
Adding a small amount of (almond) milk to the eggs gives them a little bit of creaminess, but not enough to make them runny. I also like my eggs dry, and that works really well when freezing the burritos to eat later.
If you like your burritos on the eggier side, then I recommend using double the eggs in the recipe.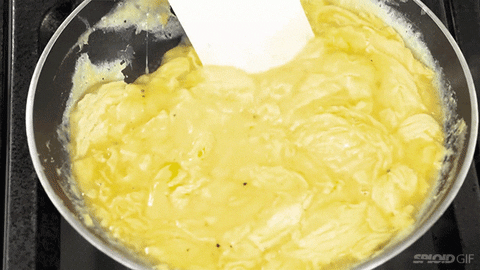 The Plant Based Meat & Cheese Fillings
I tried to keep this recipe dairy and meat free. Dairy free because dairy, in general, is not my friend. If dairy is your best friend, feel free to use real cheddar shreds.
Meat free because of a couple reasons. First, I don't really want to start my day eating meat and then have to wait 6 hours before I can eat anything that has dairy products in it.
Second because I'm trying to lower my cholesterol. Real beef products are not inclined to help me do so.
Third, I wanted to make the Salsa Breakfast Burritos have the option of using real cheddar – and as an Orthodox, Strictly Kosher keeping Jew I don't mix meat and milk. So it was one or the other. I chose plant based meat.
Finishing up the fillings
After browning the plant based beef, I added some diced red pepper to give some extra nutrition and a pop of color.
Then I added an entire jar of Trader Joe's Chunky Salsa to the mix. It's the perfect chunky salsa, with chunks of tomatoes, peppers and onion that you can see. It's also perfectly seasoned, which is a huge bonus.
Layering the Salsa Breakfast Burritos filling
Here's a little trick I learned along the way that works for blintzes and burritos: Egg the edges of the wrapper before rolling, then let the blintz/burrito rest for a minute or two for the edge to adhere so it doesn't unwrap during cooking.
Works every time.
I started with the meat filling, then hash browns, scrambled egg, black beans and cheddar. It helps a little, depending upon the burrito brand, to microwave the tortillas for 20-30 seconds before filling to soften them up.
The bigger the tortilla, the easier it will be to fill and roll. I used the Toufayan brand, which worked well, however I wasn't happy with the variation in the sizes of the tortillas in the package. Some were large (the ones on the outside), but once you opened package many were several inches smaller. It made it harder to evenly distribute the filling.
Finally, make sure not to overstuff the burritos. They will burst if you do.
Rolling up the Salsa Breakfast Burritos
Rolling the burritos up was similar to the way I roll egg rolls or blintzes.
Fold the bottom of the tortilla tightly over the filling, then fold the sides into the center, then carefully and tightly roll the tortilla into a burrito. Press the seam down a little to stick, then place the burrito seam side down on a cutting board or pan to give the seam time to adhere.
Frying the Salsa Breakfast Burritos
It's important to make sure that there is enough oil on the bottom of the pan to brown the burritos. Make sure the oil is hot before adding the burritos, then start browning them seam side down.
Once one side is browned, continue turning until every side is browned.
Here's the Recipe for Salsa Breakfast Burritos
Feel free to add or remove ingredients from this recipes to make it according to your tastes.
Print
Salsa Breakfast Burritos
Author:

Prep Time:

25 minutes

Cook Time:

35 minutes

Total Time:

60 minutes

Yield:

12

Salsa Breakfast Burritos

1

x

Category:

Breakfast

Method:

Frying

Cuisine:

Gluten Free

Diet:

Kosher
---
Description
Salsa Breakfast Burritos can be made in advance and frozen . I make a dozen at a time. These are ready to be packaged and frozen, then I just reheat them for the perfect quick grab-and-go breakfast.
---
For the Hash Browns
1 tablespoon

avocado oil

3

cups

shredded hash brown potatoes
For the Scrambled Eggs
non-stick vegetable spray

6

large eggs, lightly beaten

1/4 teaspoon

Kosher salt
dash freshly ground black pepper

1/4

cup

unsweetened almond milk
For the Salsa Plant Based Beef
1 tablespoon

avocado oil

12

ounces

plant based beef

1

red pepper, diced (around

1 cup

)

16

ounces

chunky salsa (I used Trader Joe's)
To Finish
1

large egg, lightly beaten

1

(15.5-ounce) can black beans, drained, rinsed

12

large (gluten-free) tortilla wraps

8

ounces

(plant-based) cheddar cheese
Avocado oil for frying
Additional salsa, plant based sour cream or cheddar for serving
---
Instructions
For the Hash Browns
Heat the avocado oil in a large skillet over medium/high heat. Add the Hash Brown Potatoes and cook, turning frequently until golden brown.
Transfer to a casserole dish or large plate. Set aside.
For the Scrambled Eggs
Whisk together the eggs, salt, pepper and almond milk.
Spray the same skillet used for the hash browns with non-stick spray. Pour the egg mixture into the skillet and scramble the eggs over medium heat until completely cooked through.
Transfer to a large plate. Set aside.
For the Salsa Plant Based Beef
Heat the avocado oil in the same skillet as you prepared the eggs and hash browns.
Add the plant based beef, and saute over medium/high heat until browned.
Add the diced red pepper and saute until just softened.
Pour in the chunky salsa, and cook, stirring constantly until the salsa liquid has been reduced.
Remove the pan from the fire and set aside.
To Fashion the Salsa Breakfast Burritos
Place a tortilla on a flat surface like a cutting board.
Brush some beaten egg around the edge of the tortilla.
Place around 2 tablespoons of Salsa Beef towards the bottom of the tortilla. Top with browned Hash Browns, scrambled egg, black beans and cheddar cheese.
Fold the bottom of the tortilla over the filling, then fold the sides over the center.
Roll the tortilla up into a burrito, pressing down on the end to adhere. Place the Salsa Breakfast Burrito seam side down on a tray or cutting board.
Repeat with the remaining tortillas and filling.
To Finish
Heat a thin layer of avocado oil on the bottom of a clean, dry skillet.
Place several burritos, seam side down, in the oil and fry, turning occasionally, until each burrito is browned on each side.
Repeat with the remaining Salsa Breakfast Burritos.
Serve hot with additional salsa, plant based sour cream or cheese.
May be frozen for up to 3 months in freezer safe bags. To reheat, microwave for 1 minutes then toast in a skillet or mini grill.
---
Equipment
---
Notes
For an "eggier" burrito, use 12 large eggs instead of 6.
You can add additional vegetables, or remove any of the ingredients to personalize these burritos according to your personal preference.
You can make these completely plant based by using an egg substitute like JUST egg instead of the large eggs listed in the recipe.
I've used "Egg Wraps" to make these burritos. Brands like "Crepini" or "Trader Joe's" make several different varieties. They are super low cal, low carb, and low fat and I like how they don't add calories to the wraps. Keep in mind that they are super light and thin, and if you use them be very careful. They are fragile. I don't know if these will freeze well.
I haven't tried it, but you might be able to fry the Salsa Breakfast Burritos in an air fryer. If you try it please let me know how it turns out!
Keywords: Breakfast Burrito, Gluten Free, Gluten Free Recipe, Breakfast, Dairy Free, Meat Free, Pareve, Plant Based Optional
Recipe Card powered by
More Breathtaking Breakfast Recipes
HERE'S SOMETHING NEW – THE KOSHER EVERYDAY AMAZON INFLUENCER STOREFRONT!
I'm excited to announce the launch of my brand, spankin' new, Amazon Influencer storefront. The purpose of this store is to share with you all of my favorite tools, ingredients and accessories that I use on Kosher Everyday. If there's something you'd like to see please let me know and I'll make sure to add it. I'm updating the storefront all the time.
You can find all the cool serving pieces that were shown above as well as other fabulous serving pieces in my Cookware & Bakeware section.
I'd love to hear what you think!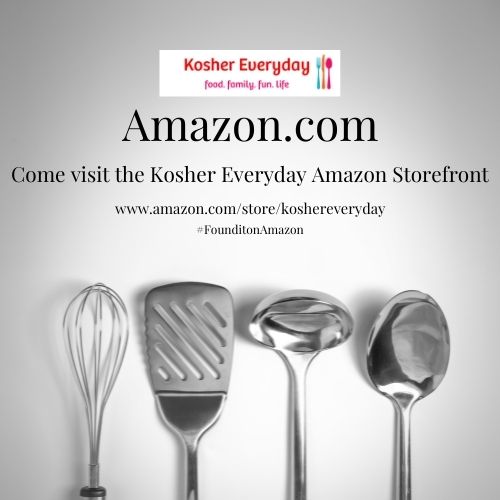 FOLLOW ME!
Don't forget to follow Kosher Everyday on Instagram @koshereveryday! and on Facebook You don't want to miss all the fun and interesting posts and reels that can be found nowhere else!
You can find reels showing how to make most of my recipes on Instagram!
Also, make sure to tag @koshereveryday when you make Kosher Everyday recipes! I LOVE to see your creations!!!
Please note that this post contains affiliate links. Thanks for your ongoing support!