It all began with the planning
I was having one of my wacky content planning sessions with Adam/Social Media Guy, where I throw out content ideas based upon what produce is in season and what events are on the upcoming calendar, and whatever strikes my fancy. I had just gotten some adorable, skinny stalk asparagus and I pitched the idea:
Basketweave the asparagus
"What if I make a basketweave out of the asparagus".
Silence.
Then laughter.
Then more silence.
Then…
"What?"
"Seriously" I said. "What if I made a basketweave out of the thin stalks of asparagus, then cut up the rest, made them into a quiche, then put the basketweave asparagus on top, then baked it?"
More laughter.
It. Was. Throwdown. Time.
There was no way I wasn't going to try it. Besides…I thought it was a great, creative, gorgeous idea!
And…
It would be perfect for a Mother's Day brunch or Shavuot.

It might be a little time consuming with the braiding and all…but the outcome would be totally worth the input.
Besides…
If someone was feeling a little more time crunched, they could always make the quiche without the basketweave.
It could also be dairy free
I was planning on making the quiche dairy free using vegan cheese. I realized that if someone wanted to make it using traditional dairy filled cheese, they totally could and it would be delicious. The choice would be up to the chef.
How to prep the asparagus
I also had to work with headless asparagus. The tops had to come off for the basketweave to weave correctly.
The first task was to blanche the topless asparagus. The idea was to get the stalks just soft enough that they would be pliable but not mushy.
Then I laid out two stalks and wove two through them in a typical in-and-out basketweave. I then continued adding additional stalks to the weave. Once the stalks were about the size of the quiche pan, I set the basketweave aside.
I prepared the filling, transferred it to a quiche pan, then carefully slid the basketweave on top.
The finished product
IT WORKED!
My only problem was in the baking. I overbaked the first one (although that is subject to personal opinion), because I was trying to get the vegan cheese all melty. Some vegan cheeses don't necessarily look all melty – even though they are completely melted. So…there are two beautiful versions of this quiche, one with a more well done top, and one with a less well done top.
Bottom line?
Actually, we're all winners.
Here's the recipe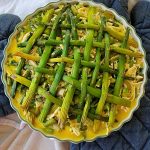 BasketWeave Asparagus Quiche
Author:

Prep Time:

20

Cook Time:

30

Total Time:

50
---
Description
This show-stopping quiche uses fresh, seasonal asparagus and vegan cheese for a healthy beautiful dish. Don't worry, if you don't have time to weave the top you can still make the quiche. You can also use dairy cheese although I used vegan mozzarella and vegan parmesan.
---
24 ounces

asparagus – very thin, tops removed, blanched

7 ounces

(vegan) mozzarella

1/4 cup

(vegan) parmesan

3/4 cup

green onion, sliced

3

large eggs

1/2 teaspoon

salt

1/4 teaspoon

freshly ground black pepper
dash crushed red pepper
nonstick vegetable spray
---
Instructions
Preheat oven to 350 degrees F.
Spray a round quiche pan with nonstick spray.
Using the thin asparagus stalks, weave a basket weave square. Set aside.
Chop the remaining asparagus stalks into 1/2 inch pieces. Set aside
In a large bowl, combine the mozzarella and parmesan. Add the green onion, chopped asparagus, eggs, salt, black pepper, and crushed red pepper. Stir to combine.
Pour the asparagus and cheese mixture into the prepared quiche pan. Carefully transfer the basketweave over the top of the quiche.
Using a kitchen shears or scissors, cut the excess asparagus off the basket weave.
Bake for 30 minutes until the cheese is melted. Allow the quiche to rest for 5 minutes before serving.
---
Notes
You can make this quiche dairy using traditional dairy mozzarella and shredded parmesan.
---
Recipe Card powered by
Here's a link to the Instagram Reel showing the completed Basketweave Asparagus Quiche!
Shavuot Recipes
Are you looking for Shavuot recipes? Here are some of my favorites:

May is Celiac Awareness Month
Also, did you know that May is National Celiac Awareness month? Nearly every recipe on Kosher Everyday is Gluten Versatile! In other words they can be made either gluten free or glutenous…your choice. Here is a link to my favorite gluten free recipes!
May is National Salad Month
So much is happening during May! May is also National Salad Month. I bet you didn't know that! Here are some links to my favorite salad recipes on Kosher Everyday!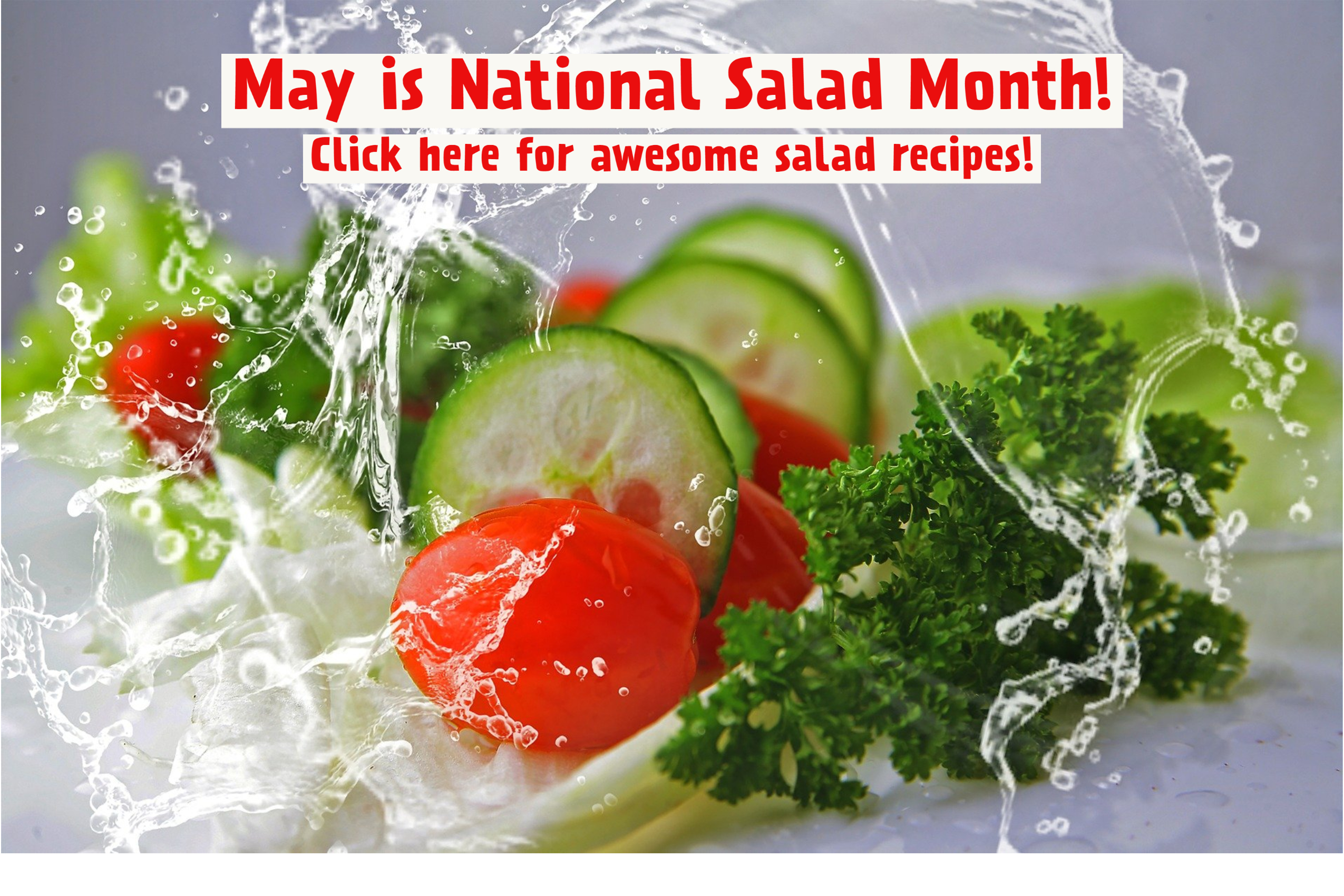 Follow me on Instagram!
There's a LOT more exciting things happening on Kosher Everyday Instagram. If you aren't already…click here to follow @koshereveryday! I'm posting multiple recipe reels weekly, and I'll be putting up Guides with salmon, salad, and cheesecake recipes in the near future. You really don't want to miss them!
I'd love to hear from you! What would you like to see on Kosher Everyday?
All the best,
Sharon