Tra La La…it's Delicata Squash time. This is one of my favorite fresh produce seasons, where squash can be found in abundance! Every year I make sure to take a trip to Trader Joe's or Whole Foods to get my absolute favorite Delicata Squash. The squash is small and oblong shaped, with a thin edible skin, and a sweet, creamy, incredible inside. You can even roast the seeds with a little sea salt for a bonus snack. I actually heard someone on a facebook group call Delicata squash "crack". Really.
It's also the time of year when you start to find tangy cranberries, and crispy, juicy, sweet apples. OMG! Now put them all together with brown sugar and crunchy aromatic pecans!!! 'Nuf said.
According to Epicurious "Tiny, oblong delicata squash is the darling among the thin skin crowd. When cooked, its skin practically melts away and is hardly noticeable. Other varieties that are known for thin skin are sweet dumpling and red kuri. Young, small squash also have a thinner skin. So petite butternut and kabocha squash don't necessarily need to be peeled. And even thicker-skinned squash is fine if you cook it long enough. If you roast any squash for a long enough time, the skin is easier to eat. (Highly recommended: roasting acorn squash wedges with the skin on.)"
You can use this recipe on other squash as well…just follow the above squash skin advice. Also, it's not advised to eat the peel of a spaghetti squash (although you could make it topped with the filling once it's roasted), or according to Epicurious (again) "Don't eat the peel of a squash that's extra shiny, a sign that the squash has probably been coated with a food grade wax to help keep it fresh for a long period of time. The wax is edible, but it's still, you know, wax—and no amount of roasting can change that."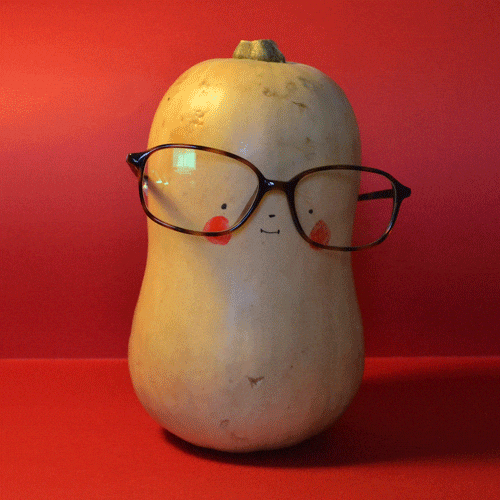 SO informative!
This is also the perfect dish to make for Thanksgiving!!! So add this to your menu and stay tuned for more TG recipes to come!!
Please let me know what Thanksgiving recipes you'd like to see! Make sure to check out the Kosher Everyday Pinterest Page for more Thanksgiving ideas!
Print
Festive Stuffed Delicata Squash
Author:

Prep Time:

20

Cook Time:

60

Total Time:

1 hour 20 minutes

Yield:

8

1

x
---
Description
A sweet, crunchy, creamy, tangy, healthy Fall dish!
---
4

whole Delicata Squash, cut in half and seeded

1 1/2 cups

Panko bread crumbs (can use glu

ten

free)

12 ounces

fresh cranberries

2

medium/large Fuji apples, finely cubed

1 cup

brown sugar

1 tablespoon

ground cinnamon

1 teaspoon

ground nutmeg

1/8 teaspoon

ground cloves

1/2 cup

pure maple syrup

8 ounces

chopped pecans
---
Instructions
Preheat oven to 350°F bake or 325°F convection.
Cover a large rimmed baking sheet with foil. Spray with non-stick spray. Place the halved squash on the baking sheet. Set aside.
In a large bowl, combine the remaining ingredients except the maple syrup. Stir until completely combined.
Fill each squash half with filling, until all the filled is used. It is OK if some of the filling ends up on the pan, it will bake and become crunchy and will be delicious to nosh on. Drizzle the maple syrup evenly over the squash halves.
Bake in preheated oven for 60 minutes. Cut squash into halves or thirds, if desired. Serve warm.
---
Notes
You can substitute your favorite nuts in this recipe if pecans aren't available. It would also be good with walnuts, almonds or hazelnuts.
If you can't find pure maple syrup, you can use pancake syrup.
If Delicata squash aren't available in your area (sad face) you can use butternut or acorn squash.
---
Recipe Card powered by
HOW TO:
That's all folks…let me know what you think! How do YOU prepare your Delicata Squash???