It's that time of year again, SQUASH SEASON! They are everywhere you look in a wide, colorful, unusually shaped assortment. There are the familiar acorn, butternut and pumpkin. Outside a local fruit store recently there were bins of an incredible variety of squash that looked like they had come from another planet! Some squash can even be disguised as other foods – a sneaky football shaped imposter being the infamous SPAGHETTI SQUASH!
The spaghetti squash is so named because once cooked, the inside of the squash isn't like your everyday acorn or butternut, but contains strands like spaghetti.
The theory is that you can scoop them out and fool your family into thinking they are eating your run of the mill spaghetti when really they are eating a much healthier alternative. "Just put pasta sauce on it – no one will know the difference…and it's so much better for you!"
In the produce section I hear the voices telling me to buy the spaghetti squash and be the responsible, sensible, caring parent. In the cart goes the large oblong squash. I cook it up that night and present it with great flourish to my family – here is your dinner! It's good for you, it's healthier, it's going to be delicious, try it with this great sauce and cheese – it's just like pasta only better for you.
Suffice it to say that after my husband dutifully ate his serving and eating a portion or two myself, I was left with a large bowl of squash strands. Staring at me, taunting me. I was not to be defeated by a squash! What to do with the rest?
What can you make with squash…what can you make with noodles? You have made squash kugel with squash, you have made Yerushalmi kugel with noodles… put the two together and the concept of the Spaghetti Squash Yerushalmi Kugel is born. The initial concept was received with a "hmm…strange…..". In reality, it's delicious! The squash really lends itself to the sweet and peppery kugel. The strands have a slightly sweet taste to them and hold up well when baked. When served, our Shabbat guests had to be told it was a squash kugel! They were extremely impressed with this innovative, revolutionary new kugel and it was enjoyed by all – young and old. I guess when you have lemons you make lemonade – or the new adage…when you have extra spaghetti squash you make KUGEL!
Here's how I made it on Instagram @koshereveryday
View this post on Instagram
Print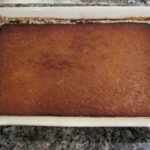 Spaghetti Squash Yerushalmi Kugel
Author:

Prep Time:

30

Cook Time:

90

Total Time:

2 hours

Yield:

1

1

x
---
Description
Who knew you could make a healthier Yerushalmi Kugel with Spaghetti Squash?!!!
---
1

large spaghetti squash

1 cup

sugar (plus more to taste)

1/4 cup

water

1 tablespoon

corn syrup

1/4 cup

canola oil

4

large eggs

1 teaspoon

salt

1

–

2

teaspoons black pepper (to taste)
---
Instructions
SQUASH
Cook spaghetti squash (either 45 minutes in a 350* oven or 12-20 minutes on high in the microwave) until the sides are soft when pressed.
Cool slightly.
Cut the squash in half and discard the seeds.
With a large spoon, scoop out the squash into a large microwaveable mixing bowl.
Set aside.
KUGEL CARAMEL
While preparing the caramel, warm the squash in the microwave for 5 minutes.
It is important that the squash be warm before pouring the caramel over it or the caramel will harden into brittle in the kugel.
If necessary, drain additional liquid from the bowl.
In a 2 quart saucepan combine the cup of sugar, water, and corn syrup.
Stir to combine.
Cook over medium heat, stirring constantly until sugar is completely dissolved.
Increase temperature to medium/high heat and cook without stirring until the syrup is a deep amber color.
Watch the syrup closely, it can burn.
Quickly remove from heat and stir in the oil.
KUGEL
Preheat oven to 350* F.
Pour the caramel mixture over the warm squash.
Quickly stir until the sugar is completely blended with the squash.
Add the salt and pepper.
Taste the mixture. (Some spaghetti squash is sweeter than others)
You may need to add additional sugar to taste.
Blend in the eggs until completely combined.
Pour into a greased 9×13 inch pan.
Bake for 45 minutes until golden brown.
---
---
Recipe Card powered by