Papas Rellenas Latkes
Many months ago I came across a recipe for Papas Rellenas – Stuffed Potato Balls from The Spruce Eats, and thought it looked intriguing as a fried dish for Chanukah. I saved it to come back to, and pulled it out again this week. I decided to modify the recipe to be Papas Rellenas Latkes instead of balls in honor of the Holiday. The family was super impressed with how crispy and flaky the exterior was, with a super deliciously tasty filling. They smelled incredibly amazing while frying. I'm totally going to make these again for Chanukah!
What are Papas Rellenas
According to The Spruce Eats, Papas Rellenas are a favorite Caribbean street food, and there are many versions of fried or baked potato balls with a variety of fillings throughout the Caribbean.
The Spruce Eats recipe, is stuffed with seasoned ground beef, tomato sauce & spices and the potato balls are shaped into a ball and deep-fried. The potato balls can be made in whatever size that you want, whether it be large or small. Miniature potato balls are perfect for snacks, appetizers, or party trays. Large papas rellenas make a filling lunch, side dish, or hand-held snack.
Saying "Papas Rellenas" Latkes
I was incredibly excited to show the Papas Rellenas Latkes off to my Dear Venezuelan/Spanish Speaking Daughter-In-Law. She came into the kitchen asking what I was making. I answered in my Midwest accent:
"Pa-pas Reh-Leh-nas"
DDIL: What?
ME: "Pa-pas Reh-Leh-nas" Here…look at the original recipe.
DDIL: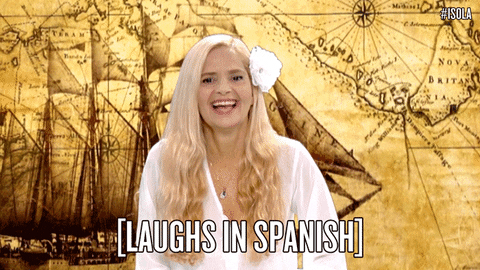 DDIL: Trying not to bust a gut laughing. "Oh Spanish Spanish Spanish Spanish" (At least that's what I heard)
ME: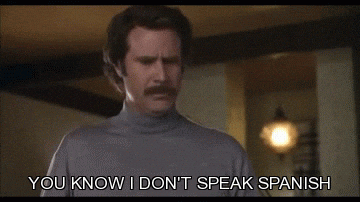 ME: "Say that again and enunciate so I have half a chance of saying it right."
DDIL: "Papas Rajeynas – the two ll's sound like a j"
ME: practicing saying it like 15 times until I got it right.
It's obvious that I don't speak Spanish….
Although, I do have a sense of humor about it (as does DDIL) I'm still confused by the letter j sounding like an h. Shouldn't JaJa be llalla or is it really haha?
So confused….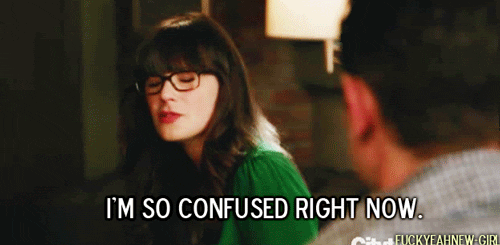 Making Papas Rellenas Latkes
The process of making Papas Rellenas Latkes was a cultural experience. There were ingredients that I had never heard of. Yes, I'm an Ashkenazi Jew and often cook that way, but I pride myself on being way more out of the box. This type of cooking was way out of even my box.
Seasoning Papas Rellenas Latkes
The seasoning of Papas Rellenas is important. I found that out after doing a little more research. Evidently there is a condiment known as "sofrito" that I was completely unfamiliar with. I'm learning, it's just not something I was familiar with.
It's a relish made with peppers, onion and garlic and sometimes other ingredients as well. According to Serious Eats:
" Puerto Rican version of sofrito—there are many different geographical variations—is a fresh mixture of onions, cubanelle peppers, garlic, cilantro, ajices dulces,* cilantro, culantro,* tomatoes, and red pepper quickly chopped into a fine paste in a food processor. What you're left with is enough sofrito to add some serious flavor to weeks of meals."
I did some more research, trying to find a ready made version that was Kosher certified and found I couldn't find one.
I was going to have to make it from scratch, and ended up using a recipe from BudgetBytes.com which was really the simplest one I could find. I'll include it in the recipe below.
Making Fresh Mashed Potatoes
I ended up using russet potatoes for the mashed potatoes, weighing out a little more than two pounds of potatoes before cooking because I knew I was going to have to peel them which would reduce the final weight of the mashed potatoes. (The Spruce Eats recipe calls for 2-pounds of mashed potatoes)
It's also important to make sure that the potatoes are mashed when they are just cool enough to handle because the plant based butter needs to melt into the potatoes and if they're too cool it won't blend properly.
When the starch and margarine are mixed in you get a kind of dough to wrap around the filling.
Prepping the Ingredients
This recipe makes sixteen Papas Rellenas Latkes. I strongly recommend dividing the mashed potatoes and the filling into sixteen portions prior to beginning the assembling process. Otherwise you run the risk of not having the right proportions of filling and potatoes.
Trust me on this.
I also had a small bowl of corn starch next to the divided ingredients which made dusting the unfried latkes easier. Someone suggested putting corn starch on your hands to dust. The bowl just seemed simpler, shaking off any excess.
I also prepped all the latkes before frying. It just seemed like an efficient way to go.
Frying the Papas Rellenas Latkes
I like to fry in an oil with a high smoke point, like peanut or avocado oil. and in this case I used peanut oil. It really does a great job frying the latkes to a rich golden brown.
Another trick, from Adeena Sussman, is to put a carrot in the oil when frying. According to Adeena:
"Not only does the carrot help regulate the oil temperature, but it also serves as a magnet, collecting tiny particles and keeping the oil more pristine and less prone to burning. You can use the carrot for multiple batches — once it's shriveled and a bit caramelized, it's time to compost it and start with a new one."
It really works.
Here's the recipe for Papas Rellenas Latkes
While Papas Rellenas Latkes require a little more effort than traditional latkes, they are a great dinner main dish or side. Add your favorite veggie and you're ready to go with unique latkes that will impress and your whole family will love!
I made these pareve (meat and dairy free) by using plant based beef. You can make these using real beef if you like.
Print
Papas Rellenas Latkes
Author:

Prep Time:

45 minutes

Cook Time:

60 minutews

Total Time:

75 minutes

Yield:

16

Papas Rellenas Latkes

1

x

Category:

Main Dish

Method:

Frying

Cuisine:

Gluten Free

Diet:

Kosher
---
Description
Papas Rellenas Latkes – Stuffed Potato Latkes, are a take on the Carribean Papas Rellenas – Stuffed Potato Balls. These are made with plant based meat and homemade Sofrito making them incredibly flavorful. The fresh mashed potatoes made from real potatoes gives these Papas Rellenas Latkes a super crispy but flaky exterior. Topped with extra Sofrito they're a super special addition to your Chanukah meals. You'll love them so much, you're going to want to make them even after Chanukah!
---
For the Sofrito (makes around 1 3/4 cups)
1

large yellow onion, peeled

1

green bell pepper, seeded

1

bunch cilantro

6

cloves garlic
For the Potatoes
2

pounds

hot mashed potatoes

2

large eggs, lightly beaten

3 tablespoons

plant based margarine

2 teaspoons

cornstarch

1/2 teaspoon

salt
For the Filling
2 tablespoons

extra virgin olive oil

16

–

ounces

Beyond Burger or other plant based beef

1/4

cup

sofrito (from above)

1/4

cup

tomato sauce

2 teaspoons

dried oregano

1 teaspoon

salt
To Finish
1/2

cup

corn starch
Peanut or Avocado oil for frying

1

or

2

baby carrots
Additional sofrito for serving
---
Instructions
For the Sofrito
In the bowl of a food processor, process the cilantro until chopped.
Add the onion, bell pepper and garlic to the bowl and pulse until a smooth, thick puree forms.
For the Potatoes
Mix together the hot mashed potatoes, eggs, margarine, cornstarch and salt.
Set aside to cool.
For the Filling
Heat the oil in a large frying pan over medium-high heat. Add the meat and cook stirring to break up the clumps, until very lightly browned/cooked through.
Add the sofrito, tomato sauce, oregano and salt. Mix thoroughly. Set the heat to low and simmer for 15 minutes. Remove from the heat and allow to cool.
Divide the potato mixture and meat mixture into 16 even portions. Place the 1/2 cup corn starch into a small bowl.
Roll a potato portion into a ball then flatten into a thin circle. Place a portion of the filling into the center of the circle and fold the potato around the filling. Gently flatten into a pancake.
Dust the pancake with the cornstarch. Place on a baking sheet. Repeat with the remaining potato and filling.
Heat around 2-inches of oil in a large skillet or pot. Add a baby carrot.
Fry the latkes in the oil, in batches, until golden brown on each side. Drain on a wire rack.
Serve hot with additional sofrito.
---
---
Notes
I made the hot mashed potatoes by boiling 2.25 pounds of russet potatoes for around 20 minutes until they were fork tender. After draining, I allowed them to cool enough to rub the peelings off, then I hand smashed them until there were no lumps. I worked quickly enough so they were still very warm.
I wore vinyl gloves to help keep the potato from sticking to my hands.
The Sofrito can be stored in an air tight container for up to a month in the refrigerator.
Nutrition
Serving Size:
Calories:

189

Sugar:

0.7 g

Sodium:

408 mg

Fat:

9.9 g

Saturated Fat:

2 g

Carbohydrates:

17.6 g

Fiber:

2.2 g

Protein:

8 g

Cholesterol:

23.3 mg
Keywords: Papas Rellenas, Latkes, Stuffed Latkes, Potato Latkes, Sofrito, Homemade Sofrito, Pareve, Meat Free, Dairy Free, Chanukah, Chanuka, Hanukkah, Hanukah, Latke Recipe, Latkes from Scratch
Recipe Card powered by
More Luscious Latke Recipes

CHECK OUT THE KOSHER EVERYDAY AMAZON INFLUENCER STOREFRONT!
I'm excited to announce the launch of my brand, spankin' new, Amazon Influencer storefront. The purpose of this store is to share with you all of my favorite tools, ingredients and accessories that I use on Kosher Everyday. If there's something you'd like to see please let me know and I'll make sure to add it. I'm updating the storefront all the time.
You can find all my Cookware and Bakeware including ones like the HexClad 14 Inch Hybrid Stainless Steel Frying Pan with Lid, Stay-Cool Handle – PFOA Free, Dishwasher and Oven Safe, Non Stick with lid on my storefront.
I've put together a complete Gluten Free Challah Storefront with everything you need to make fabulous Gluten Free Challah!
Additionally there is a Small Appliance Storefront with many awesome small appliances that I recommend for your kitchen…even if you have a small space!
I'd love to hear what you think!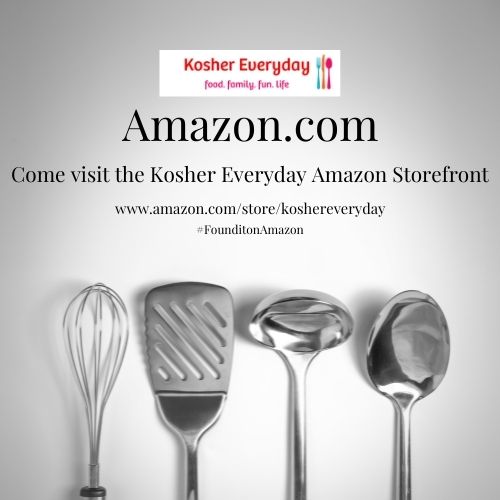 FOLLOW ME!
Don't forget to follow Kosher Everyday on Instagram @koshereveryday! and on Facebook You don't want to miss all the fun and interesting posts and reels that can be found nowhere else!
You can find reels showing how to make most of my recipes on Instagram!
Also, make sure to tag @koshereveryday when you make Kosher Everyday recipes! I LOVE to see your creations!!!
Please note that this post contains affiliate links. Thanks for your ongoing support!