How I came up with the ideas for Individual Party Salads and Festive Jello Champagne Cups
At the time I was trying to come up with some fun and festive party ideas. This was pre-covid when everyone was with everyone, no one was worried about vaccinations, and parties were actually a thing. I wanted Individual Party Salads, delicious and healthy, that people could walk around with. Similarly, the Festive Jello Champagne Cups were filled with sparkling jello and fruit and could be carried around a party, or could be eaten sitting on a couch. Both recipes were in individual cups and minimized spillage.
Today, these work because they are individually prepared. Each person gets their own serving without worrying about cross contamination.
Who would have predicted this in 2015?
Not. Me.
My New Years Memories
Born and raised in Chicago, I grew up with cold, blustery, snow-filled Midwest winters. My father (z"l) was an executive in a large international company and would work incredibly long and stressful hours. My mother (z"l) would insist that he take a few weeks of vacation to recharge so that he didn't get sick from his challenging work schedule and the weather.
As a result, at a very young age I became a snow bird. Once a year during winter break we would escape the record snowfalls and frigid temperatures, head south to warm, sunny Miami Beach and stay at the only kosher hotel on the beach — the Saxony Hotel.
And then we grew up
Once my sister and I were married and had kids, we would fly down with our families and meet my parents at the Saxony, where all the cousins would have a fabulous oceanside reunion, playing on the beach and in the pool. Joe Drao, the event coordinator, would enthusiastically play show tunes on his keyboard and sing along for the entertainment of the guests by the pool, and would run "cutthroat" bingo games in the Veranda room. Those bingo games were legendary. Some of the valuable prizes were a deck of cards, a 7 day pill box, a hairbrush, and if you were lucky enough to get a full card you got the best prize of all – an umbrella.
New Years Eve at the Saxony
One of the favorite events at the Saxony was the New Year's Eve Midnight Supper. The guests that stayed at the hotel were given a special, free, New Year's Eve dinner if they were able to stay up until midnight. It was the highlight of everyone's trip.
Not only did guests get a free dinner consisting of matzah ball soup (where the matzah balls were as big as the cup), mashed potatoes, green beans and sliced brisket, there were also New Year's Eve decorations on the tables, including festive hats, noisemakers and leis.
Sadly, the Saxony closed as a kosher hotel many years ago, but those memories will always be with us.
We're still snow birds!
We're still snow birds and go down to visit Dear Husband's family in Sanibel Island every year. Unfortunately, not everyone in the family is able to go because of school and work obligations.
So if you were planning on robbing our empty house, forget it. People will be home and we have an alarm system. Sorry…not sorry.
This year we will be home for New Years Eve, which is on a Friday Night/Shabbat. I think it will be loads of fun to make a big New Years Eve Shabbat…
Dear Daughter…what are you planning on making for us!
Here are the recipes
Print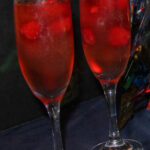 Festive Jello Champagne Cups
Author:

Prep Time:

10 minutes

Refrigeration:

6 hours

Cook Time:

10 minutes

Total Time:

6 hours 20 minutes

Yield:

10 cups

1

x

Category:

Dessert

Method:

Cooking

Cuisine:

Plant Based

Diet:

Kosher
---
Description
Festive Jello Champagne Cups are made with sparkling grape juice and fresh fruit. They're beautiful, fruity, delicious and even kid friendly. Best of all, they're served in individual champagne glasses so everyone gets their own.
---
2 cups

white grape juice

4

*3-ounce) packages sugar-free unflavored gelatin

1

bottle (25.4 oz.) sparkling grape juice, at room temperature

12 ounces

frozen raspberries

10

Champagne glasses

1

long wooden skewer or chopstick
---
Instructions
Place the white grape juice in a medium pot. Sprinkle the gelatin over the juice and immediately whisk to remove any clumps.
Allow the gelatin to sit for 5 to 10 minutes until completely dissolved.
Heat the juice/gelatin mixture over medium-low heat until the liquid is warm and clear. Pour the sparkling grape juice over the warmed juice/gelatin and vigorously whisk to combine. You can also use an immersion blender to blend the two mixtures together.
Evenly ladle the blended mixture into the Champagne glasses.
Place 3 or 4 frozen raspberries on the top of the gelatin mixture in each glass. Use the long wooden skewer to gently push the raspberries partially down into the glasses in a decorative distribution. Top each glass with an additional raspberry or two.
Refrigerate for 4 to 6 hours until gelatin is completely set. Serve chilled.
---
Equipment
---
---
Keywords: Jello cups, sparkling gelatin, sparkling jello, New Years Eve recipe, kosher, gluten free, plant based, dairy free
Recipe Card powered by
Print
Individual Party Salads
Author:

Prep Time:

15 minutes

Refrigeration:

30 minutes

Total Time:

45 minutes

Yield:

12 cups

1

x

Category:

Appetizer

Method:

Tossing

Cuisine:

Meat

Diet:

Kosher
---
Description
Individual Party Salads are served in margarita cups and layered with sliced tomato, lettuce, smoked turkey breast and egg topped with a light dressing. Easy to eat, easy to carry around.
---
For the Dressing
1⁄4 cup

light mayonnaise

1

clove crushed garlic or

1

frozen garlic cube

1 tsp

. lemon juice

1⁄8 tsp

. black pepper

2

Tbsps. water
For the Salad
1

head butter lettuce, broken into bite-size pieces

1⁄2 cup

grape tomatoes, halved lengthwise

1

lb. honey turkey breast, very thickly sliced, then julienned

3

hard-boiled eggs, chilled then thinly sliced

12

mini-margarita cups
---
Instructions
For the Dressing
In a small bowl, combine the mayonnaise, garlic, lemon juice and black pepper.
Whisk until thoroughly combined.
Add enough water to make a smooth, just pourable dressing.
For the Salad
Toss the lettuce with the tomatoes, then divide into the 12 cups.
Spoon a tablespoon of the dressing over the lettuce.
Carefully place several strips of turkey over the dressing, then top with a slice of egg.
Chill until guests arrive.
Can be made 1 to 2 hours in advance.
---
---
Keywords: Salad Cups, Individual Salads, Layered Salad, Meat Salad, Salad, Kosher, Dairy Free, Gluten Free
Recipe Card powered by
Here are some more festive party recipes
FOLLOW ME!
Don't forget to follow Kosher Everyday on Instagram @koshereveryday! and on Facebook You don't want to miss all the fun and interesting posts and reels that can be found nowhere else!
You can find reels showing how to make most of my recipes on Instagram!
Also, make sure to tag @koshereveryday when you make Kosher Everyday recipes! I LOVE to see your creations!!!
Please note that this post contains affiliate links. Thanks for your ongoing support!