Homemade Almond Milk
I've read that almond milk doesn't have a whole lot of almonds in it, and is mostly water. Additionally, there are some sources that talk about other issues with store bought almond milk.
According the the Organic Authority:
"It says almond on the front of the package, but how many almonds actually make it into your store-bought almond milk? Recent industry insiders admit that a half-gallon of almond milk contains less than a handful of actual almonds — a study of one brand shows that the milk contains a pitiful 2% almonds… not encouraging for a product with almond in the name.
Based on the amount of almonds in the milk, one writer calculated the price point of most almond milks and found that you're better off just snacking on a handful of almonds… or making your own almond milk."
I'm sold.
For the cost of a cup of almonds and a few cups of filtered water I can have nearly a quart of Homemade Almond Milk. Sounds pretty good to me.
How to make Homemade Almond Milk
I thought, well…then how hard can it be to make it by myself. I was in a kitchen store and saw a kit for making homemade almond milk. So…I bought it.
In honor of tomorrow being National Almond Day, I decided to give Homemade Almond Milk making a go.
The process for making Homemade Almond Milk is actually insanely easy.
First you soak the whole almonds.

You drain them, add filtered water and a dash of salt, then pulverize them.

Put the resulting mixture in a "nut milk" bag.

Squeeze out the resulting liquid into a bowl/container.

That's it.
You can add additional flavors like chocolate or vanilla to the almond milk. Totally up to you.
How it turned out
I was worried the the milk would turn out a weird brownish color because unblanched almonds are soaked, then ground. It didn't turn out that way, which made me extremely happy.
It also tasted light and fresh. I was a little nervous considering that I've been purchasing almond milk from my local grocery stores ever since I started to reduce my dairy intake. I was pleasantly surprised.
I even made a Mocha Protein milkshake with it, and it was delicious!
What to do with the remaining almond pulp
I wasn't sure what to do with the remaining almond pulp after I squeezed out all the milk. There are some great ideas from The Academy of Culinary Nutrition. I ultimately decided to make some Almond Hummus, figuring that the consistency was closest to ground chickpeas, and adding some tahini to it plus other ingredients would make it very hummus-like.
I did a whole post on different Super Simple Hummus Recipes so this should be right along the lines of the rest.
I may also make it into dried crumbs to make chicken coating, I haven't decided yet.
Perfect for Passover
I know none of us want's to think about the holiday that begins with the letter "P", however, just put in the back of your mind that this is a great, healthy, easy to make option for Passover. Especially if you make all the food yourself and don't purchase manufactured products. Don't worry, when it's time I'll remind you 😆 .
Here's the Recipe
It's important to soak the almonds in water for at least 4-6 hours. I soaked mine overnight. Before blending them I drained and rinsed them.
Print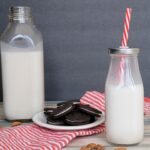 Homemade Almond Milk
Author:

Prep Time:

20 minutes

Soaking Time:

6 hours

Total Time:

6 hours 20 minutes

Yield:

32 ounces

1

x

Category:

Beverage

Method:

Blending

Cuisine:

Plant Based

Diet:

Kosher
---
---
For Soaking
1

cup

whole, raw almonds
water to cover
To Finish
4

cups

filtered water
dash kosher salt

1 tablespoon

pure vanilla extract (optional)
sweeteners to taste (optional)
---
Instructions
For Soaking
Place the almonds in a small bowl. Cover completely with water.
Allow the almonds to soak for at least 4-6 hours and no more than 24.
To Finish
In a small colander, drain and rinse the soaked almonds.
Place the almonds, four cups of water and dash of salt in the bowl of a blender.
Blend the ingredients for several minutes until smooth.
Over a large measuring cup (8 cups) or bowl, pour the blended almond milk into a nut bag.
Holding the top of the bag closed, squeeze the milk out of the bag and into the measuring cup. Continue squeezing until all the milk has been filtered out of the bag.
Reserve the almond pulp for another use.
Add any additional flavorings or sweeteners to the milk.
Transfer to a 64 ounce pitcher/bottle. Store refrigerated.
---
---
Notes
This is a good milk to use on Passover when plant based milks may be difficult to find.
Keywords: Almond Milk, Plant Based Milk, Homemade, Gluten Free, Dairy Free, Passover
Recipe Card powered by
Kosher Everyday Recipes that Use Almond Milk
FOLLOW ME!
Don't forget to follow Kosher Everyday on Instagram @koshereveryday! and on Facebook You don't want to miss all the fun and interesting posts and reels that can be found nowhere else!
You can find reels showing how to make most of my recipes on Instagram!
Also, make sure to tag @koshereveryday when you make Kosher Everyday recipes! I LOVE to see your creations!!!
Please note that this post contains affiliate links. Thanks for your ongoing support!