Crispy Brussels Sprouts and Salami
Sometimes you order a dish at a restaurant that you love, but…you feel the need to make it healthier. A little better for you. That's what happened when I ordered Crispy Brussels Sprouts from Crunch, a meat restaurant located here in hometown Chicago.
How I came to Crispy Brussels Sprouts and Salami
For several weeks I was doing a gluten test to determine if I have Celiac Disease. Basically, because I normally am a GFE – Gluten Free Eater, testing for Celiac Disease without having eaten gluten probably wouldn't result in an accurate test. So I ate gluten.
A lot of gluten.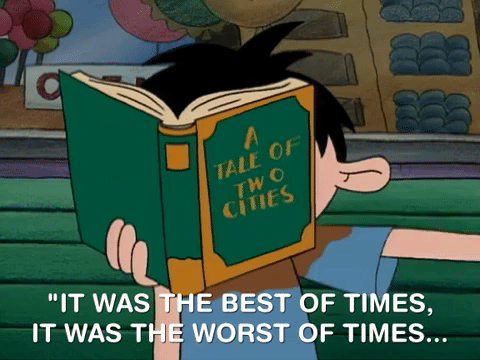 I had an existential experience eating my glutenous challah on Shabbat, and savored the real puff pastry deli roll too.
Dear Husband and I made the rounds of local restaurants that had glutenous food items that I've always wanted to try but couldn't…because you know…gluten.
It was the best of times.
I basically had one hour to eat whatever I wanted, and then…
It was the worst of times.
Regardless of what the test reveals…I'm definitely gluten intolerant.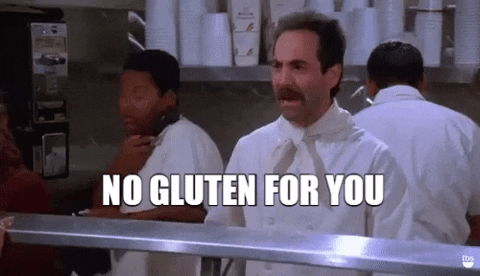 The Glutenous Restaurant Experience
We went to local restaurants like Nuovo and had incredible Truffle Pizza.
I ordered wraps and ate donuts from Dunkin Donuts. It may seem like a simple thing but when you can't have certain foods and then can well you want to have it all!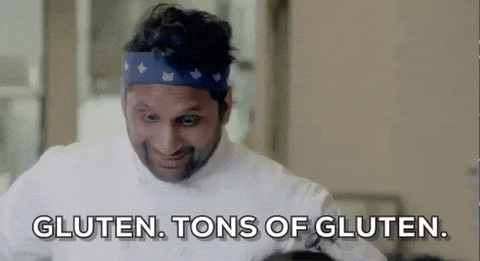 We ordered most of the food to eat at home. It gave me the ability to eat in the comfort of my house and then exit stage left after an hour. One of the last nights before my test, we ordered from a local restaurant called Crunch.
"Crispy Sprouts and Pastrami" from Crunch
Our kids have ordered a few times from Crunch and recommended it highly. They loved the Flaming Crispy, which is crispy chicken, crispy jalapenos, drenched in sweet buffalo, cole slaw, romaine, tomato and pickle on a soft and chewy pretzel bun.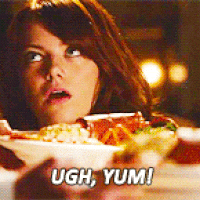 I did take a picture of it…but it doesn't really do it justice. It was really really good.
While we also ordered other food like fabulous brisket egg rolls, sigh, I figured it might make sense to add something sort of healthy to the order. I included the Crispy Brussels and Pastrami, which are listed as lightly fried Brussels sprout petals, crispy pastrami and sea salt.
I thought…
It's a vegetable = It's healthy.
Right?
The Crunch Crispy Brussels and Pastrami was delicious, but they was kind of greasy. I guess if it says "lightly fried" I should have expected it. I mean what does "lightly fried" mean anyway and how does it compare to "heavily fried".
But I digress.
The truth is that I really liked the concept of the Brussels sprouts with diced beef.
I knew I wanted to remake this recipe, but without the whole greasy frying part.
Making Crispy Brussels Sprouts and Salami at Home
I decided to replace the pastrami with salami.
As a tried and true hometown Chicago girl (#chicagogirl), there is almost always a Romanian Kosher Salami hanging from a hook in our kitchen.
Trust me. It's a Chicago thing.
The choice was an easy one to make.
I ordered Brussels sprouts from one of my local produce stores. Not having a feel for how much I really needed, I ordered between two and two and a half pounds of whole raw Brussels sprouts.
Then next step was washing the Brussels sprouts.
Cleaning the Brussels Sprouts
Let me start by saying – It's important to consult your personal kashrut authority about how to wash vegetables.
Brussels Sprouts are notoriously difficult to wash to eliminate all the bugs. However, if you take them aparts and wash the individual leaves together in a large bowl, similar to cut lettuce, it's a different story.
Luckily I had my magic elves handy to help with the task.
Once they were trimmed and separated there was around a pound and a half of washed leaves.
The downside of this recipe is that it does take some time to separate the leaves off of the Brussels sprouts. You may be able to find ready Brussels sprout leaves in your store. If you can it's worth the time savings.
I also saved the tight Brussels sprout centers that were hard to separate, roasted them and made them into a Brussels sprout and garlic dip. Nothing went to waste.
The Recipe for Crispy Brussels Sprouts and Salami
I wanted to keep the recipe clean and simple, having the flavors of the Brussels Sprouts and excellent quality salami shine through.
The other thing I discovered after some research, was that it wasn't necessary to add a lot of oil to the recipe. A little was important for the crispiness, but the temperature that the Crispy Brussels Sprouts and Salami was baked at was critical. Also important was tossing the ingredients on the pan twice during the baking process to ensure maximum crispiness of the dish, without some parts burning to a crisp.
You might think that a whole sheet pan of Crispy Brussels Sprouts and Salami would make a ton, but when I transferred the batch to a 8-inch square Pyrex dish, it fit perfectly. It was filled to capacity, but not overflowing. When I served it at lunch to a small crowd of seven plus two toddlers, it was pretty much completely finished – with rave reviews I might add.
Feel free to halve the recipe if you only have a few to feed.
Print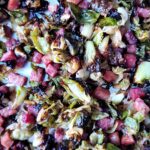 Crispy Brussels Sprouts and Salami
Author:

Prep Time:

45 minutes

Cook Time:

30

Total Time:

75 minutes

Yield:

8

servings

1

x

Category:

Vegetable

Method:

Baking

Cuisine:

Gluten Free

Diet:

Kosher
---
Description
Crispy Brussels Sprouts and Salami is a surprisingly amazing dish. Rather than frying the sprouts and salami, I baked them at a high temp to crisp and roast them. The resulting Crispy Brussels Sprouts and Salami felt healthier! Everyone inhaled them!
---
nonstick spray

2

–

2 1/2

pounds

whole Brussels sprouts, trimmed and separated into leaves, washed then thoroughly dried (1 1/2 pounds of leaves)

1

pound

salami, cut into small cubes

2 tablespoons

garlic oil, or

2 tablespoons

avocado oil and 1 clove crushed garlic

1/2 teaspoon

freshly ground black pepper

1/4 teaspoon

crushed red pepper

1/2 teaspoon

kosher salt
---
Instructions
Preheat oven to 450°F.
Line a half sheet pan with foil and spray with nonstick spray. Set aside.
Place the Brussels sprout leaves and diced salami in a large bowl. Toss with the garlic oil, black pepper, crushed red pepper and kosher salt until completely coated.
Evenly spread onto the prepared baking sheet.
Bake uncovered for 10 minutes, then remove the brussel sprouts from the oven, toss and then return to the oven. After an additional 10 minutes, repeat, removing the Brussels sprouts from the oven, tossing then returning the pan to the oven.
Bake for a final 10 minutes until the Brussels sprouts are crispy.
Serve hot.
---
---
Notes
This recipe makes a full 8×8-inch casserole dish. If that is too much for your family, feel free to halve the recipe.
If you can find fresh bags of Brussels sprout leaves, it will make the preparation of the recipe faster.
Depending upon how hot your oven is will determine how long it takes for the Brussels sprouts to get crispy. If necessary add 10 minutes at a time, tossing in between until the Brussels sprouts are crisped.
For meat free options, eliminate the salami from the recipe or substitute plant based salami.
It's important to make sure that Brussels sprout leaves are completely dry before beginning with the recipe. Having wet leaves will cause the brussel sprouts to steam rather than crisp.
Keywords: Brussel Sprouts, Brussels Sprouts, Salami, Vegetable, Side Dish, Dairy Free, Gluten Free, Kosher
Recipe Card powered by
More Vibrant Vegetable Recipes
HERE'S SOMETHING NEW – THE KOSHER EVERYDAY AMAZON INFLUENCER STOREFRONT!
I'm excited to announce the launch of my brand, spankin' new, Amazon Influencer storefront. The purpose of this store is to share with you all of my favorite tools, ingredients and accessories that I use on Kosher Everyday. If there's something you'd like to see please let me know and I'll make sure to add it. I'm updating the storefront all the time.
I'd love to hear what you think!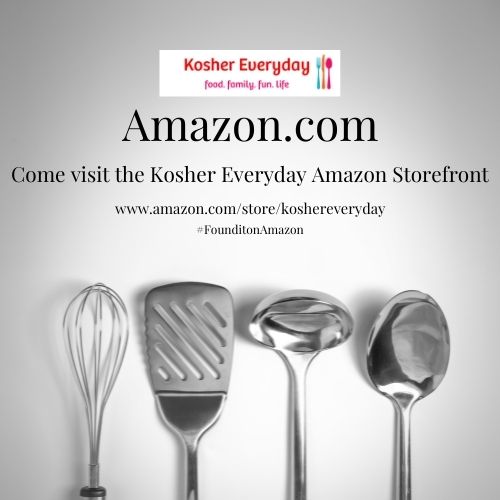 FOLLOW ME!
Don't forget to follow Kosher Everyday on Instagram @koshereveryday! and on Facebook You don't want to miss all the fun and interesting posts and reels that can be found nowhere else!
You can find reels showing how to make most of my recipes on Instagram!
Also, make sure to tag @koshereveryday when you make Kosher Everyday recipes! I LOVE to see your creations!!!
Please note that this post contains affiliate links. Thanks for your ongoing support!