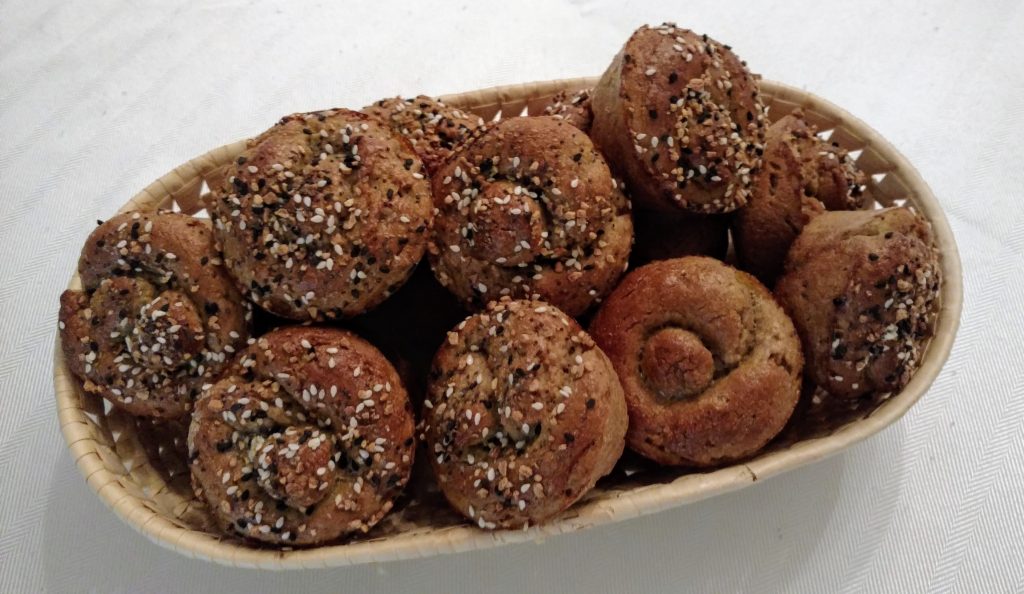 My original Honey Oat Challah Recipe!
Gluten Free Oat Water Challah is one of the best gluten free challah's EVER!
I've been working for a while on a gluten free water challah recipe. After the rousing success of my previous Gluten Free Oat Challah and Gluten Free Honey Oat Challah recipes, I had no choice but to make the vegan version as good…or even better! I also wanted the challah to be completely plant based but completely delicious, and so Gluten Free Oat Water Challah was born.
Gluten Free Oat Water Challah Had to be as good as it's predecessors
Over the years people have asked if there was an egg free version of the originals – and aside from accidentally forgetting to add eggs one time (it was super dense… the challah and me), I didn't really have an answer.
Until…
When I was in Israel in December, I bought some excellent gluten free oat challah in Ramat Beit Shemesh. While I couldn't be sure (I had thrown the wrapper away), the challah tasted like a water challah version. It motivated me to try to come up with a good recipe when I got back to Chicago.
Ding!
If you didn't already know, in a previous lifetime I was an electrical engineer. Really. An MSEE from Columbia University and everything. I even worked in the industry for 15 long years! I'm telling you this because a part of me will always love science. GASP! It's true. So, finding out the chemistry and properties of ingredients gives me goose bumps.

It's why I love anything from America's Test Kitchen.
How America's Test Kitchen helped develop Gluten Free Oat Water Challah
Shortly before our trip, Leeba Gluck posted about "The How Can it be Gluten Free Cookbook" by America's Test Kitchen on the Kosher Me & Gluten Free Facebook group. I knew I had to have it. Amazon -> Click!
I studied that book. I highlighted that book. I had great revelations from that book. And I knew.
I knew!
I had the tools to develop the all new-delicious-fluffy-fabulous Gluten Free Oat Water Challah!!!
As with America's Test Kitchen, I had to go through several iterations of the recipe until I was satisfied with the result. I made a lot of challah! I had so many challahs that I actually posted for people to come pick some up!
On to the science of making Gluten Free Oat Water Challah…
Because the recipe is vegan, I had to replace the egg protein in the original recipe with another. Rice milk was out. I tried almond milk, and the result was good, however many people who are gluten intolerant, have nut allergies as well. I switched to soy milk, but it was incredibly hard to find (surprisingly), and the word on the street is that it's not the healthiest option.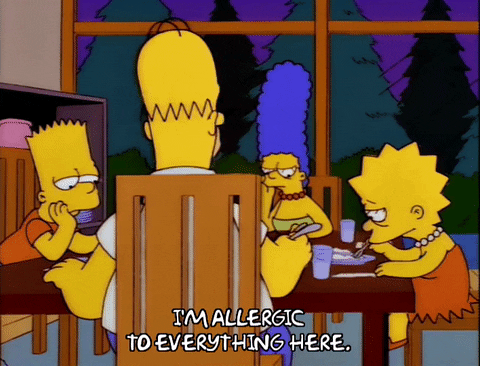 You've got to have friends!
I posted again on Kosher Me & Gluten Free, asking for another option. I got two good ones – oat milk and hemp milk. I really liked the idea of using oat milk with an oat flour. Sadly, I didn't have any oat milk in the house. So…I made some! It wasn't too complicated. I made a few minor errors in the process, but in the end, I had a reasonable excuse for oat milk.
The challah was really good!
I still wanted to adjust the recipe to use over-the-counter oat milk. I also wanted to tweak a few of the other ingredients. I bought some oat milk from the store, and it seemed kind of thick. The challah made with the thick oat milk came out slightly denser than I would have liked. I wasn't sure if that's how all store bought oat milk was, so I purchased another brand. The second one was definitely not as thick. The result?
In the end, Gluten Free Oat Water Challah was PERFECTION!
In my final batch I made some hamburger buns, braided a few loaves, and made a loaf of sandwich bread. All were, in my humble opinion, exactly what I was looking for. I tried a suggested method of egg wash replacement of maple syrup and oat milk. While it was absolutely tasty, it didn't really do the browning thing too well. Oh well.
As a non-celiac GFE (gluten free eater), I used non-gluten-free-certified oat milk. If you are more sensitive, or celiac, it's critical that you use a gluten free certified brand of oat milk. If you don't have oat milk handy you can substitute unsweetened almond or soy milk. Don't use rice milk. I didn't try hemp milk but that's on my list of things to do at some point.
I also used my Escali scale to weigh the ingredients. This will help you to ensure that you have the right volume of ingredients, as some gluten free flours are prone to clumping.
One more tip. I add a "whisking" step in the recipe instructions. DO NOT SKIP THAT STEP. It's critical because it not only de-clumps the flour blend, but it also aerates it. It's important in achieving the resulting lightness and fluffiness of the final recipe. I use a balloon whisk in this step rather than a fork.
In the end I washed more than I have in a very long time, but it's been a good journey.
If you have any suggestions or modifications, please let me know in the comments below.
Here's the recipe for Gluten Free Oat Water Challah!!!
Print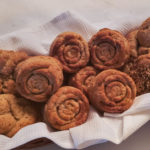 Gluten Free Oat Water Challah (Vegan)
Author:

Prep Time:

10 mintues

Rising Time:

60 minutes

Cook Time:

20 minutes

Total Time:

90 minutes

Yield:

18

rolls

1

x

Category:

Bread

Method:

Baking

Cuisine:

Plant Based

Diet:

Gluten Free
---
Description
Fluffy and delicious. You can even braid this dough to wow and amazing your GFE's (gluten free eaters)!!!
---
1 1/2

cups

certified gluten free oat milk, baby bottle warm

2 tablespoons

active dry yeast

4.5

cups

(575g) certified gluten free oat flour

1/2

cup

(70g) tapioca flour

1 1/3

cups

(225g) potato starch

1 tablespoon

xanthan gum

2 teaspoons

kosher salt

3/4

cup

granulated sugar

1 tablespoon

baking powder

1/2

cup

canola oil

1

cup

fresh plain seltzer
Propellant free nonstick vegetable spray
---
Instructions
Preheat oven to 350°F or 325°F convection.
In a medium bowl, or large measuring cup, whisk together the oat milk and the yeast. Place in a warm spot to proof.
In a large mixing bowl, place the oat flour, tapioca flour, potato starch, xanthan gum, kosher salt, sugar, and baking powder. Whisk the dry ingredients together for 3-4 minutes, making sure all the clumps are removed and the flours are aerated.
Make a well in the center of the flour. Add the canola oil, oat milk/yeast mixture and seltzer. Using a large spatula or wooden spoon, gently stir together the ingredients until completely blended and smooth. Allow the batter to rest for 5 minutes.
Spray 18 muffin tins/molds with the nonstick spray. Make "muffin sized" balls with the dough and gently press into the muffin tins. If braiding, carefully braid the dough and place in a tin or on a prepared baking sheet*. Repeat with all the dough.
Loosely, but completely, cover the challahs with plastic wrap and place in a warm spot. Allow the challahs to rise for 60 minutes.
Bake for 20 minutes. Remove from the oven and let rest for 5 minutes before removing from the molds.
Serve warm for best taste.
---
---
Notes
If you decide to braid the dough, sprinkle some additional oat flour on a pastry board. Roll 3 balls into strands, tapering at the end. I recommend not using more than 3 strands as the dough is fragile. Braid into a challah, then bake according to the above instructions.
If making a larger challah, bake for a short time longer. Be careful not to over bake the challah.
Feel free to use less sugar for a less sweet challah. The challah may be drier as a result.
Nutrition
Serving Size:
Calories:

253

Sugar:

9.6 g

Sodium:

167.2 mg

Fat:

8.5 g

Saturated Fat:

0.9 g

Carbohydrates:

39.8 g

Fiber:

2.5 g

Protein:

5 g

Cholesterol:

0.4 mg
Keywords: Gluten Free, Plant Based, Gluten Free Challah, Oat Challah, Washing, Shabbat Challah, Gluten Free Recipe
Recipe Card powered by
Please note all Amazon links are affiliate links. Thanks!
Don't forget…Shabbos Under Pressure is still available on Amazon.
Click the photo to order.

Click on me to order!!!
Also…if you are interested in having me come and do a demo or book signing at your local school, shul or organization please let me know! I'd love to meet you in person!!!
HERE'S SOMETHING NEW – THE KOSHER EVERYDAY AMAZON INFLUENCER STOREFRONT!
I'm excited to announce the launch of my brand, spankin' new, Amazon Influencer storefront. The purpose of this store is to share with you all of my favorite tools, ingredients and accessories that I use on Kosher Everyday. If there's something you'd like to see please let me know and I'll make sure to add it. I'm updating the storefront all the time.
Check out the all new Gluten Free Challah List! It has all you might need to make Kosher Everyday Gluten Free Oat Challah!
I'd love to hear what you think!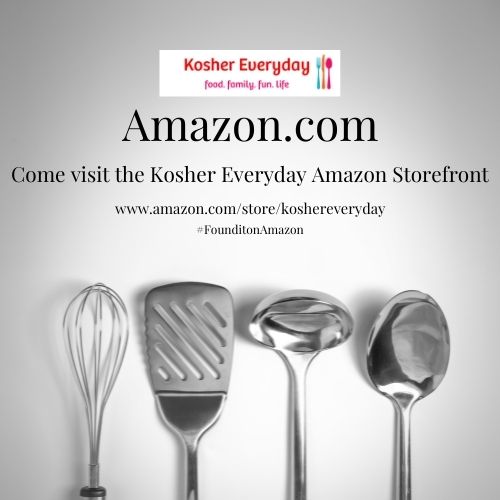 FOLLOW ME!
Don't forget to follow Kosher Everyday on Instagram @koshereveryday! and on Facebook You don't want to miss all the fun and interesting posts and reels that can be found nowhere else!
You can find reels showing how to make most of my recipes on Instagram!
Also, make sure to tag @koshereveryday when you make Kosher Everyday recipes! I LOVE to see your creations!!!
Please note that this post contains affiliate links. Thanks for your ongoing support!