Fresh Fruit Sorbet
I recently went to the Inspired Home Show (you can read all about it here), and I came across one of my all time favorite kitchen appliances/tools/gadgets – the Yonanas machine. The Yonanas machine basically takes frozen fruit and pulverizes it into Fresh Fruit Sorbet. I've been using it for years, with two for Passover and one for the rest of the year.
When I saw a recipe from Melissa's Produce (via Pamela Salzman) on Instagram for how to make One Ingredient Tangerine Sorbet, I knew that the sorbet and Yonanas had to be combined. While the Tangerine Sorbet from Melissa's used a food processor, I really wanted to put my Yonanas to work.
You can find the Melissa's Produce/Pamela Salzman recipe here.
Before I continue I want to make it very very clear: As of the writing of this post I am not being paid by the Yonanas company.
New Fresh Fruit Sorbet Flavors
I loved the idea of using tangerines for sorbet. I've been making mango and strawberry sorbets using my Yonanas for years. I needed to come up with more flavors, building on the theme. While in Trader Joe's I came across some blood oranges. I thought "Can you imagine how gorgeous and delicious Blood Orange Sorbet would be???"
I bought two 2-pound bags.
Then I searched for seedless lemons. I really wanted to make a Honey Lemon Sorbet, figuring that it would be super refreshing after a long Seder. Wonderful sells seedless lemons. How awesome is that???
Finally, I wanted to try a sorbet similar to the one by Pamela Salzman, and bought some seedless mandarin oranges.
The Process
While I used the Yonanas machine to make Fresh Fruit Sorbet (I mean it's super simple so why wouldn't I??), you can make a similar dessert using a food processor. I love my Yonanas, but as much as I love it, if you have to choose between purchasing a Yonanas and a food processor buy the food processor. A large food processor is an essential Passover tool.
When I think of all the vegetable/potato kugels, fresh vegetable salads and charoset that are made during the holiday, I firmly believe that a food processor is an worthwhile investment.
Here's how I make it.
Step 1
Peel the fruit.
That's it.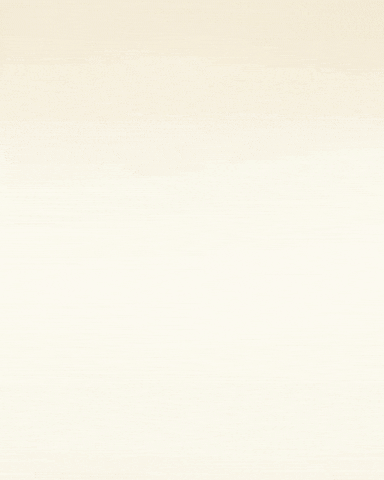 I even peeled the lemons. You don't have to actually supreme the fruit (a.k.a take off the membranes around the segments) as long as you make sure there are no seeds in any of the segments.
Some of the blood orange segments did have seeds, I checked, and I just pulled them out before proceeding.
Step 2
Section the fruits and put the segments on a parchment or silicone mat covered baking sheet.
Step 3
Freeze the fruit overnight, or for at least several hours.
Step 4
Take the fruit out of the freezer and allow it to rest until the fruit isn't rock hard, around 10 minutes.
Step 5
Run the fruit through the Yonanas machine or blend well in a food processor. If making the Honey Lemon Sorbet, stir in honey to taste.
I found that a pound of fruit makes around an 8 ounce deli container's worth of sorbet.
Step 6
Enjoy your Fresh Fruit Sorbet!
You can store leftovers in the freezer. Make sure to take the sorbet out of the freezer 10-15 minutes before serving to allow it to soften enough to scoop.
How it turned out
I was incredibly happy with how all the different Fresh Fruit Sorbets turned out. It's very important to use fresh fruit though. I had bought some of my blood oranges a while back and you could taste the not-quite-fresh-fruit taste in the sorbet. When the fruit was fresh it was amazing!
The Honey Lemon Sorbet is tart! You can make it sweeter by adding some additional sugar or more honey. I found that when serving, it was nice to drizzle additional honey over it, and had additional honey available for anyone that wanted it. It's really a matter of personal preference.
The Mandarin Orange Sorbet was incredible. The mandarin oranges were fresh and juicy which resulted in a wonderful finished product.
Here's the recipe
The recipe is pretty easy…it's basically fruit. I'll write it up for you anyway.
Print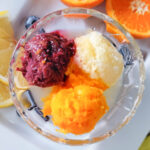 Fresh Fruit Sorbet
Author:

Prep Time:

10 minutes

Freezing Time:

6 hours

Cook Time:

15 minutes

Total Time:

6 hours 25 minutes

Yield:

8 ounces

per pound

1

x

Category:

Dessert

Method:

Processing

Cuisine:

Gluten Free

Diet:

Kosher
---
Description
Fresh Fruit Sorbet is made exclusively from fresh, natural, healthy fruit! Mandarin Orange, Honey Lemon (ok…a little honey in this one), and Blood Orange sorbets. They are the perfect, light, guilt free end to your meal!
---
1

to

3

-pounds citrus fruit (seedless mandarin oranges, seedless lemons, seedless blood oranges), peeled and separated into segments. Remove any extra seeds that may have snuck into the fruit.

2

–

3

tablespoons honey, for Honey Lemon Sorbet, plus additional sugar to taste
---
Instructions
Line a baking sheet with parchment or a silicone mat. Set aside.
Place the fruit segments in a single layer on the baking sheet, then put the pan into the freezer.
Freeze the fruit several hours or overnight.
Remove the fruit from the freezer it will be hard. Let it rest for around 5-10 minutes until the fruit has softened slightly.
If using the Yonanas, run the fruit through the Yonanas machine and transfer to a large container.
If using a food processor, process the fruit until completely ground. Scrape down the sides and bottom of the food processor bowl and re-process until the fruit is completely smooth.
For the Honey Lemon Sorbet, add 2-3 tablespoons to the ground lemons plus any additional sugar to desired sweetness. Re-freeze for at least 30 minutes before serving.
Serve the sorbets garnished with additional fruit.
---
Equipment
---
Notes
You can also use frozen mango and strawberries for additional refreshing sorbet flavors.
---
Keywords: Fresh Fruit Sorbet, Gluten Free, Sorbet, Dairy Free, Plant Based, Passover, Pesach, Fresh Fruit, Non-Gebroks
Recipe Card powered by
More Passover Desserts
More to come!
Here's a link to more Passover Recipes!
PASSOVER IDEA LIST ON AMAZON
I also put a Passover Idea List on Amazon.
These are item's I recommend to help make your Passover even more wonderful.
FOLLOW ME!
Don't forget to follow Kosher Everyday on Instagram @koshereveryday! and on Facebook You don't want to miss all the fun and interesting posts and reels that can be found nowhere else!
You can find reels showing how to make most of my recipes on Instagram!
Also, make sure to tag @koshereveryday when you make Kosher Everyday recipes! I LOVE to see your creations!!!
Please note that this post contains affiliate links. Thanks for your ongoing support!