The Inspired Home Show 2022
This past week Chicago saw the return of the Inspired Home Show (formerly the International Home and Housewares Show) to McCormick Place. The Show was shortened by several days, and there were fewer vendors but there was still a ton to see! I picked the best of the best of the Inspired Home Show just for you and organized them into categories. You're going to want simply everything!! I know I do.
What is the Inspired Home Show?
The IHS is a housewares show, taking up the whole third floor of the McCormick Place Convention Center. Companies, new and old, come to show their merchandise to wholesalers, retailers and media.
I'm with the media.
Even though the show was smaller, and some larger companies (like OXO) didn't come, there were four humongous rooms filled with product.
For me it's like Disneyland and a trip to the moon.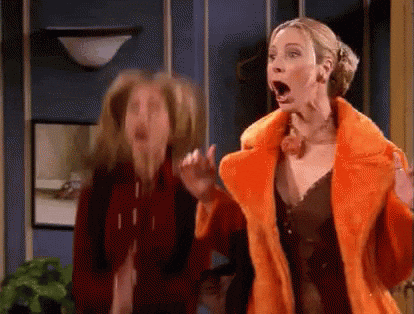 How I divided my time at the show
I mentioned that the show was three days long. Because the show started on Shabbat, that brought it down to two days.
And then this happened:
And my time at the show (thank you G-d!) was down to a day and a half.
There was a great app for the show that listed all the exhibitors and where they were located. That was a huge help in planning my short sprint through the show. Also, as a member of the media, companies were able to contact me in advance of the show (and I them) to connect and talk. This shortened booth visits significantly.
There were essentially three ginormous rooms at the show. Each room had it's own genre of displays. It made much more manageable to prioritize.
My Inspired Home Show Favorites
Here are my favorite products from the Inspired Housewares Show. I have also put many of the items in my Amazon Storefront Inspired Housewares Show 2022 category. Please make sure to check it out!
I was looking for items that would be great for the Home Chef, affordable, fun and often technologically cool. Please also note that I now have/will have a working relationship with many of these companies, however every review is truthful.
Here are the categories
1. Most Beautiful/Useful Serving Pieces
As an observant Jewish person, I'm always serving Shabbat or Holiday meals. I like my serving pieces to be multifunctional and beautiful. Here are my favorites from the show.
1. Lynn & Liana Designs
I loved the products from this company SO much I contacted them before the show. Each piece is handmade and absolutely stunning. Best of all they are gorgeous and functional!
"Every piece is designed and poured by hand to create something truly unique for your home. Canadian maple & eco-friendly epoxy used to create beautiful designs."
There are round trays, challah boards with שבת שלום engraved, charcuterie boards, cutting boards, vegan leather placemats, bags and more – all unique and more fabulous that the next.
Acacia Challah Boards – Use code LLKOSHER for 15% offYou can use coupon code: LLKOSHER for 15% off your order here.
2. Jata Terra Cotta Warming Grill
One of the challenges observant Jewish people face is warming food on Shabbat. I don't want to get into a discussion about the halacha of warming food on Shabbat – it's up to you and your LOR. We do warm our food, and use something called a "blech" (yes it's really called that) to warm our food. There are strict rules and regulations that we follow in order to use this covering, but we do use it.
I found the Jata Terra Cotta Warming Grill as I was jogging by the booth. It caught my eye and I had to stop and talk to the rep. The picture doesn't do it justice. It's simply lovely. The terra cotta tray is warm and welcoming and would be nice in any kitchen, definitely more attractive than a metal sheet. You can lower or raise the temperature and the tray will stay on until you unplug it. It also comes in a granite look top as well.
Functional and beautiful.
3. Gracious Dining by Gibson
If you've ever eaten at our house on Shabbat or a Holiday, you know that I particularly love oven to table bakeware/cookware. Any dish that I can cook and serve in is a winner. I'm also partial to ceramic white pieces, as they go with any type of meal, informal or fancier.
I found the Gracious Dining Collection by Gibson and was immediately sold. My favorite was the
2. The Air Fryer has it's 15 minutes of Fame
The most popular small appliance at the show was hands down the air fryer. They came in different colors and sizes, each with what was touted as the latest and greatest tech. Some were exceptionally large which made them, in my opinion, impractical. Others might be great for one or even two people, but the cooking surfaces were small and not great for making more than one or two servings.
Here are my favorite air fryers from the show.
1. The New Salton Air Fryer
The new Salton Air Fryer was one of the first appliances I saw at the show. It's super cool because it has a tempered glass base which displays the food being fried, It also has a top part that can be removed as a grill, and you can even use it as a burner. It's super cool. It's also not huge, but with a decent size cooking area. It's not in stores yet, but keep your eyes open for it. It's going to be a must have.
Check out my Instagram Stories for more about this fryer.
2. Gourmia Air Fryer GGA2100
This baby has a lot of frying surface area without the height. You could easily fit this grill and air fryer on a shelf given it's size and weight. There is a glass lid so you can easily see your food cooking. This one's a winner.
3.

Oster Air Fryer Countertop Toaster Oven, French Door and Digital Controls
This is a multi-purpose air fryer/toaster oven. It has a pretty large capacity for frying lots of your favorite foods, and has 10 cooking presets so you can: Bake, Air Fry, Toast, Slow Cook, Dehydrate, Broil, Roast, Warm, Pizza, and Turbo Convection. The French doors both open with a single pull on one of the handles – so you don't need two hands to open it. I liked the look of it and what seemed like good functionality.
4. Dash Mini Air Fryer
Small, compact and gets the job done!
3. Great for Travel (and home)
There were several gadgets/appliances that would be great when you're travelling on vacation or just to your office in the basement. Here they are.
1. The Presto Travel Slow Cooker
This appliance grabbed my attention right away. Travelling over Shabbat? You can use this for your personal cholent on the go. What could be better than that?
2. Salton Grills with Removable Plates
Salton came out with two grill that are great for traveling – especially gluten free when it's more difficult to find appropriate foods. The 4-in-1 Grill XL is around twice the size of the 3-in-1 Grill, Sandwich & Waffle Maker and more than three times the price. I like them because they have removable plates that are dishwasher safe. Here are both of them. They're available at salton.com.
3. All in one Blenders
It's a do-it-all-in-one-cup cup. The blender is built right into the cup. No need to purchase a cup and blender.
4. CrockPot Lunch Crock
This cute little Crockpot is designed to keep your lunch tightly sealed until you're ready to warm it. Then you simply plug it in and it will warm your food while you're working, until you're ready to eat! The new colors are lovely.
4. And the most fabulous coffee beverage maker goes to
Mr. Coffee® Single-Serve Frappe™, Iced, and Hot Coffee Maker and Blender
I'm seriously going to get one of these. No joke.
I used to buy my Caramel Frappuccino's from a certain store that used to have Kosher Frappuccino syrup. You know the one. They were a little on the pricy side so I used to buy them only when I was traveling, or sick, or in a bad mood. But never any other time.
Really.
Anyway, the syrup lost it's certification and the store lost my business as a result. Sad day.
When I saw this Frappe making machine I literally started jumping up and down. The marketing manager thought I was a little crazy but…I am.
This small footprint machine can fit nicely on your counter and is a little bigger than my current single serve coffee machine. It makes single serve hot or cold coffee as well as my favorite Frapps. Woot!
Here's the picture and link.
5. Best Gadgets Ever
The truth is there isn't even enough time for me to give you all of these. I think I'm going to do a separate page in the future that will have all of them. There were a lot of incredibly cool ones. Here are my absolute top favorites.
1. Anything Gefu
I'm a huge Gefu brand fan. I love the quality and thought that is put into the brands products. My all time favorite is the Spirelli 2.0, however they make other larger and different shaped spiralizers as well. For around $15 this is, in my opinion, the absolute best spiralizer on the market. Period.
2. Escali Kitchen Scale
Escali is known worldwide for it's quality kitchen scales. This one is especially great for measuring dry ingredients.
Check out all the colors they offer for their smaller scales!
3. Chicwrap
It makes me crazy when I lose the plastic wrap, aluminum foil or parchment paper in the roll. Ok, maybe just the plastic because re-starting it is such a pain.
Yes. I have it in perspective.
The Chicwrap Company has figured out a fun and creative way to prevent the plastic wrap catastrophe with their new plastic wrap, foil and parchment dispensers. The cut is always clean, you never slice your fingers open, and the plastic is easy to dispense.
4. Microplane Cut Resistant Gloves
I was stunned by how light and thin these gloves were. When I use my current cut proof gloves they are bulky, heavy and hard to use. They also have a kids set so you can safely have your kids help you in the kitchen.
5. Cole & Mason Self Watering Herb Pot
Basically, you buy your herbs at the store, stick them in this self watering pot, put them in the fridge, and they stay fresh for a really really long time. It's a great way to keep your herbs fresh.
6. Chef's Choice Knife Sharpener
As a "serious" food person, I'm very big on keeping my knives sharpened. Dull knives are way more dangerous than sharpened ones. I still use my Chef's Choice electric knife sharpener that I received as a bridal shower gift.
Chef's Choice has come out with some new, trending colored knife sharpeners. These little guys have a small footprint and are perfect when you don't have a lot of space. The company still sells the larger ones, but these are really nice.
6. Cookware and Mixing Bowls
1. Bamboozle Bamboo Nesting Bowls
I actually didn't know that this was a Jewish owned company, but they're understanding of multi-colors for the Kosher kitchen made it abundantly clear. Even if you don't have a Kosher home, the colors and commitment to sustainability made this a show stopper. You'll see all the Bamboozle baby products below, but I really fell head over heals for the nesting mixing bowls. Convenient for Shabbat or any other prep, these beautifully colored bowls are great for every Home Chef. I was most impressed by the company's sharing of sustainability concepts with other, non-Bamboozle, companies. It's just the "menchlach" thing to do.
2. Viking – Pressure Cooker/Pots/Mixing Bowls
There were so many things that were most excellent at the Viking display. The cookware was just the right weight and quality, and came in a plethora of styles. I also found a gorgeous stove top 8 quart pressure cooker that almost screamed "take me home with you!".
Since we're talking about mixing bowls in this section, I'll show the the fabulous mixing bowl sets. The assorted sizes and colors were great, but best of all was the fact that each bowl came with a lid and measurement gradients on the inside of the bowls.
4. Silikomart muffin tins
New micro-perforated fiberglass silicone moulds ideal for baking. These innovative moulds, thanks to their micro-perforated texture, allow an even diffusion of the heat reducing cooking time and ensuring a perfect result. Perfect for both sweet and savoury creations. They are ideal for create tarts, baked cakes and puff pastry preparations. The moulds are non-stick and can be used on both sides to prepare empty or stuffed tartlets. Temperature range: -40°C +230°C (-40°F +446°F)
5. Swiss Diamond
I've been working with Swiss Diamond for years. You will find me using their skillets and wok in most of my Instagram reels. After a short hiatus, I've reconnected with the brand again. My favorites are still the Diamond XD 14-inch wok and any of the skillets. They are supremely non-stick and last forever – with a legit manufacturers guarantee. Here are my favorites:
6. Microwave Pressure Cooker
As the author of an Electric Pressure Cooker Cookbook, I was very intrigued by the concept of a microwave pressure cooker. I spent a significant amount of time talking to the marketing reps about this product and how it works. Made with 40% less plastic than standard microwave cookware, enjoy the eco-friendly experience firsthand with the natural wheat fiber look and textured feel. I still have a few things to figure out about this product though, is it gluten free? Does it really work? How does it work in comparison to the stovetop or EPC? I'll keep you posted…
7. Kitchen Utensils and Linen
1. Epicurean
2. DreamFarm
3. Tovolo
Gorgeous. Gorgeous. Gorgeous…and functional. These silicone spatulas are heat resistant, dishwasher safe, and come in great colors. I love that the handles are stainless (rather than plastic or wood) so they won't break and still look great after multitudes of washing. Tovolo had a lot of great gadgets. I'm also a fan of the food prep trays which are a must in almost any kitchen.
Tovolo Flex-Core Stainless Steel Handled Spatula Set of
8. Baby
1. Bamboozle
Adorable animal themed dinner sets for your little one. Each set comes with a plate, bowl, cup, spoon and fork.
2. Bumkins
Bumkins has super cute and functional baby products. I even had Dear Grandson try out the silicone baby spoons they gave me with fabulous results!
Here's what they stand for:
Our values demonstrate over thirty years of innovation, creativity, and sustainability. We were founded on a working mother's need for safe and sustainable baby products. Since then, we've continued to design with simplicity, safety, sustainability, and style in mind.
3. Constructive Eating
A while back, when Dear Husband and I took a trip to Iowa, we found the most adorable construction silverware that we bought for Dear Grandson. He LOVES them. At the time, I wasn't familiar with the company. When I saw all their products at the show, I wanted to buy them all for all my Dear Grandsons. They're SO fun!
Here's the Company's concept:
Constructive Eating removes the taboo from "playing with your food" and combines fun, construction, and mealtime.
9. Coolest Tech
1. HidrateSpark Water Bottle
Ok. Let's fact it, I'm a geek. The MSEE kind of defines me as one. When I see super cool technology, I MUST STOP! When I saw the HidrateSpark water bottles I was like a bee to honey. Here's what it does:
HidrateSpark PRO, the world's smartest water bottle ever created. Available in stainless steel vacuum insulated material, keeping drinks cold up to 24 hours and lightweight, shatter and odor resistant Tritan ™ plastic. LED smart sensor "puck" glows to remind you when it's time to drink and tracks your water intake by syncing via bluetooth to the HidrateSpark App. Choose from 3 sizes and 2 lid options and make it your own with custom glow colors in the app.
The company mission: "Developing healthier habits doesn't have to be hard. We've created a product that fits into your life without being obtrusive. It's easy to interact with, even when you're too busy to check your phone. We designed HidrateSpark to remind you with a glow or alert, to make sure you don't miss out on the hydration you need."
2. Bluetooth Meat Thermometers
When I write beef and poultry recipes, it's often hard to give an exact cooking time. Sometimes oven's don't calibrate properly, or meat may start out colder and take longer to cook. I ALWAYS recommend getting a meat thermometer to accurately check the temperature of whatever you're cooking. Part of the issue until now has been the long cords that need to be attached to the thermometer. These two companies have solved the problem with a solution I've been looking for for a long time. Bluetooth thermometers! The concept is that you plug the thermometer into your food and when it reaches the desired temperature it's done cooking, letting you know via an app on your phone or a separate bluetooth box. I was crazy excited about these products. Take a look at them and choose the one that works best for you. Some of the features include measurement of ambient temperature, wireless range, and size of the temperature probe. The apps are also slightly different.
3. Iq pressure cooker
This pressure cooker does everything – including work via bluetooth with an app on your phone or tablet. It even has a scale for measuring ingredients. Crazy man…crazy!
Here's the Amazon description:
CHEF iQ Smart Pressure Cooker 10 Cooking Functions & 18 Features, Built-in Scale, 1000+ Presets & Times & Temps w/App for 600+ Foolproof Guided Recipes, Rice & Slow Electric MultiCooker, 6 Qt
4. Menna Start & Stop STeeping Infuser
The only way to properly give you all the information about this technologically wonderful tea infuser is to give you the complete Amazon description. I was personally wowed!
START AND STOP STEEPING INFUSER- Not your average steeper. Our patented infuser allows you to control your flavor with the twist of a ring. No more bitter tea. No more mess. Steep your tea on the go or at home. Resteep anytime. No more taking your tea leaves out of a burning hot infuser. Good for loose leaf tea, tea bags, fruit, cold brew coffee and much more.

NO MORE MESS- Never have to remove the infuser from your travel mug. Simply twist the Menna ring to stop infusing on the go or at home for that perfect flavor every time. Keeps your tea/beverage HOT OR COLD for up to 8 hours.

SPILL & LEAK PROOF : Forget all about tumblers leaking all over the place or in your bag thanks to our double walled infuser and leak proof lid with lock top, no more spills on the go. Fits in your car's cup holder too.

NO HARMFUL CHEMICALS – No harmful plastic, chemical smells, or toxins. Each bottle is made from food grade 18/8 stainless steel. Infuser baskets are tested to the highest standards and are all BPA, Phthalate & Lead FREE.

DISHWASHER SAFE: most parts can be washed in the dishwasher for easy cleaning.
10. Most Fun Ever
1. WaffleWow
Absolutely the most fun in the show. The most. These waffle makers make breakfast fun. If you have a picky eater then these waffle makers are for you. The two below make waffle Legos and actual 3-D cars that your kids can drive through berries, whipped cream and syrup. I'm and adult and I want them. Everyone needs a little more breakfast fun. They also come in unicorns, dinosaurs, ocean friends, mermaids, fairys, animals and more.
2. Yonanas
This is one of my all time favorite healthy dessert makers – year round. Simply take frozen fruit, run it through the Yonanas and you have a wonderfully healthy, fruity dessert for your family. It's gluten free and naturally plant based.
3. Tovolo spatulas
I frequently use Tovolo fun spatulas in my Instagram reels and Kosher Everyday posts. They are fun and uplifting, and don't we all need that in this day and age?
4. Ice Cream Maker – Zoku
Perfect for that late night ice cream craving, or when you're kids need a treat, this ice cream maker is super fast and makes delicious ice cream using your choice of ingredients.
4. FlikFire
While I'm not picking a show winner, this would come close to the top of the list.
I LOVE FIRES.
While we have fire places in our house, it's kind of a pain to light them (they're not gas) and it's always too cold to go outside. I was immediately drawn to this little tabletop fireplace. It's just the right size to sit on a countertop, table, or coffee table, and runs on drug alchohol.
That's it.
No fancy ingredients. Just alcohold.
It should be intuitively obvious, but to be it wasn't. Once I saw it though all I could think was: BRILLIANT!
It runs for a limited time (as long as there is alcohol to burn) and you don't have to worry about it running all night.
It's beautiful. Simply beautiful.
HERE'S SOMETHING NEW – THE KOSHER EVERYDAY AMAZON INFLUENCER STOREFRONT!
I'm excited to announce the launch of my brand, spankin' new, Amazon Influencer storefront. The purpose of this store is to share with you all of my favorite tools, ingredients and accessories that I use on Kosher Everyday. If there's something you'd like to see please let me know and I'll make sure to add it. I'm updating the storefront all the time.
I'd love to hear what you think!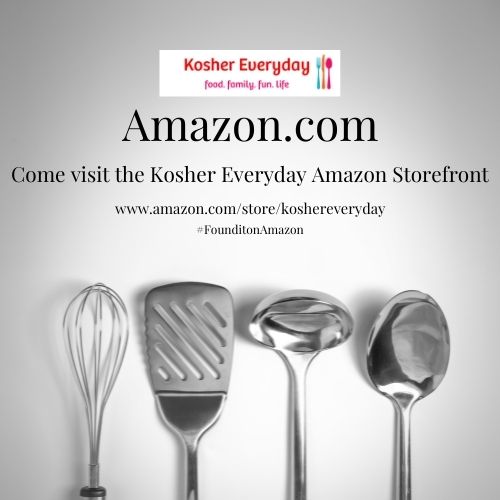 Here's a link to more Passover Recipes!
Passover Idea List on Amazon
I also put a Passover Idea List on Amazon.
These are item's I recommend to help make your Passover even more wonderful.
FOLLOW ME!
Don't forget to follow Kosher Everyday on Instagram @koshereveryday! and on Facebook You don't want to miss all the fun and interesting posts and reels that can be found nowhere else!
You can find reels showing how to make most of my recipes on Instagram!
Also, make sure to tag @koshereveryday when you make Kosher Everyday recipes! I LOVE to see your creations!!!
Please note that this post contains affiliate links. Thanks for your ongoing support!