Kale and Apple Tri-Colored Quinoa
I originally came up with Kale and Apple Tri-Colored Quinoa when trying to create a dish that our Dear (Family by Choice) Cory. She has a super fun diet that restricts what she can eat. I love her so I wanted to come up with a super flavorful, seasonal, beautiful and satisfying dish that she, and everyone else, would love.
And now for something important
I've been delaying writing this post because of what is going on in Israel right now. I'll post a picture that I put on Instagram that kind of describes what I, and anyone with a heart, has been feeling.
I decided to come back because while the heartbreak is still there, my family (Thank G-d) and my food are the comfort that I can find.
I'm sharing this recipe, and future recipes with you not to take away from current events but to give some solace during these incredibly difficult times.
And now back to our regularly scheduled program…
I had a ton of apples in the house from Rosh Hashanah, and our local Sarah's Tent sells pre-washed kale. That's a huge deal. Kale is notoriously buggy and hard to wash, so being able to purchase pre-washed kale leaves (no stems!) is a game changer.
I also needed to use certain natural sweeteners like maple syrup and orange juice for citrusy freshness. In my pantry was a bag of beautiful tri-colored quinoa that I had just bought at Trader Joes.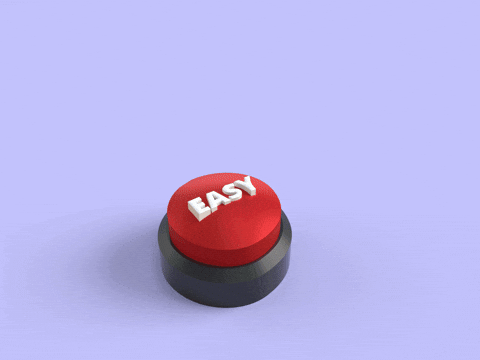 Making Kale with Apples and Tri-Color Quinoa
I used my Hindy Chopper to chop all the apples so they were evenly diced. It's a beautiful thing.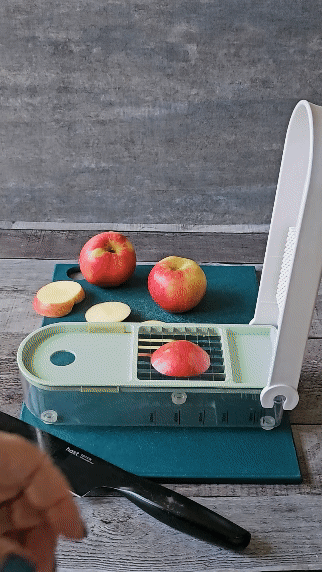 Then I sautéed the apples with extra virgin olive oil, maple syrup, then orange juice. Once the apples were soft the kale was added and cooked just enough to soften. Then the rest of the ingredients were added.
Here's the recipe for Kale with Apples and Tri-Color Quinoa
The recipe for Kale with Apples and Tri-Color Quinoa is relatively straight forward with the right tools and ingredients. The first time I made it I used Golden Delicious apples and decided that the beautiful red from Gala or Honey Crisp apples would be even better.
While I didn't add slivered almonds to this recipe (Dear Cory's allergic) you totally could for a little extra crunch.
Print
Kale and Apple Tri-Colored Quinoa
Author:

Prep Time:

30 minutes

Quinoa Cook Time:

20 minutes

Cook Time:

10 minutes

Total Time:

30 minutes

Yield:

8

servings

1

x

Category:

Side Dish

Method:

Cooking

Cuisine:

Plant Based

Diet:

Kosher
---
Description
Kale and Apple Tri-Colored Quinoa is a bowl that's not only visually stunning with its tricolor palette but also a harmonious blend of flavors and textures. The nutty quinoa, the slight bitterness of the kale, and the sweet, refreshing apple—each element plays its part to create a satisfying and nourishing dish.
---
For the Quinoa
1

cup

tri-colored quinoa, raw

2

cups

water
For Finishing
1 tablespoon

extra virgin olive oil

3

cups

diced red apples, Gala or Honey Crisp (around 3 medium)

2 tablespoons

maple syrup

1/4

cup

orange juice

4

cups

fresh kale, stems removed and cut into bite size pieces (around 4 ounces)

2

large green onions, sliced (around

2/3 cup

)

1 1/2 teaspoons

kosher salt

1/2 teaspoon

black pepper

1

cup

sweetened dried cranberries

1

cup

slivered almonds (optional)
---
Instructions
For the Quinoa
In a large stock pot with a tight fitting lid, combine the tri-colored quinoa with the water. Cover and bring to a boil.
Reduce heat to simmer (or the lowest temperature on your burner) and cook for 15 minutes.
Remove the quinoa from the heat. Uncover and gently fluff with a fork.
Allow the quinoa to cool completely.
For Finishing
Heat the olive oil in a large wok or skillet. Add the diced apples and sauté for a two minutes over medium heat, then add the maples syrup. Cook, stirring constantly, for another three minutes until the apples start to soften and caramelize a little.
Add the orange juice and cook for an additional four to five minutes until the juice is mostly absorbed.
Off the heat and toss in the kale, stirring for around 30 seconds until the kale is softened. Add the cooled quinoa, then the green onions, salt, black pepper, dried cranberries and slivered almonds (if using).
Serve warm or cold.
---
---
Notes
I found I didn't need to rinse the Trader Joe's tri-color quinoa. It's very clean. Your own quinoa may need rinsing before cooking to remove the bitter coating.
The quinoa can be prepared a day ahead of time and stored in the refrigerator until ready to use.
Nutrition
Serving Size:
Calories:

142

Sugar:

8.9 g

Sodium:

242.7 mg

Fat:

3.3 g

Saturated Fat:

0.4 g

Carbohydrates:

25.7 g

Fiber:

3.2 g

Protein:

3.8 g

Cholesterol:

0 mg
Keywords: Kale, Quinoa, Apples, Healthy, Nutritious, plant based, gluten free, dairy free, pareve, meat free
Recipe Card powered by
Here's how I made Kale and Apple Tri-Colored Quinoa on Instagram @koshereveryday
View this post on Instagram
More Fabulous Fall Recipes
CHECK OUT THE KOSHER EVERYDAY AMAZON INFLUENCER STOREFRONT!
I'm excited to announce the launch of my brand, spankin' new, Amazon Influencer storefront. The purpose of this store is to share with you all of my favorite tools, ingredients and accessories that I use on Kosher Everyday. If there's something you'd like to see please let me know and I'll make sure to add it. I'm updating the storefront all the time.
You can find all my Cookware and Bakeware including ones like the HexClad 14 Inch Hybrid Stainless Steel Frying Pan with Lid, Stay-Cool Handle – PFOA Free, Dishwasher and Oven Safe, Non Stick with lid on my storefront.
I've put together a complete Gluten Free Challah Storefront with everything you need to make fabulous Gluten Free Challah!
Additionally there is a Small Appliance Storefront with many awesome small appliances that I recommend for your kitchen…even if you have a small space!
I'd love to hear what you think!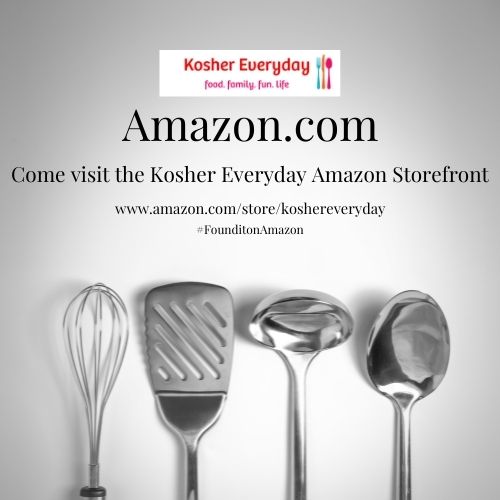 FOLLOW ME!
Don't forget to follow Kosher Everyday on Instagram @koshereveryday! and on Facebook You don't want to miss all the fun and interesting posts and reels that can be found nowhere else!
You can find reels showing how to make most of my recipes on Instagram!
Also, make sure to tag @koshereveryday when you make Kosher Everyday recipes! I LOVE to see your creations!!!
Please note that this post contains affiliate links. Thanks for your ongoing support!