The Grocery Cart Snooping Addiction
In the past I've written about having a grocery cart snooping/recipe addiction.
I can't seem to help myself.
A grocery cart snooping addiction is defined in the Matten Official Dictionary as:
The nearly uncontrollable need to look in a fellow shopper's grocery cart to see what they are purchasing. Once the perusal is complete, the addict feels the compulsive need to ask the fellow shopper what they are using the cart contents for, as well as any applicable recipes associated with said grocery cart.
The "need to get new recipe addiction" also manifests itself in other areas of my life…department store lines, pool lounge areas, hair/manicure salons, PTA meetings and the like.
You don't want to be sitting next to me on an airplane.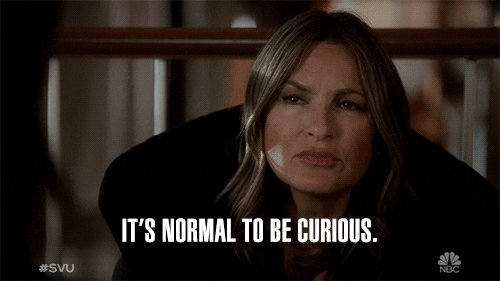 PT fuels my recipe addiction
One of the best places to recipe schmooze is at physical therapy.
It's true. I've found that everyone wants to talk at PT. The therapists, the patients, the rest of the staff…it's a way to pass the time that might not be altogether pleasant were it not for the interesting conversation.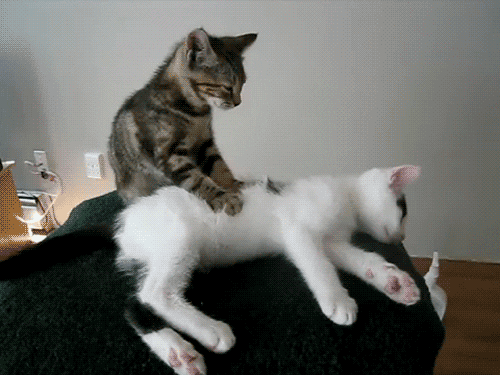 It seems I'm almost always in PT. I'm a schlemazel. I once opened my trunk and a stack of full sheet pans fell on my foot (I was wearing shoes) and broke my big toe. Once one of my dear children rammed into my ankle with a shopping cart (it's wasn't theoretically intentional), tore the brevis tendon in my ankle and I had to wear a boot for six months.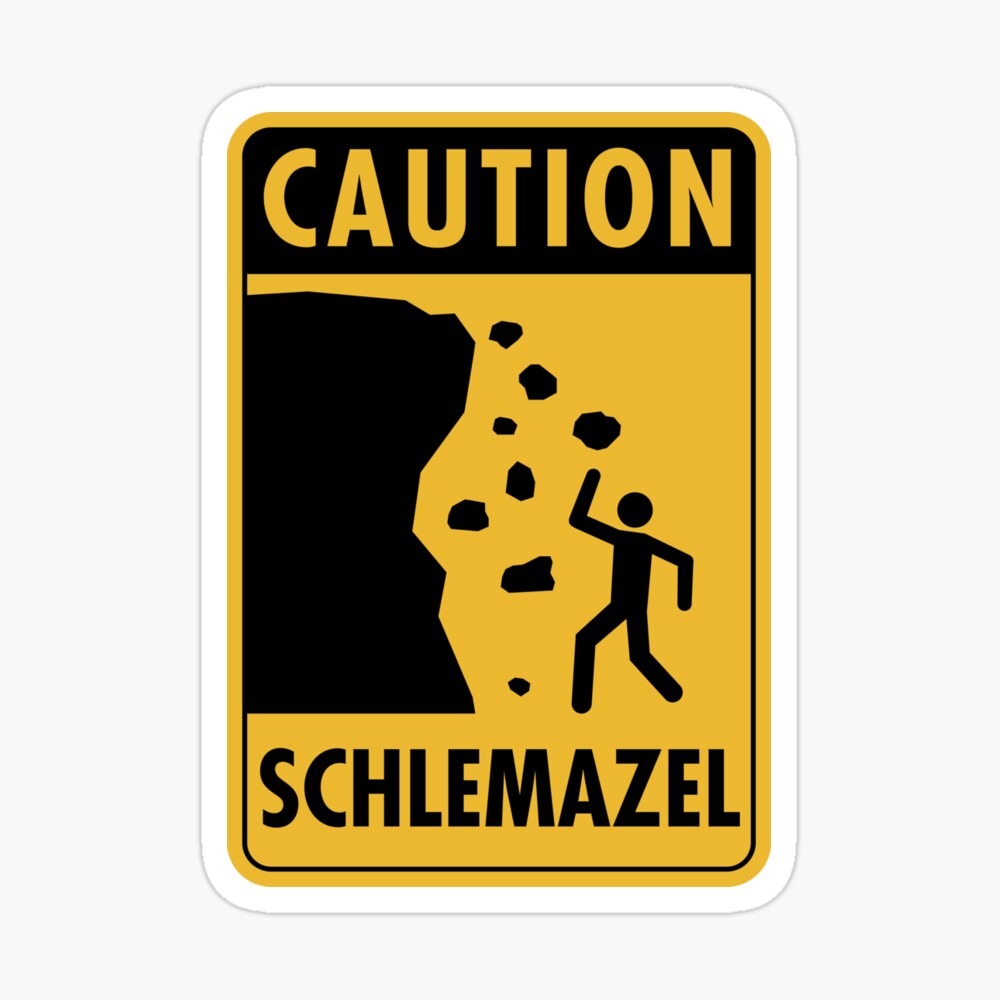 In the Matten Official Dictionary my picture is next to the word schlemazel.
Anyway…
You can come up with Grilled Peach Salad with your Physical Therapist
One of the best recipes put together during a physical therapy session was for Lindsey's Grilled Peach Salad. A few years ago I was doing PT and Lindsey was my awesome physical therapist. We developed this recipe together during one session and It's been one of my favorites ever since.
I love the idea of putting fresh, seasonal, grilled fruit in a salad! Tangy, juicy, peaches caramelize when grilled and their flavors get richer. The bite of the purple (or green) onions and feta offset the sweetness of the peaches and crunchy candied pecans.
It's a gorgeous and super tasty salad. The only downside is that you can't put it all together in advance. It wilts big time, but you can make the components in advance and assemble the salad before serving.
I also made this salad vegan by using Follow Your Heart vegan feta cheese. If you like you can use dairy or vegan feta for this recipe. If your family isn't big on feta you can even leave it out (gasp!).
And now for the recipe!
Print
Lindsey's Grilled Peach Salad
Author:

Prep Time:

30 minutes

Cook Time:

45 minutes

Total Time:

1.25 hours

Category:

Salad

Method:

Grilling

Cuisine:

Plant Based

Diet:

Kosher
---
Description
Lindsey's Grilled Peach Salad is the perfect mix of fresh, juicy grilled peaches, sweet and crunchy candied pecans paired with tangy (vegan) feta cheese and rich honey balsamic dressing. It's an instant family favorite!
---
For the Dressing
1/2 cup

balsamic vinegar

1/2 cup

honey
For the Salad
8 cups

spring mix salad

3

–

4

large peaches, halved

1 tablespoon

extra virgin olive oil

1/2 cup

feta cheese (can be vegan)

1

small purple onion or

1

large green onion, thinly sliced

1/2 cup

Candied Pecans
---
Instructions
For the Dressing
Combine the balsamic vinegar and honey in a small saucepan. Simmer over low heat for around 10-15 minutes until the dressing reduces and thickens slightly.
Remove from heat and set aside to cool. Can be stored in the refrigerator until ready to use.
For the Salad
Place the halved peaches in a medium bowl. Drizzle with the olive oil.
Heat a grill pan or grill until hot. Set heat to medium. Place the peach halves cut side down on the grill. Grill for approximately 10 minutes on each side, or until the peach halves have grill marks and are softened. Remove the peaches from the grill, and allow to cool.
If the pits are still in the peach halves, they should be easy to remove with a paring knife. When the peaches are cool enough to handle, cut them into cubes.
Place the spring mix into a large salad bowl. Top with the diced peaches, feta, green onions, then the candied pecans.
Drizzle the honey balsamic dressing over the salad and toss to combine. Serve immediately.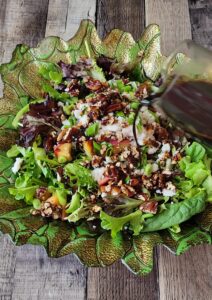 ---
---
Notes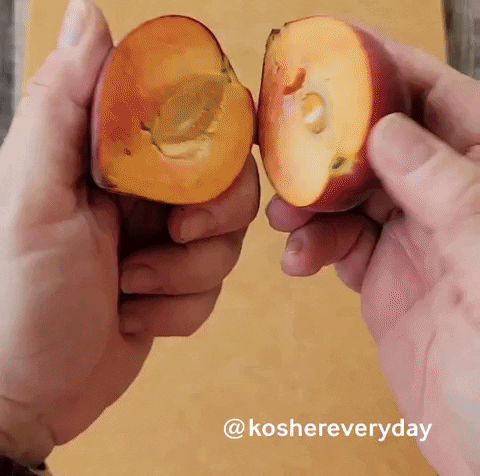 This is how to split the peach into two halves. You can leave the pit in the peach until after it's grilled.
You can use vegan or dairy feta cheese, or if your guests aren't fans of feta you can leave it out completely.
Nutrition
Serving Size:

1 bowl

Calories:

193

Sugar:

28.1 g

Sodium:

104.7 mg

Fat:

7.5 g

Carbohydrates:

30.9 g

Protein:

3.2 g

Cholesterol:

8.3 mg
Keywords: Grilled Peaches, Grilled Peach Salad, Vegan, Pareve, Dairy-Free
Recipe Card powered by
Back to the drawing board
I'm back in PT, this time with Kevin. Covid-19 was not my friend. Kevin has a lot of foods he doesn't like (broccoli!), but he loves to watch my video reels every time I come to therapy. I still schmooze with the other patients…some are veteran cooks! I'd be foolish not to fuel my recipe addiction from this treasure trove of knowledge!!
Looking for more super salad recipes?
FOLLOW ME!
Don't forget to follow Kosher Everyday on Instagram @koshereveryday! You don't want to miss all the fun and interesting posts and reels that can be found nowhere else!