Porcini Mushroom "Barley" Soup from Shabbos Under Pressure
Now that "Shabbos Under Pressure – Cooking with Pressure = Pressure Free Cooking" has been on shelves for over two years (can you believe it???), I've decided to share my recipe for Porcine Mushroom "Barley" Soup with all my readers. If you don't have an Instant Pot/Pressure Cooker, you can make this soup on the stovetop or in a Crockpot, although pressure cooking is still the best.
For those of you that don't know (I was tempting to say living under a rock…but that might be considered offensive), I wrote a fabulous cookbook that was published by Feldheim Publishers around two years ago. The cookbook, "Shabbos Under Pressure – Cooking with Pressure = Pressure Free Cooking" was a #1 Amazon best seller when it came out (yay me!). It's filled with awesome recipes specifically designed for your Electric Pressure Cooker…brand independent (read: Instant Pot).
One of our family's top favorite recipe from "Shabbos Under Pressure" is Porcini Mushroom "Barley" Soup.
The making of Porcini Mushroom "Barley" Soup
I love a warm, filling soup.
And mushrooms.
And carrots.
When you put those ingredients together the first soup that comes to mind is a hearty bowl of Mushroom Barley Soup.
However…
As a GFE (Gluten Free Eater), glutenous barley is not on my list of menu items.
What to use instead of barley in Mushroom Barley Soup
What to do????
This is an easy one, I substitute healthy, gluten free short grain brown rice for the barley.
When trying to come up with a good substitute for barley in my recipes I almost always use short grain brown rice. I use it in my gluten free cholent. Even the glutenous eaters can't tell that I substituted short grain brown rice for barley. It doesn't hurt that I throw in a Romanian Kosher Sausage gluten free kishke in my cholent, but regardless, the short grain brown rice is a great substitute.
Why Porcini Mushroom "Barley" Soup?
Everyone knows I love spice stores. I've worked with several over the years, and one of my favorites is The Spice House. They are based out of Milwaukee, WI but their store in Evanston (read: Chicago) is also CRC approved now (with a few outlying *** not approved in the store).
I'm insanely addicted to the Porcini Mushroom Powder and Porcini Mushroom Salt. If you are a mushroom lover, I'm wondering why you're still reading this post and not running to order some from The Spice House!!!
Since I have to add some additional seasonings like salt, I chose the most mushroomy salt I could find…The Porcini Mushroom Sea Salt!
SO exciting! SO packed with mushroom flavor!!
Updates to the soup since "Shabbos Under Pressure" was Published
I've made some upgrades to the Porcini Mushroom "Barley" Soup since it was published.
I now make it for Shabbat Lunch.
It's true.
And…I add meat and celery to the soup as well.
First I brown the meat in my Instant Pot, transfer it to my slow cooker, then deglaze the bottom of the pressure cooker pot with a little extra stock. After deglazing (which prevents that awful BURN notice) I add all the remaining ingredients to my Instant Pot – including the celery.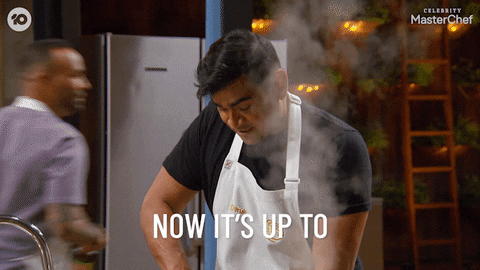 Once the soup is done, I transfer it all to my slow cooker, then let it cook until Shabbat lunch on low.
It's incredible…really really incredible.
My family eats the entire pot at one sitting.
Perfect for a winter cold and blustery Chicago Shabbat, Porcini Mushroom "Barley" Soup is a hearty warms-your-body-and-soul kind of soup.
It's a lot to ask of a soup. I know. But this wonderful soup delivers.
Why do I transfer it to the Crockpot instead of cooking it in my Instant Pot?
I'm a big believer that certain products are designed to do a really great job for their specific purpose. In other words…an Instant Pot is primarily designed to pressure cook and a Crockpot is designed to slow cook.
I also have an outstanding slow cooker that will multi cook at different temperatures depending upon how it's programmed. And…it will shut off completely at the time you program. Which means, if you time the slow cooking correctly, it will completely turn off the slow cooker right when you want to eat the soup for lunch.
Perfect…right?
Additionally, I use "cholent meat" cut into small pieces for the Shabbat version of the soup. It turns out way better if it's browned and slow cooked rather than pressure cooking with the rest of the soup. I've tried it both way.
Go figure.
On a blustery, wintery Friday night, nothing is better than a steaming bowl of Porcini Mushroom "Barley" Soup.
Fear not, however, my Instant Pot has a lot of features that I use. I recently used it as an air fryer in my Plant Based Meatball Subs, and occasionally do use it as a slow cooker.
No aspersions cast on Instant Pots. Whew.
Here's the recipe for Porcine Mushroom "Barley" Soup from Shabbos Under Pressure
As I frequently do, I'm going to reiterate that you are the Executive Chef in your kitchen. If you choose to add more mushrooms, carrots, celery or meat…go ahead! I applaud you. Just make sure you don't overfill the pressure cooker as it can make a large mess in your kitchen.
Additionally, while it may be glutenous – if you are not a GFE (Gluten Free Eater) feel free to use actual barley instead of the short grain brown rice (gasp!). If no one is gluten intolerant in your household, I won't tell a soul.
Print
Porcine Mushroom "Barley" Soup – From "Shabbos Under Pressure – Cooking with Pressure = Pressure Free Cooking"
Author:

Prep Time:

10 minutes

Come to Pressure and Pressure Release:

30 minutes

Cook Time:

30 minutes

Total Time:

70 minutes

Yield:

8

servings

1

x

Category:

Soup

Method:

Pressure Cooker

Cuisine:

Gluten Free

Diet:

Kosher
---
Description
Porcini Mushroom "Barley" Soup is absolutely one of my favorite "Shabbos Under Pressure" recipes. Packed with savory mushroom flavor, this take on the traditional mushroom barley soup is made gluten free by using short grain brown rice instead of barley. Those used to mushroom barley soup can't even tell the difference!
---
32

ounces

Vegetable Stock

1

cups

water

1

cup

short grain brown rice

1 tablespoon

porcini mushroom powder or

1/2 ounce

dried porcini mushrooms ground to a powder

2 teaspoons

porcini sea salt or

2 teaspoons

sea salt

2 tablespoons

canola oil
Additional salt to taste

1/2

–

1

teaspoon freshly ground black pepper, to taste

1

pound

white button or cremini mushrooms thickly sliced into 1/4 inch slices

4

large carrots cut into 2" pieces (

1

pound)

3

green onions, thinly sliced (around

3/4 cup

)
Croutons or crackers, for serving
---
Instructions
Place the stock, water and rice into the EPC (Electric Pressure Cooker) pot. Stir to
combine.
Add the remaining ingredients into the EPC pot.
Lock the lid and close the pressure valve. Cook on
manual high pressure mode for 30 minutes.
Naturally release the pressure for 20 minutes, then
manually release the pressure.
Unlock the lid and serve this hearty soup hot with
croutons or crackers.
---
Equipment
---
Notes
If you don't have dried porcini mushrooms or porcini mushroom powder, use a more flavorful mushroom like cremini or portabella.
You can find Porcini Mushroom Powder and Porcini Sea Salt at the Spice House (thespicehouse.com).
I've also found different types of mushroom powders at Trader Joe's and other stores. While the different powders may alter the taste, it's a good alternative if you don't have the original.
This recipe makes a fairly thick soup. For a thinner soup, add an additional cup of water or vegetable stock.
You can also use store bought/pre-made vegetable stock.
I've added bite size pieces of meat and/or celery to make this an even heartier soup.
Nutrition
Serving Size:
Calories:

160

Sugar:

4.7 g

Sodium:

700.4 mg

Fat:

4.3 g

Saturated Fat:

0.4 g

Carbohydrates:

27.8 g

Fiber:

2.8 g

Protein:

3.8 g

Cholesterol:

0 mg
Keywords: Instant Pot Soup, Instant Pot Recipe, Pressure Cooker, Mushroom Barley Soup, Mushroom Rice Soup, Porcini Mushrooms, Porcini Mushroom Soup, Kosher Recipe, Gluten Free, Dairy Free, Plant Based, Vegan
Recipe Card powered by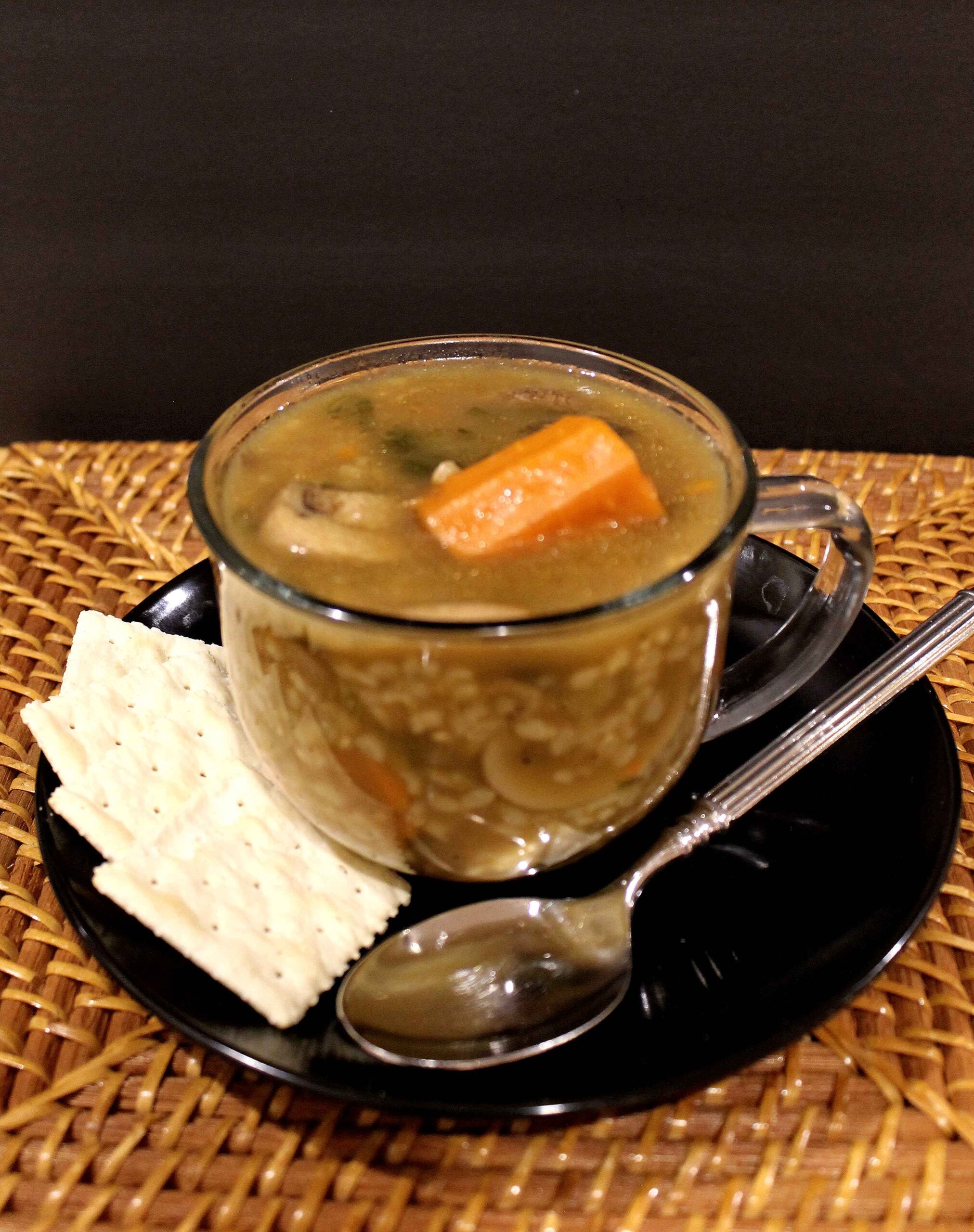 LOOKING FOR More great Pressure Cooker Recipes??
Search no further! My cookbook, "Shabbos Under Pressure – Cooking with Pressure = Pressure Free Cooking" is a wonderful cookbook for friends, family or yourself! If you received the Instant Pot you've always wanted as that much hoped for gift, this cookbook is for you!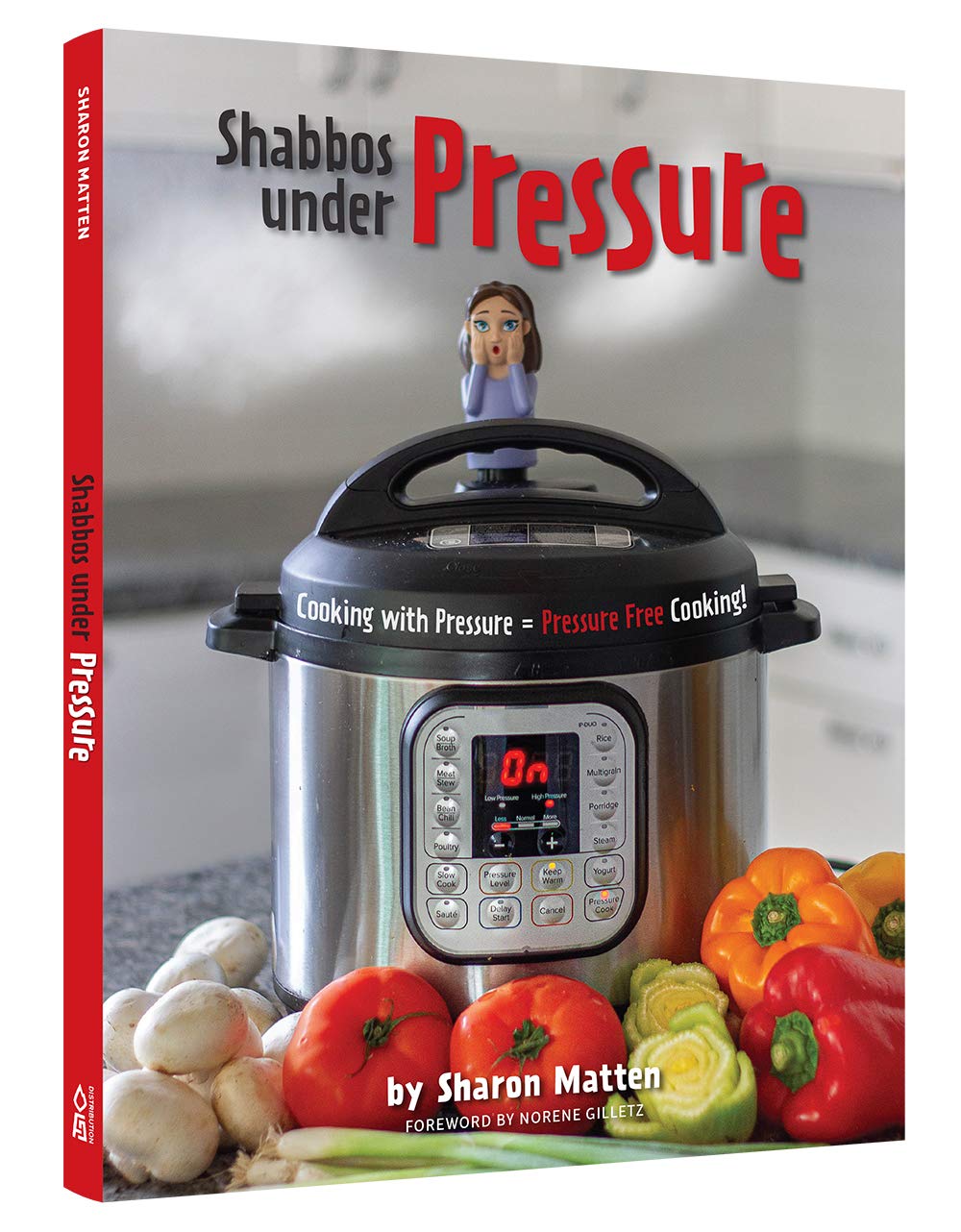 The recipes in this cookbook offer a tantalizing blend of traditional and not so traditional, written with easy to follow, step-by-step language. Each recipe is paired with beautiful, full-color photographs of completed dishes. Sprinkled throughout, you'll find welcome time saving ideas, personal stories and delightful anecdotes.
While Shabbos Under Pressure is not specifically a gluten free cookbook, nearly every recipe in the book has a method for making it gluten free. The recipes and tips in Shabbos Under Pressure work for every brand of Electric Pressure Cookers.
Over 70 time saving recipes and full-color photos
Suggestions and advice for using your Electric Pressure Cooker
Clear instructions with highlighted portions, so you don't miss an important step
Comprehensive terms and tools in super-useful sections for all users
Lay-flat pages for easy reading and use
"Shabbos Under Pressure" is your solution for pressure-less meal preps for Shabbos, holidays, and everyday!
You can find "Shabbos Under Pressure" on Amazon.
Here are some more Hearty Soup Recipes
FOLLOW ME!
Don't forget to follow Kosher Everyday on Instagram @koshereveryday! and on Facebook You don't want to miss all the fun and interesting posts and reels that can be found nowhere else!
You can find reels showing how to make most of my recipes on Instagram!
Also, make sure to tag @koshereveryday when you make Kosher Everyday recipes! I LOVE to see your creations!!!
Please note that this post contains affiliate links. Thanks for your ongoing support!