I'm SO FULL! After all the food (i.e. LATKES) I ate over Chanukah, you can literally roll me from one room to another. Thank G-d, we also had a family Simcha over Chanukah and ate more food (i.e. cake)! I really should go running outside or something except for the fact that it's really cold outside and I don't run. Maybe I could do an exercise video. That would be a really healthy thing to do…except I really don't want to. Maybe I'll walk on the treadmill for a while…that seems pretty reasonable! Now, what to do about the food portion of the day? In the interest of a healthy family we're going to do a reset…no more fried food or cake every night. Low fat, higher fiber, low sugar…it has to taste better than cardboard though. The kids have to eat it, so the food has to be a little fun, possibly with a little kick to it.
In next week's Torah portion, Shemot, a new Pharoh arose over Egypt that didn't recognize Joseph. It's safe to say that he made the Jew's lives miserable after that. After the seven years of plenty under Josephs' direction, things were pretty wretched for the Jewish people. I understand that life here is definitely not like slavery in Egypt, but after the eight days of plenty here, there's a new "Pharoh" and direction in our house! The outlook certainly has the potential to look very bleak.
This past Chanukah my family gave me a really unexpected, but really appreciated gift – a pasta maker!! So exciting!! The question is: how to incorporate this gift into our new healthy eating lifestyle. Pasta and something healthy…spinach pasta! It's healthy because of the spinach, low fat (because you make it that way), and fun because – it's GREEN! Fresh pasta also tastes much better than the dry, boxed kind you buy in the store. The spinach pasta that I make is pretty mild, it doesn't taste too spinachy, and the kids like it because depending upon how you look at it, it's either really cool or really gross! This recipe is also pretty easy to make, and only requires a few simple ingredients. You can also make it even if you don't have a pasta making machine.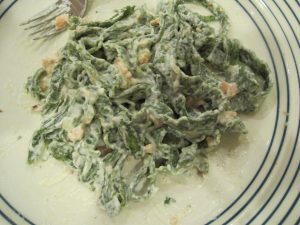 My Daughter Adina's Dinner Plate
("Mom! Why are you taking pictures
of my dinner!")
Although it's really tempting to just serve noodles on a plate for dinner (been there, done that!) in order to encourage the whole healthy eating thing I feel the need to make the meals more enticing. Serve the green noodles with a really good sauce…it's a concept! Most sauces are really high in fat, sodium, and calories. A remarkably delicious sauce that is great with fettuccine is creamy alfredo sauce – A.K.A Heart Attack on a Plate! Great sauce, not great for the plan. Introducing (fanfare please) the Lowfat Smoked Salmon Alfredo Sauce With A Kick! What makes normal alfredo sauce so high in fat and calories are the sticks of butter and cups of whole milk cream that are normally used to make it. Delicious- but really, really, really bad for you! The trick to making the sauce light is to use a small amount of butter for flavor, lowfat cream cheese, and skim milk. The sauce is thickened by the cream cheese and a small amount of flour. By adding fragrant spices and smoked salmon you get a lot of flavor punch with fewer calories. It fits the plan – hooray! Now if only the exercising part of the plan were so easy!!!
Fresh Spinach Noodles with
Lowfat Smoked Salmon Alfredo
Print
Low-fat Smoked Salmon Alfredo With A Kick
---
Description
By using low fat cream cheese and reduced fat milk you can make a creamy and decadent alfredo without it being a "heart attack on a plate". The spinach pasta is delicious and not too complicated to make – and it has spinach = healthy!!
---
1/2 cup

onion, finely diced (

1

small)

1 tablespoon

butter

1 teaspoon

crushed red pepper flakes (or more to taste)

8 ounces

reduced fat cream cheese

1 tablespoon

fresh parsley, chopped

1/4 teaspoon

nutmeg

1/4 teaspoon

black pepper (optional)

3 ounces

smoked salmon, chopped

1 tablespoon

all-purpose flour

1 cup

skim milk
---
Instructions
In a medium 2 ½ quart saucepan, melt butter over low heat.
Increase heat to medium, add onion, and sauté until clear, around 2 minutes.
Add crushed red pepper and sauté for another minute to bring out the flavor of the pepper.
Reduce heat to medium-low and blend in cream cheese and stir until mixture is smooth.
Stir in salmon, parsley, black pepper and nutmeg until combined.
Whisk in flour until completely absorbed.
Slowly add milk and whisk over medium heat until the sauce thickens, 3-5 minutes.
---
Recipe Card powered by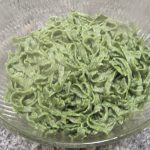 Fresh Spinach Fettuccine
Author:

Cook Time:

5

Total Time:

5 minutes
---
Description
What could be yummier that fresh, homemade pasta made with delicious green spinach? Not much I tell you!!!
---
16 ounces

frozen spinach, defrosted

2

large eggs

1 tablespoon

canola oil

1/2 teaspoon

salt

2 cups

all-purpose flour

4 1/2 quarts

water

1 tablespoon

salt

2 tablespoons

olive oil
---
Instructions
Squeeze spinach until no liquid remains. There should be approximately 8 ounces of dry spinach remaining. In a food processor, combine spinach, eggs, and oil. Process spinach mixture until completely smooth, around 30 seconds. Add flour and salt and process until a rough dough ball is formed. Remove dough from processor bowl to a lightly floured surface. Knead dough until smooth and elastic, approximately 5 minutes. Let dough stand for 10 minutes.
Divide dough into 4 parts.
If using a rolling pin, roll dough until very thin – approximately ⅛th of an inch thick.
Cut into ¼ inch strips using a sharp knife, fluted cutter, or pizza cutter.
If using a pasta machine, roll dough according to machine instructions.
Cut into fettuccine using the pasta machine or by hand.
Dry fettuccini noodles on a towel for approximately 30 minutes.
Bring the 4 ½ quarts of water, salt, and olive oil to a rolling boil.
Add noodles and stir to separate.
Cook 5 minutes until pasta is tender.
Drain.
Serve hot with alfredo sauce and garnish with additional parsley sprigs.
---
Recipe Card powered by