Made from scratch!
(Sort of!)
It's back to school time. Leisurely mornings are a thing of the past. Now mornings are filled with: Do you have your lunch? Did you put your homework in your backpack? Did you remember the note I signed? Do you need a jacket? Did you remember to brush your teeth? Do you need money for tzedakah? Please hurry, you're going to be late! Did you eat breakfast??!!!
By the time we're done with the ritual morning interrogation we are exhausted and pressed for time, but…regardless of how rushed we are, as semi-responsible parents, we know the importance of getting some healthy(ish) food into our kids before they walk out the door in the morning! "Breakfast is the most important meal of the day"!
The most asked for breakfast food in our house is pancakes. My kids love them with chocolate chips or candy coated chocolate chips (thus the "ish" part of healthy). Although I am perfectly capable of making pancakes from scratch (the real scratch where you pull out all the ingredients, measure them, and mix them all together) I just don't seem to have the time. I am not a get up early in the morning with the roosters, singing a happy tune, "Leave it to Beaver, June Cleaver" type mom. I usually stumble downstairs in the morning muttering something about not enough caffeine in the world. The thought of pancakes from scratch on a school day…well, let just say it's not happening here. I really like the whole wheat blend "just add water" pancake mixes that are available, but they are kind of pricy and often have ingredients that I am not entirely familiar with (not a good sign). So, as the school year started, and requests for pancakes poured in, it occurred to me that it shouldn't be all that hard to make up my own Homemade Pancake Mix. My biggest challenge was coming up with substitutes for the wet ingredients, such as eggs, that normally go into pancakes. I also wanted to maintain some semblance of a healthy recipe with whole grain ingredients, without my kids throwing them at me in disgust (ok, so they would never really do that…). Something with a little more fiber so they aren't ravenous by the time they get to school! As a baker, I have lots of handy ingredients around that you might not find in the average house – meringue powder is an example. Meringue powder is just dried, pasteurized, egg whites. I have often substituted egg whites for whole eggs in recipes, so it occurred to me that meringue powder (which can be found in many local grocery stores, and anywhere you find Wilton cake decorating products) would make a great dry substitute for eggs. Excellent! I used my favorite whole wheat pastry flour, which is lighter and doesn't taste as "whole wheaty" as regular whole wheat flour, and blended it with all purpose flour for a little healthier mix. After adding the rest of the standard pancake ingredients along with the meringue powder I was ready to test my Homemade Pancake Mix. So excited! It worked great! I used water, but for an even better flavor you could use milk or soy milk. I made several batches to test the consistency and flavor, and each one was better than the one before – although my personal favorites were the blueberry pancakes and chocolate chip pancakes. When I was done, I just put the remainder of the mix in an airtight container to use on another busy morning! So happy…and looking forward to happy well fed kids!! Everyone wins!! Now if only I could come up with another instant mix for all the other stuff we need to do to get ready in the morning!! (That, and transporter technology…)
Print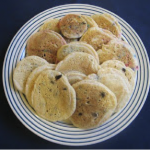 Homemade Pancake Mix – The Back to School Recipe
---
1 3/4 cups

whole wheat pastry flour

1 3/4 cups

all-purpose flour

1 teaspoon

salt

2 tablespoons

baking powder

2 tablespoons

meringue powder

1/2 cup

Splenda (see note)
Non-stick vegetable spray

3/4 cup

water, milk or soy-milk per 1 cup pancake mix
---
Instructions
Combine all the dry ingredients in a large bowl.
Store mix in a dry, airtight container.
When ready to make the pancakes, add 1 cup of Homemade Pancake Mix with ¾ cup of water.
Mix with a fork or whisk until most of the lumps are gone.
Heat a large skillet or griddle.
Spray with non-stick vegetable spray.
Using a ladle or measuring cup, pour batter onto skillet.
Cook until browned on one side then flip, and allow to cook for another minute. (Ok, so everyone knows how to make pancakes but I had to put it in anyway!!) Serve with your favorite syrup, jam, or fruit topping.
Breakfast is served – although on a busy night they could even be dinner!!!
---
Notes
Notes
You can use regular sugar or a few packets of vanilla sugar instead of splenda.
Pancake Add ins
Fresh blueberries, chocolate chips, mini chocolate covered candies, chopped apple, your favorite chopped cookies, fresh fruit, your own favorite add in (please let me know!).
You can even make the pancakes in advance and freeze them in a large zipper bag or airtight container. Of course they are best fresh!
Recipe Card powered by
BONUS RECIPE –
Breaded Spice Packet Zucchini
: This week I made spice packet schnitzel for Shabbat (you can check out the
movie
for more details), and was left with a few cups of seasoned breading. I had bought zucchini to make for Shabbat, and decided to try to coat the cut zucchini with a little olive oil, then toss them with the crumbs and spray them with a healthy spray of non-stick vegetable spray. I baked them for around 45 minutes at 350° F and they turned out splendidly as you can see! Hooray!
It's SO pretty!!
KosherEveryday is one of the finalists for the
2011 CBS Most Valuable Blogger Awards!!