I know I keep talking about how crazy things have been around here, and everyone keeps telling me that the only way to stay sane through especially insane periods is to find things that you like to do, or that make you feel good and make time to do them. Most of the time that's pretty ridiculous, however, when my kids school, Arie Crown Hebrew Day School, called me up and asked me to do a Challah braiding demonstration for the Fall PTA Membership Tea I knew that it was one opportunity I couldn't pass up. As an Arie Crown Alumni (yes I'm one of
those
people that actually sends their kids to the school that
they
went to!) and parent, I was excited to be able to give back to the school that has given my kids so much. I was also really nervous – Challah braiding? Doesn't everyone already know how to braid challah? I was afraid it was going to be a tough crowd! So, given that it was a project for school, I did my homework! I went online and researched different ways to braid challah. Most people know how to do a 3 strand braid, and everyone should know how to do 4 (especially after the
Rainbow Challah Braiding Blog
) but I knew that I had to find ways to braid Challah that most people hadn't done before. Thanks to the internet and YouTube I was able to find all sorts of videos demonstrating 1, 2, 3, 4, 5, 6, and 9 strands, as well as interesting round 4 and 6 strands (I already knew how to do a
12 strand
!). I figured it would be a good idea to bake the different challahs the week of the meeting to be able to show the finished products and again – to practice doing them for homework! Monday afternoon I diligently made all the Challahs – and they were beautiful! Monday night my dear husband (KIH) comes home from work and while admiring my hard work says "Honey, isn't your meeting next week Wednesday night?!" I'm SO mixed up that I actually made the Challah's
a week in advance
!!! Sigh. Luckily, we all know that Challahs freeze well, so we made space in the basement freezer and in they went. The demonstration was a rousing success (at least that's what everyone said) and I felt really happy to have helped out. Here is a video that Sarah P. took at the demo of me braiding a 5 stranded Challah!
Now for this week's recipe: You all know that I've been working on taking off some of the extra baggage (read: weight) that I've put on the past few months by following my own advice – exercising and eating healthier. One of the ways to do that is to cut out fat and to eat more vegetables and whole grains. Many years ago I found a great variation of my Teriyaki Wild Riceon the back of a Lundberg Rice package. I often find that the recipes on the back of packages are really good – they're trying to entice you to buy their products right? Why would they give you a stinky recipe if they want you to buy their product again? The recipe is a simple one without a lot of labor, but takes a while to make. By letting the vegetables cook in the teriyaki sauce until all the liquid is gone, the vegetables really pack a lot of "teriyakish" flavor. Also, you can even make this recipe gluten free (for the GFE!) by using gluten free Teriyaki sauce without any change in the recipe's taste or consistency. I like to find a really pretty looking multi-grain wild rice blend to use in this recipe – you can use your favorite. You could even make this recipe more exotic by using different types of mushrooms such as shitake, oyster or crimini. This rice is a great for a weeknight leftover side dish too – which is great when you're really busy!!!!
Hope to see you all at KOSHERFESTI"H next week….!!!!!
Print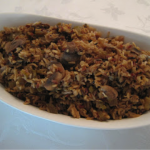 Teriyaki Wild Rice
---
4 tablespoons

teriyaki sauce

1

large Vidalia onion diced (around

3 cups

)

3

stalks celery, thinly sliced (around

2 cups

)

1

pound mushrooms, very thinly sliced

3 cups

wild rice blend (no seasoning added)

4 cups

vegetable stock
---
Instructions
Heat the teriyaki sauce in a large wok or skillet.
Add the onions and celery.
Sauté over medium-high heat for 10 minutes until vegetables are soft.
Add the mushrooms and sauté for another 10-12 minutes until all the liquid is absorbed and the vegetables are beginning to brown.
Add the wild rice blend and stir to combine.
Add the vegetable stock and bring to a boil.
Reduce heat to low and simmer for 30 minutes (or longer according to package directions).
Remove from heat and allow the rice to rest for 10 minutes before serving.
This is a great side dish for meat, chicken or fish.
---
Recipe Card powered by
KosherEveryday is one of the finalists for the
2011 CBS Most Valuable Blogger Awards!!