Watermelon Mint Salad with Pickled Rind
When you think of summer, what's one of the first foods that comes to mind (aside from anything grilled!). Watermelon. Images of summer almost always include kids sitting on the stoop eating huge slices of watermelon and having seed spitting contests. Watermelon is refreshing, juicy, fun to eat and is the ubiquitous summer treat. It's why, when I wanted to come up with the perfect summer salad, I came up with Watermelon Mint Salad with Pickled Rind.
Watermelon Mint Salad with Pickled Rind is a delightful balance of sweet, tangy, and refreshing flavors. It's a fantastic addition to any summer gathering or a perfect side dish for a barbecue. So, next time you have some watermelon and want to try something different, give this salad a try. It's sure to be a crowd-pleaser!
How I came up with Watermelon Mint Salad with Pickled Rind.
I really wanted to make a salad that included watermelon and mint. The two are the perfect summer pairing. Watermelons are everywhere, and every summer we have a bounty of Optimistic Garden Mint.
But…Pickled Rind?
Where the Pickled Rind came in…
This year, Fleishig's Magazine hosted the Kosherpalooza event. There were tons of vendors and great food. Additionally, there were cooking demos by my dear friends Paula Shoyer, Naomi Ross and Levana Kirschenbaum – just to name a few. There was even a "Chopped" like event where one of the ingredients was watermelon rind.
Yes. Watermelon rind.
Using Watermelon rind.
I think most of the people watching were like…"what the heck???" I had never seen watermelon rind used before. The chefs present basically did a quick pickle and used it in salads.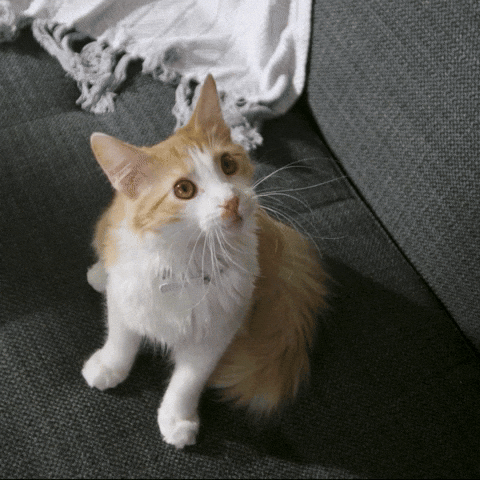 So…I when I got back to Chicago I did some research and I found that pickling the rind adds a delightful tangy and slightly sour taste to a salad.
To pickle the rind, you'll need to peel the tough green skin from the rind and cut it into small, thin strips. Then, you can prepare a simple pickling solution by combining vinegar, sugar, salt, and spices of your choice, such as mustard seeds or peppercorns. Let the rind marinate in the pickling solution for a few hours or overnight until it becomes tender and flavorful.
I totally was adding pickled rind to the salad.
Putting the Watermelon Mint Salad with Pickled Rind together
Once the pickled rind was ready, it was time to assemble the salad. I combine the watermelon cubes, pickled rind with a sweet and crunchy lettuce mix. It's actually called "Sweet and Crunchy Lettuce Mix" from a brand called Cleanest and Greenest. It's a mix of different varieties lettuces that can hold up to heavier fruits like watermelon and pickled rind without wilting.
Mint in the Watermelon Mint Salad with Pickled Rind
Mint is a perfect herb to complement the flavors of watermelon and pickled rind. Its bright and refreshing taste adds a burst of freshness to the salad, and it's easily accessible in my Optimistic Garden.
Adding feta to the Watermelon Mint Salad with Pickled Rind
I also added plant based feta for creamy tanginess. If you don't mind a dairy salad you can use regular feta, but the Follow Your Heart plant based feta is awesome, and because it's plant based I can serve the Watermelon Mint Salad with Pickled rind on Shabbat with my meat meals.
Finishing the Salad
Once everything is combined, gently toss the salad to ensure all the flavors are well distributed. You can serve it immediately or let it chill in the refrigerator for a while to allow the flavors to meld together.
Here's the Recipe for Watermelon Mind Salad with Pickled Rind
As always, you are the executive chef in your kitchen. If you choose not to add the Pickled Rind, I won't come and check (except Margo).
You can also double the pickled rind recipe, I do, so that you can have it ready for your next salad. It's great on it's own as a side salad as well, so I recommend making extra! It stores well in the fridge.
Print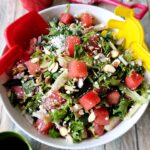 Watermelon Mint Salad with Pickled Rind
Author:

Prep Time:

30 minutes

Cook Time:

15 minutes

Total Time:

45 minutes

Yield:

1

salad

1

x

Category:

Salad

Method:

Tossing

Cuisine:

Plant Based

Diet:

Kosher
---
Description
Watermelon Mint salad with Pickled Rind isa refreshing and unique combination of flavors. I love how it brings together the natural sweetness of watermelon with the tanginess of pickled rind and the refreshing taste of mint. I added plant based feta for creamy tanginess and sliced almonds for crunch. It's a perfect dish for those hot summer days when you're craving something light and cooling.
---
For the Pickled Rind
2

cups

watermelon rind, julienned

2 tablespoons

apple cider vinegar

1

tabespoon granulated sugar

1/4 teaspoon

kosher salt

1/8 teaspoon

whole coriander seeds
For the Dressing
1/4

cup

balsamic vinegar

1 tablespoon

granulated sugar

1 tablespoon

canola or avocado oil
For the Salad
4

ounces

sweet and crunchy lettuce mix

4

cups

watermelon, cut into 1/2-inch cubes

1

cup

mint, chopped

1/2

cup

green onion, sliced

8

ounces

(plant based) feta

1

cup

sliced almonds (can be toasted if preferred)
Additional mint leaves and almonds for garnish
---
Instructions
For the Pickled Rind
Remove the watermelon from the rind. Using a sharp paring knife, remove the light green part of the rind from the dark green peel. Cut it into julienne strips.
Place the rind strips in a small bowl. Add the vinegar, sugar, salt and coriander and stir to combine.
Cover and let rest for at least 15 minutes to allow all the pickling flavors to blend.
For the Dressing
In a small bowl or measuring cup, whisk together the balsamic vinegar, granulated sugar, and oil.
Set aside.
For the Salad
Place the lettuce greens in a large bowl. Add the diced watermelon.
Remove the pickled rind from the pickling liquid and add to the bowl.
Add in the mint, green onion, feta and almonds. Toss to combine.
Toss with the dressing, or serve the dressing on the side – the salad is great even naked.
Serve garnished with additional almonds and fresh mint leaves.
---
---
Notes
I actually served this salad using new sand toys that I bought a the dollar store. It was a super fun way to bring summer to the table.
You can serve the salad with the dressing on the side. I did. If you prefer a dressed salad add it, if not…totally up to you.
If the whole watermelon rind thing seems overwhelming, you can leave it out. The salad will still be great, just not fabulous.
Nutrition
Serving Size:

1 cup

Calories:

220

Sugar:

4.2 g

Sodium:

306.8 mg

Fat:

14.2 g

Trans Fat:

0 g

Carbohydrates:

13.9 g

Fiber:

2.2 g

Protein:

9.4 g

Cholesterol:

168.3 mg
Keywords: Watermelon Salad, Watermelon Mint Salad, Pickled Watermelon Rind, Summer Salad, Plant Based, Pareve, Kosher, Gluten Free
Recipe Card powered by
More Super Summer Salad Recipes
CHECK OUT THE KOSHER EVERYDAY AMAZON INFLUENCER STOREFRONT!
I'm excited to announce the launch of my brand, spankin' new, Amazon Influencer storefront. The purpose of this store is to share with you all of my favorite tools, ingredients and accessories that I use on Kosher Everyday. If there's something you'd like to see please let me know and I'll make sure to add it. I'm updating the storefront all the time.
You can find all my Cookware and Bakeware including ones like the HexClad 14 Inch Hybrid Stainless Steel Frying Pan with Lid, Stay-Cool Handle – PFOA Free, Dishwasher and Oven Safe, Non Stick with lid on my storefront.
I've put together a complete Gluten Free Challah Storefront with everything you need to make fabulous Gluten Free Challah!
Additionally there is a Small Appliance Storefront with many awesome small appliances that I recommend for your kitchen…even if you have a small space!
I'd love to hear what you think!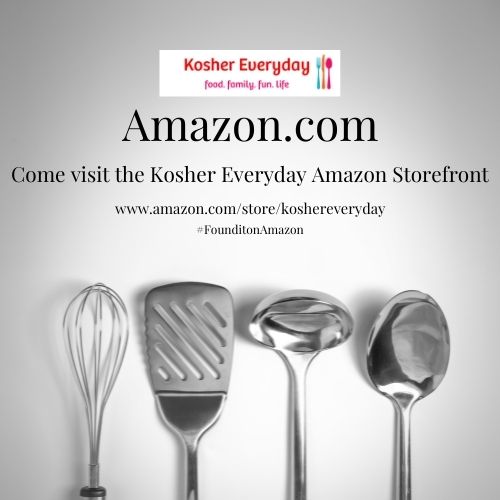 FOLLOW ME!
Don't forget to follow Kosher Everyday on Instagram @koshereveryday! and on Facebook You don't want to miss all the fun and interesting posts and reels that can be found nowhere else!
You can find reels showing how to make most of my recipes on Instagram!
Also, make sure to tag @koshereveryday when you make Kosher Everyday recipes! I LOVE to see your creations!!!
Please note that this post contains affiliate links. Thanks for your ongoing support!