When Dear Daughter is born right before Purim…
The Bat Mtizvah Cake!
Thank G-d we were blessed with having my daughter's Bat Mitzvah last weekend. We were so proud (Kenayna Hara) of her efforts in learning for her Bat Mitzvah and the wonderful d'var torah she gave at her party on Sunday. Her mom (me!) had a lot to do too! The most special part was being able to put together a photo montage showing her growing up, and speaking to her publicly about her namesakes and about how proud we are of the young woman she has become (I know…we all teared up at the Bat Mitzvah too!). Aside from the fun of putting together the décor (m&m themed – her initials are MM), menu, and great projects and activities for her classmates, I got to do one of my all-time favorite things – bake! For weeks I stocked the freezer with French Macarons, cake pops, devil dogs (whoopee pies to the uninitiated), cupcakes, and other treats – SO fun! I also got to let loose and make some cakes that I would normally never make. I'm posting some of the pictures so you can vicariously share in the simcha with us!
Then you need to start thinking about Passover
Although it was an awesome Bat Mitzvah weekend, now that it's over, we're trying to dig out from all the Purim mishloach manot, and all the remnants from the Bat Mitzvah – ugh. And we all know what looms in the near future after Purim…the

P

holiday. Every year I use my favorite Pre-Pesach (yes I used the "P" word!) planning tool, Mastercook, to plan my shopping and menus for the holiday. It's what actually helps me maintain the façade of normalcy during this crazy time. I'm going back to my old tried and true menus and recipes (for example my favorite Sharon Matten's Famous Matzoh Balls – I have a whole wheat version!) because sometimes you just need to do what's easiest and guaranteed to work.
And then there was Passover Cholent
In my last post, I promised to share with you some of my favorite Pesach. They are all easy, fast, and feed a lot of people (bonus!). This week's recipe is my version of Passover Cholent, and is based upon the recipe from "The Complete Passover Cookbook" by Frances R. AvRutick. Published in 1981, it is a 420 page tome of exclusively Passover recipes. It's a great encyclopedia of Passover information and recipes – obviously a labor of love by the author.
You can also refer to some of my previous Pesach articles and recipes to help with your menu preparations. We'll get through this together…really, we will!
And if you're not ready for Pesach yet and need to still get rid of your chametz:
Hope this helps! More to come…
Print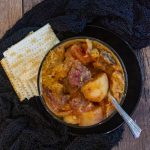 Passover Cholent
Author:

Prep Time:

15 minutes

Cook Time:

24 hours

Total Time:

24 hours 15 minutes

Yield:

Enough for everyone

Category:

Passover

Method:

Slow Cooking

Cuisine:

Jewish

Diet:

Kosher
---
Description
This is the perfect recipe for your Passover Shabbat meal. No kitniyot in this recipe, and you can adapt it according to your taste preferences too.
---
2

large onions, quartered

1 1/2

pounds

cholent meat

5

–

6

large potatoes, peeled and halved

1

pound

kosher for Passover kishke (you can add a second if you like)

1/2

cup

ketchup

3 tablespoons

onion soup mix
oil or non-stick vegetable spray
boiling water
Knaidel
4

large eggs

1/4

cup

oil

1/4

cup

water

1 teaspoon

salt

1/4 teaspoon

black pepper

1

cup

matzoh meal
---
Instructions
Spray a large oven-safe pot or large roasting pan (or if using a crock pot grease the insert pot) with non-stick vegetable spray or grease with oil.
Set aside.
To make the knaidel
Whisk the eggs, oil , water, salt and pepper in a medium bowl.
Add the matzoh meal and stir until all the ingredients are incorporated.
Set aside while preparing the cholent.
The knaidel can be made in advance and refrigerated for a few hours until you are ready to prepare the cholent.
Layer the onions, meat, potatoes, and kishke in the prepared pan.
Cover with the ketchup and onion soup mix.
Form golf-ball sized balls out of the knaidel mixture and place over the cholent.
Cover the entire cholent with boiling water.
Seal the cholent tightly with aluminum foil or a snug fitting lid.
Place in the oven and allow to cook overnight at 200°F.
---
---
Notes
Notes
You can also theoretically put this cholent on a blech or in a crock pot overnight, although I've always used the oven method.
I usually remove the casing from the kishke and place it in the pan – I find it gives the cholent a great flavor. You can leave the casing on if you like and slice it when serving the cholent.
You can personalize this cholent by adding more meat, or other ingredients. If you'd like a thicker cholent add a little less water.
Keywords: Passover Cholent, Passover, Cholent, Pesach
Recipe Card powered by
HERE'S A LINK TO MORE PASSOVER RECIPES!
MAKE SURE TO CHECK OUT MY "I CAN'T BELIEVE THEY'RE PASSOVER BAGELS"!!
PASSOVER IDEA LIST ON AMAZON
I also put a Passover Idea List on Amazon.
These are item's I recommend to help make your Passover even more wonderful.
FOLLOW ME!
Don't forget to follow Kosher Everyday on Instagram @koshereveryday! and on Facebook You don't want to miss all the fun and interesting posts and reels that can be found nowhere else!
You can find reels showing how to make most of my recipes on Instagram!
Also, make sure to tag @koshereveryday when you make Kosher Everyday recipes! I LOVE to see your creations!!!
Please note that this post contains affiliate links. Thanks for your ongoing support!