It all started late Sunday night….
Monday was "Jewish Food Media Day". Coordinated by Melinda Strauss (yay Melinda!), Jewish Food Media people (like me!) were treated to super informative seminars, and extremely interesting speakers. It was also an amazing opportunity to reconnect with some of my dear foodie friends that I only get to see once a year at Kosherfest. Here are some of the super fun pictures I took.
After the seminars the attendees were given the option to help prep food for the Masbia Soup Kitchen in NY. I felt extremely privileged to have the opportunity to help this incredible organization. Thanks to Alexander Rapaport for all your hard work on behalf of Masbia!!!
The final Monday event was the Kosherfeast Gala! My dear friend Esti Berkowitz was one of the super hard working coordinators (Yay Esti!)
Here's a blurb from koshertoday.com:
"KosherFeast 2017 included new and cutting-edge cuisine by Levi Feigenson of One Table Catering. Honorees included: Cutting Edge Kosher: Chanie Apfelbaum – Busy in Brooklyn; Kosher Pioneer: Ari White – Wandering Que; Rising Star: Danielle Renov – Peas Love & Carrots; Humanitarian: Yossie Mutterperl – South Side Sandwich Shop; Gil Marks Award: Liz Rueven – Kosher Like Me. The co-creator and chair of Kosherfeast is Esti Berkowitz. This year's Premier Sponsor, Abeles & Heymann, was recognized for their 63 YEARS of Quality kosher hot dogs."
Some pictures of Monday nights events:
Tuesday
Tuesday was Kosherfest all day long (until dinner!!!)
Check out this link to cool pictures from Tuesday's Kosherfest adventures!
Tuesday November 14th @ Kosherfest 2017 Part 1
Tuesday November 14th @ Kosherfest 2017 Part 2
Tuesday's dinner was a fabulous treat, complimentary of UN Plaza grill with my gal pals Gloria Kobrin & DH, Roberta Snyder Scher, Ronnie Vail Fein & DH!!! You can read an incredible review of the dinner on Gloria's site – Kosher by Gloria. If you want to really know what the dishes in the photos are read Gloria's post!! Here are the few extra pictures I took…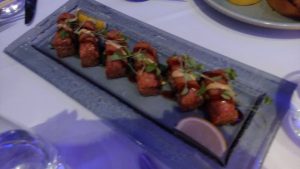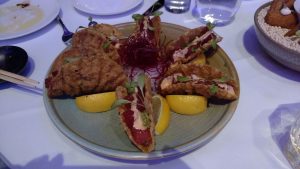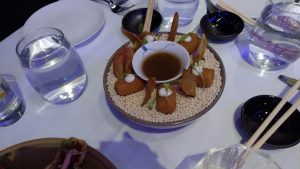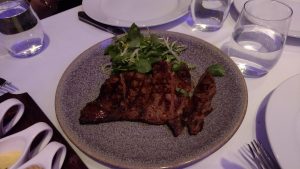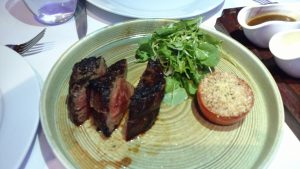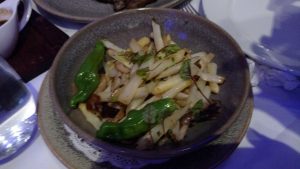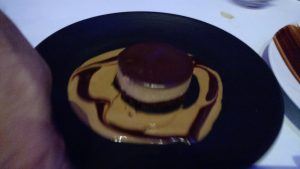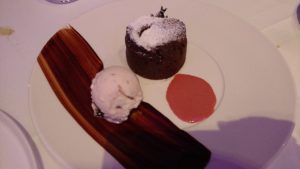 And my absolute favorite: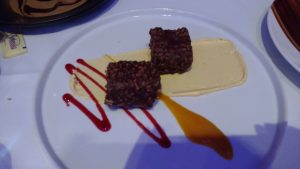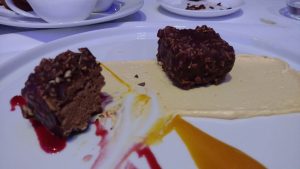 Wednesday
More Kosherfest! All. Day. Long!!! The best part of Wednesday is that at the end of the show, the vendors give away lots of products that they brought to the show but don't want to take home. Like this:
Check out more pictures from Wednesday/Funday at Kosherfest.
Wednesday November 15th @ Kosherfest 2017 Part 1 (Coming soon)
Wednesday November 15th @ Kosherfest 2017 Part 2 (Coming soon)
So…in the end I was beat. I mean really beat! Zonked. Wiped. Exhausted (it's a restricted word but I'm using it here). Bushed. Weary. Fatigued. Spent. Knackered. You get the idea. I was incredibly tired! It was worth all the effort and energy to see all my foodie friends. I miss them completely throughout the year. Here are some extremely fun pictures of me and my pals. (Coming soon…)
They will have to hold me until next year…..