Congratulations to the Kosher Everyday & Bosch/Nutrimill Chanukah Giveaway winners!!!

First Prize: Bosch Universal Mixer Bundle is…Tova Scheinerman !!
Second Prize: Nutrimill Harvest Mill is…Brachie Grunberger !!!

Extra unannounced bonus prize: Alayna Angus (who can pick up her prize here 😉 )
I LOVE my Kosher Everyday followers! So…I'm partnering with Bosch/Nutrimill to give you an AMAZING, AWESOME, INCREDIBLY OUTSTANDING Chanukah Present! You can win: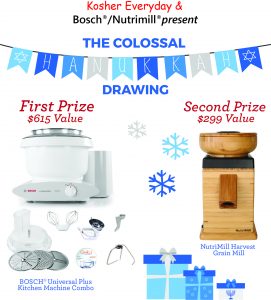 1st prize:
or 2nd prize:
FORM AT THE BOTTOM OF THE PAGE!!
Learn about these fabulous prizes first!!!!
The Bosch Universal Mixer Bundle Quick Overview:
Lightweight 6.5-quart plastic BPA-free bowl with easy-grip handle and removable drive shaft for easy cleaning. Bowl is dishwasher safe. Bottom drive allows easy addition of ingredients

Dual beaters provide triple whipping action up to any whipping task. Whip as little as one egg white, mash up to 10 pounds of cooked potatoes, shred cooked chicken

Powerful belt-driven Transmission ensures adequate torque for almost any recipe, even kneading up to 14 loaves (15 pounds) of whole grain bread dough or mixing up to 34 dozen cookies in a single batch

A variety of optional attachments and accessories will to turn your mixer into a kitchen machine. Grind meat, juice citrus, make fresh homemade pasta, and more

Includes wire whips with metal whip drive, dough hook, dough hook extender, cookie paddles, cake paddles, bowl scraper, large slicer shredder, Homemade Matters cookbook, Cook'n Recipe Organizer CD, an additional 1 Year Extended Warranty (total 4 Year Warranty), and 2-piece pouring shield and lid
Nutrimill Harvest Grain Mill Quick Overview:
450 Watt heavy duty motor with auto-shutoff thermal protection
Near diamond hard Corundum Grainmaster milling stones. Quality made, in Germany, to mill even the hardest of grains.
Quickly mill all non-oily grains and legumes.
Durable housing manufactured from eco-friendly, sustainable bamboo. Carefully designed and crafted to belong in your kitchen
Easily adjust texture with our patented control knob. Mill a full range of textures from cracked grain for hot cereal to pastry fine flour for baked goods.
No need for a unique milling bowl. Grind flour or crack grain directly into your mixing bowl.
Built with a heat resistant nylon motor shield and approved parts in accordance with UL and CSA safety standards.
5 year warranty
Built to last, designed, assembled and tested in the US