Fresh Turmeric Rice with Grilled Vegetables
Last week was wacky fruit & vegetable week at our favorite mega-fruit store. I'm not sure what was up but suddenly there was "mutant" produce filling the aisles. There were cool varieties of unusual oriental mushrooms (Yay! Mushrooms!), and weird fruits that looked like alien mutant infestations. SO cool!! The store had actually cut open the large knobby Jackfruit. I almost bought one (just for the fun of the experience) but put it back when I found out that out of the whole "fruit" only little orange sections around the seeds were edible. Really? I'm going to purchase this monstrous fruit, whose cost is by the pound and only be able to enjoy 1/50thof it? Thanks…but no.
No caterpillars in this bin
of fresh turmeric!!
I did buy a beautiful, fuschia colored dragon fruit. I fell in love with this pretty, unusual looking fruit – and it wasn't a huge investment to take it home and try it. It was a great hit – sweet with a cool poppyseed-like inside. One of the more interesting items that I've seen many times in the store and was super tempted to buy but was too chicken, was
Fresh Turmeric
. I'm a huge turmeric fan and have published a bunch of recipes on Kosher Everyday featuring turmeric.
The thing is, the bin of fresh turmeric in the produce store looked like a swarm of little caterpillars. Ewwwwww.
I have large containers of the processed, dried, powdery version of the fragrant spice but had absolutely no idea what to do with the fresh variety. I took a leap and grabbed a handful (no, they didn't squirm, although they did look like they would!), brought them home and sat down at the computer to do some fresh turmeric research.
According to the very notably reliable Wikipedia.com,
turmeric grows wild in the forests of South and Southeast Asia.
I found a lot of information about fresh turmeric on
tarladalal.com
, and it has lots of health benefits
"Activities of Fresh Turmeric include: Alterative, analgesic, antibacterial, anti-inflammatory, anti-tumor, anti-allergic, antioxidant, antiseptic, antispasmodic, appetizer, astringent, cardiovascular, carminative, digestive, diuretic, stimulant, and vulnerary. Turmeric is known to be used medicinally for ulcers, parasitic infections, various skin disorders, strains, bruises, inflammation of the joints, cold and flu symptoms, preserving food and as a digestion aid." Betcha didn't know all that! I also found out that fresh turmeric needs to be peeled (similar to ginger) and has a milder less-strong flavor in comparison to the dried, powdered version. With my newly acquired fresh turmeric knowledge it was time to plan the fresh turmeric recipe. In the past I've added bright yellow turmeric to brown rice to give it great flavor. The mega fruit store also had fabulous multi-colored mini peppers on sale, which I had to toss into my cart! I decided to grill them to achieve maximum flavor greatness, then diced the grilled peppers and a grilled super-sweet-super-large Vidalia onion, and tossed them into the rice. Now, during my fresh turmeric investigations I learned that it is often used in Middle Eastern/Indian dishes and is frequently accompanied with other fragrant spices. I tasted the rice dish and felt that something was missing (I had an idea of what it was…) but didn't want to mask the great flavor of the fresh turmeric. So…during our Shabbat dinner, I served the rice and asked our guests what they thought might be missing (we're p
retty informal). Our dear, sweet guest Cory suggested
cumin.
Correct for 1000 points! I brought out the container of cumin and we all sprinkled a little on our rice. Yippee Skipee! That was it (as I suspected). Using a little bit of cumin in the recipe totally enhanced the flavor of the fresh turmeric rather than overpowering it. Success!! So, in the recipe below I added a teaspoon of ground cumin – but feel free to add less or more to your own recipe.
Some people need to go to exotic places, and thrilling far away locales for excitement. Me…just a trip to the local mega fruit store and I'm good to go for a while. Don't forget your camera!
Congratulations ME on my 100th Kosher Everyday post!! WAHOO!!
Print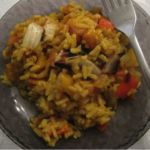 Fresh Turmeric Rice With Grilled Vegetables
---
5

small fresh turmeric "caterpillars", peeled and finely grated (should yield approximately

1

heaping tablespoon)

1

medium Vidalia or sweet onion diced

1

garlic clove crushed or

1

frozen garlic cube

2 tablespoons

extra virgin olive oil

2 cups

brown rice (I like Uncle Bens)

4 cups

vegetable stock (I like Manischewitz)

2

pounds colorful baby peppers

1

extra-large Vidalia or sweet onion

1/4 cup

extra virgin olive oil

1/2 teaspoon

salt

1/4 teaspoon

black pepper

1 teaspoon

ground cumin
---
Instructions
Preheat grill to medium heat.
Heat 2 tablespoons olive oil in a large dutch oven over medium heat.
Add the diced medium onion and the crushed garlic.
Sauté until soft and slightly caramelized, then add the grated turmeric and stir to combine.
Add the brown rice and mix until rice is completely coated with oil and turmeric.
Pour the stock over the rice, stir to thoroughly blend, then increase heat to bring stock to a boil.
Reduce heat to low and cook rice according to package directions, usually 20-25 minutes until vegetable stock is completely absorbed.
Set aside.
In a large bowl toss the peppers with ¼ cup of olive oil until completely coated.
Slice the large oinion into ½ inch wide slices – do not separate the rings of the slices.
Brush or spray both sides of the onion slices with olive oil.
Place the vegetables on the heated grill and cook until lightly browned, turning frequently.
Note, the onions will take longer to cook through and soften.
Place grilled vegetables in a small casserole or on a large plate.
Remove the stems and dice the soft peppers leaving on the skins.
Dice the grilled onions.
Combine the diced grilled vegetables with the cooked rice.
Stir in the salt and pepper until evenly blended.
Serve warm.
---
Recipe Card powered by
Ok…so here's some other stuff I've been up to this week…
Rose Topped Cupcakes
Bride & Groom Cupcakes!