A while back I was perusing the latest Living Social deals when I came across a "deal" for $12 a night in Indiana at the Twin Mills Resort. It just so happened that I was looking for something to do with my girls (KIH) after they were done with camp and the guys in the family were still working. For those of you that aren't familiar with Living Social, it's a web site similar to Groupon. They have deals from all over the place and you can specify the location you are interested in. Being from the Midwest (Yay!) I was looking for fun things to do that are nearby, or within a relatively short car ride. When the Twin Mills deal came up I immediately clicked on the link. It turns out that the $12 deal was for reserving a camp site on the resort. Tents, no personal bathrooms, no beds, no kitchen, no way. I read further and also available was a "Deluxe" Cabin that would sleep 6-8 people, that came equipped with beds, a "kitchen", refrigerator, sink, linens and towels, and a bundle of firewood for each night, for less than $65 per night! Awesome! It was just the kind of thing I was looking for, the perfect adventure that was just 2 to 2 ½ hours away by car. The resort boasted a pool, boating, miniature golf, internet, and enough sleeping space that the girls could bring friends along if they wanted to. Located in Howe, Indiana, Twin Mills is right in the heart of the Indiana Amish Country. How cool is that? We had never visited any Amish Country, so combining all the fun activities (including fishing!) at the resort and the appeal of investigating the areas Amish attractions, proved to be enough of an incentive for me to book a 2 night stay.
When it was time to go, we loaded up the car with our gear – including fishing poles, a toaster oven, and small George Foreman grill (they had a kitchen…just not a Kosher kitchen). I had also packed super long wooden skewers and metal extending forks for roasting marshmallows over our campfire. The resort was super cute and very rustic. Our cabin was probably the size of my living room and dining room combined (and believe me they are not all that big!) with the kids bedroom being just big enough to literally hold 2 bunk beds with space to stand between the beds. The living/dining/kitchen room held a pull out couch for campers number 7 & 8 if you happened to bring them along. Luckily there were only 4 of us (one of the girls brought a dear friend) so the cabin was perfect! The first day and a half we spent boating, fishing, swimming. We build campfires every night, grilled, roasted awesome pierogies on the super long sticks the first night (the girls are very creative), and made authentic s'mores, all while the girls played music on their ipods. The second evening we went blueberry picking nearby. Between the four of us we picked around 18 pounds of fabulous, juicy, fresh blueberries! The owner of the blueberry patch gave us a dozen ears of Incredible Corn (it's really called Incredible Corn). We wrapped a few ears in foil and tossed them on the hot campfire coals to roast. They were truly incredible!!
Our last day on the "Matten Girls Excellent Adventure" was spent at an interactive exhibit that explained Amish culture (we were in Amish Country, at least we should understand what it's all about right?), and at the incredible Shipshewana Flea and Farmers Market. The Shipshewana Flea/Farmers market is a huge multi-football field sized market that takes place on Tuesdays and Wednesdays every week. There are rows and rows and rows of booths/stalls where people sell their wares, crafts, and fresh produce – usually super cheap. We found some beautiful hand crafted items, and purchased several to decorate our Sukkah with in another month. There were quite a few Amish vendors, and a number making Shipshewana Fried Amish Pies. I was super intrigued. I didn't ask to take pictures because after our Amish educational session
that morning I learned that the Amish don't like to be in close up personal photos, so out of respect I refrained. I did go over and watch them make the pies and asked some questions – I mean friedpies?? Basically they made a pie dough (probably with butter and lard), rolled out a small circle, placed them on a small pastry tool, brushed some water around the edges, put a spoonful of filling in the center of the dough, pressed the edges together with the tool to seal the "pies" and make a fluted edge, dropped each one in a hot vat of boiling oil (or lard), then drizzled a glaze over the top. They smelled amazing and looked delicious! The cool part was that I actually had the tool at home! It turns out the pie making tool they have is a very inexpensive one and I had bought mine as part of a kit for less than $6. I knew that these pies were totally going to be something I would try when we got home. Filled with apple filling they would also be a fabulous Rosh Hashana dessert or grab and go treat (not terribly healthy though!).
At the farmer's market part of the market we found awesome produce – yellow tomatoes, fresh delicious apricots and peaches, small yellow watermelons, orange zucchini, and huge fresh green zucchinis. We left Shipshewana that day after having an amazing time. I left with a mission to make some Amish inspired recipes.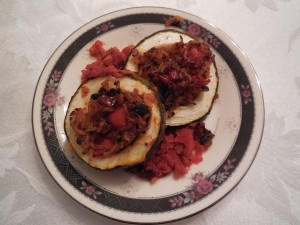 Stuffed Vegetarian Zucchini
I knew I wanted to do something fun and delicious with those zucchinis – they were outrageous! A while ago I had purchased some large zucchinis at a local farmers market and had cut them in half lengthwise, hollowed the halves and stuffed them like large zucchini boats. It didn't work as well as I had hoped. The boats didn't hold their shapes and although they tasted great they weren't as pretty as they could have been. I decided to cut the large zucchini's into pieces to cook more evenly, hollowed each piece, then stuffed them with some rice with seasoning, mock meat, vegetables, and topped each with flavorful salsa. I baked them uncovered, and after the pieces were cooked through I sliced them into large disks and re-baked the disks. They were pretty, held their filling, and delicious! Keeping the pieces as filled disks helped the Stuffed Vegetarian Zucchini to keep its shape and hold the filling. I didn't realize it at the time but I had used a little spicier salsa so the Stuffed Zucchini had a little kick to it – even better!
Now school and Rosh Hashana are just around the corner and it's time to put the summer behind us. We were blessed to be able to get a way for a few days for some much needed fun and R&R. I also came away with a few new great recipes. The Shipshewana Fried Amish Pies went over so well that my crowd requested that I make them again and they literally disappeared in a blink. I know I'll be making them during the year, bringing back a little bit of our great summer in each delicious bite.
Print
Shipshewana Fried Amish Pies
---
Pie Dough (You can use chilled margarine instead of butter)
Flour for rolling
Canola oil for frying
Your favorite pie filling
Glaze
2 cups

powdered/confectioners sugar

1 teaspoon

corn syrup (optional)

1 teaspoon

vanilla
Boiling/hot water
Powdered sugar (optional)
Pie making tool (You can find it on Amazon) or a fork
---
Instructions
Divide the dough into small pieces.
Sprinkle a little flour on a pastry board.
Roll each piece of dough into a small circle.
Sprinkle a little flour over the pastry tool.
Place a dough circle on the tool, brush the edges with water, place a teaspoon of filling in the center of the dough, then close the tool to seal the pie. If you don't have the pie making tool, simply fold the dough over the filling and crimp with a fork to seal.
Line a large baking sheet with paper towels.
Set aside.
In a large stock pot, dutch oven, or deep fryer, heat the oil over medium-high heat to 350° F.
Drop pies into the oil and fry each, turning occasionally, until brown on each side.
Remove from the oil and place on the prepared baking sheet. (Be careful not to put the baking sheet too close to the burner with the pot…I'm just saying the paper towels covered with oil might just catch on fire, and you might just need to use baking soda to put out the fire. I'm just saying…not that it happened to me Erev Shabbat making the pies or anything…)
Prepare the glaze
Place the powdered sugar in a large bowl.
Add the corn syrup and vanilla and enough hot water to make a thick glaze.
Drizzle or spread the glaze over the pies, and if you like sprinkle them with powdered sugar.
---
Recipe Card powered by
Print
Stuffed Vegetarian Zucchini
---
1

or

2

super large zucchinis cut into

6

' pieces

2 cups

brown rice (or

14 ounces

Instant Uncle Bens Brown Rice)

4 cups

vegetable stock (or

3 1/2 cups

if using Instant Uncle Bens Rice)

2 tablespoons

canola oil

1

pound imitation ground beef

1

large onion, diced

1

garlic clove, crushed (I use a frozen cube)

4

colorful peppers, diced

1

package taco seasoning

1

16 ounce jar salsa
Nonstick vegetable spray
---
Instructions
Line a large rimmed baking sheet with aluminum foil.
Spray with nonstick vegetable spray.
Set aside.
Preheat oven to 375° F.
Hollow out the center of each zucchini piece with a long, thin, sharp knife, or a long apple corer.
Reserve the hollowed center pieces, and set the cored zucchini chunks aside.
Dice the reserved hollowed center pieces and set them on the prepared baking sheet.
In a large pot bring the vegetable stock to a boil.
Add the rice, return to a boil, then reduce heat, cover and simmer for 15-20 minutes (or according to package directions) until all the liquid is completely absorbed.
Set aside.
Heat the canola oil in a large skillet or wok.
Add the diced onion, garlic and mock meat.
Sauté until the onions and "beef" are browned.
Add the diced zucchini and peppers and sauté until the vegetables are soft.
Sprinkle with the taco seasoning and stir until completely blended.
Mix the cooked rice with the sautéd vegetables.
Stuff each of the hollowed zucchini sections with the rice mixture.
Place on the prepared baking sheet and top with the salsa.
Bake for 30 minutes until zucchinis are soft.
For super large zucchinis bake a little longer.
Remove the zucchinis from the oven and allow to cool until cool enough to handle.
Slice each zucchini log into 1 ½ inch thick rounds.
Return the rounds to the original baking sheet and spread the cooked pan salsa on top of the rounds.
Bake for an additional 30 minutes until lightly browned.
Serve warm with additional salsa if desired.
---
Recipe Card powered by
So….
Here's some stuff I did this week…