It's hard to believe that we just finished Thanksgiving and already Chanukah is just around the corner! I'm trying hard to do a mental shift, but I somehow still have Turkey Brain. All my brain keeps saying is "Gobble Gobble Gobble!"
The sudden plethora of "Diet Program" Commercials shown on TV is one way to tell that Thanksgiving is over. Especially late night TV. (Yes Marie, we know you lost 50 pounds!) I suppose the TV media is trying to convince us that we all need to lose half our body weight between now and all the "Holiday Parties". Suddenly, after a whole year of eating "whatever", our psyche is supposed to do a complete 180 and we become members of major diet programs. We join the masses in the "I can lose 50 pounds faster than a super hero" dieting craze.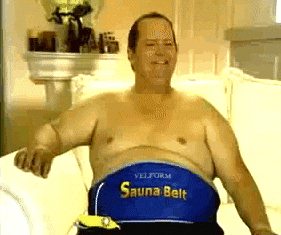 Chanukah is a really hard holiday to maintain any type of healthy eating.
Regardless of the eat/not to eat hype, I'm a big believer in balanced nutrition.
When it's time to eat a sufganiya (a.k.a. luscious jelly donut) …eat one sufganiya. Enjoy it. Eat it super slowly. Put on headphones to block out any noise, close your eyes to focus on the taste sensations bursting in your mouth. Shhhhhh…I'm eating a jelly donut.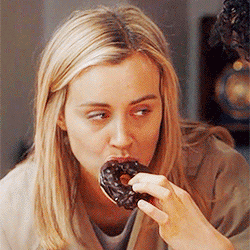 Then move on and eat a carrot when you're done.
The issue is that we all want to eat latkes and sufganiyot all the time. OK, maybe not all the time. There is that pesky law of diminishing returns. But it's the concept of being "all in" when celebrating the holiday that begins to conflict with our waistlines.
Now, while I have a lot of traditional and not so traditional latke recipes, until this morning none of them were particularly healthy. Delicious? You betcha. Low calorie? Balanced Nutrition? Not so much.
This morning I decided to divert from my normal breakfast of oatmeal, blueberries and almonds and try to come up with a healthier, more balanced latke. While keeping within the Chanukah spirit this breakfast would also keep within the Eating a Healthy Balanced Breakfast spirit.
Most importantly – the result tasted great and was fairly easy to make! Bonus!
If nutritional information sounds like blah blah blah blah to you skip directly to the recipe at this point.
I found that if I used ¼ cup shredded cheddar cheese in this recipe the fat was slightly higher as well as the protein per serving. If I substituted part skim mozzarella then the ratios were as follows:
31.4g Carbs | 7.7g fat | 17.5g Protein -> 261 calories
I liked the part about the 17.5g Protein.
I used a non-aerosol extra virgin olive oil spray to also reduce the calories. However, if calories are not a huge issue for you fry them in oil!
Print
Chanukah Breakfast Latkes
---
Description
A healthy way to have your Chanukah Latkes and Eat them Too!
---
For the Potato
1

large potato, shredded (about

1 1/2 cups

)

2 cups

boiling water
For the vegetables
2 cups

sliced mushrooms

1

medium tomato, diced

1

green onion, thinly sliced

1/2 cup

frozen spinach, defrosted
For the Latke
1/4 cup

shredded cheddar or part skim mozzarella cheese

2

large eggs

2 tablespoons

flour (can be glu

ten

free

one

to one)
salt and pepper to taste
oil or non-aerosol olive oil (or avocado) spray for frying
---
Instructions
In a large measuring glass combine the boiling water and shredded potatoes. Set aside.
Heat a large skillet over medium high heat.
Spray the skillet with olive oil spray. Add the spinach, diced tomato, and sliced mushrooms, and saute until the mushrooms are soft.
Off the heat. Transfer the vegetables to a medium bowl. Wipe out the skillet with a paper towel.
Drain the potatoes into a mesh bag or dish cloth. Over the sink, wring out any additional liquid from the potatoes. Add the potatoes to the vegetables.
Stir the cheese, eggs, flour, salt and pepper into the vegetables.
Heat the skillet over medium/high heat. Spray with olive oil spray or pour in oil for frying.
Spoon the vegetable mixture onto the skillet. Fry the latkes until brown, then flip and brown on the second side. Remove from the pan and repeat until all the latke mixture is used.
Serve hot.
---
Notes
You can use almost any type of your favorite vegetable in these latkes.
The best frying oils for these latkes are avocado or peanut oil.
You can substitute the cheese for your favorite type.
---
Recipe Card powered by
You can find more Chanukah Recipes at https://bit.ly/2AnWk3j:
You can find Chanukah (and other) videos on my YouTube Channel: Sharon Matten's YouTube Channel
Please make sure to "like" the videos and subscribe to my channel!
I'd love to hear from you! What are YOUR favorite Chanukah foods? YOUR favorite latke?
I WANT TO KNOW!!!