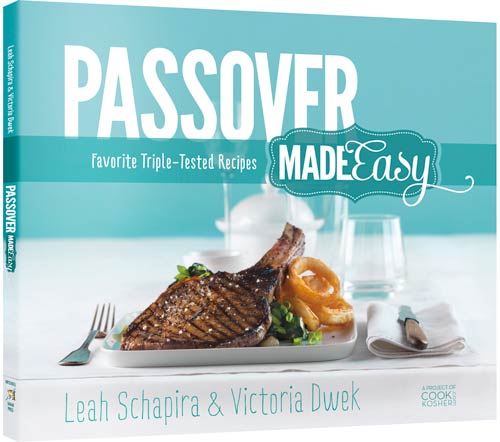 GET THIS BOOK!!
I am a huge fan of cookkosher.com and Leah Schapira! I loved Leah's recent cookbook
Fresh & Easy
, which received rave
reviews
(especially from me!). Leah is fun, vivacious, friendly, and great to know – and her recipes are fabulous. I was incredibly psyched when I saw that she had come out with a new Passover cookbook with Victoria Dwek –
Passover Made Easy
. I eagerly sat down with my handy-dandy multi-colored sticker tabs, and began to read. I LOVE THIS BOOK! Recipes aside (we'll get to those in a minute) this cookbook is
fun
to read! The "cartoon" like info bites – "tidbits" are very informative and easy to read. Each section and recipe is supplemented with "dialog-bubble" stories and incredibly useful tips and recipe variations. Did you know that "The largest Seder in the world is celebrated in Katmandu, Nepal whose 1,800 participants collectively consume 1,100 lbs of matzah?" Thanks to Leah and Victoria, now you do! There's also a great tutorial on wine pairings and suggestions. Many of the recipes come with additional sauce recipes and suggestions which make the dishes go from awesome to super-awesome! My only problem with this book was that using my handy-dandy, multi-colored sticker tabs ended up being a waste of time…it's not so helpful if
every
page has a sticker tab on it – is it?
It was tough to decide which recipe to try from the book for this review. I was tempted by the Crispy Crackers, Butternut Squash Salad, Seder Night Chicken, Shnitzel Nuggets (with apricot dipping sauce), Onion Rings, Cauliflower Gratin (pareve!), and Frozen Lemon Wafer Cake. I finally settled on the Brisket Egg Rolls, which required making the versatile Basic Passover Crepes. It was a good thing I doubled the recipe because my family went crazy for these egg rolls. They were delicious! The recipe calls for Brisket, but I ended up using a chuck steak – which I chopped instead of shredding, with great results. I also wound up egging the edge of the egg rolls before sealing them after a few from the first batch sort of exploded. No worries – even though they weren't as pretty as the others they were still inhaled like the rest of them. The Basic Passover Crepes were easy to make, and I stacked them between pieces of waxed deli paper as I made them. According to Leah, the crepes can be made in advance and frozen until ready to use. Considering the many suggestions that Leah and Victoria have for them it's a good thing they can be made in advance. I can easily see them becoming a staple in my Pesach preparations.
Awesome Brisket Eggrolls!!
What struck me as I was going through the Passover Made Easy cookbook was that it could easily be named "Gluten-Free" Made Easy. With the exception of a few "Gebrokts" recipes in the book, most of the recipes are terrific for the GFE (Gluten Free Eater) year round. I know that I'll be keeping this book close by not only during Pesach but year round for healthy, easy to make recipes. Thanks Leah and Victoria – nice job!!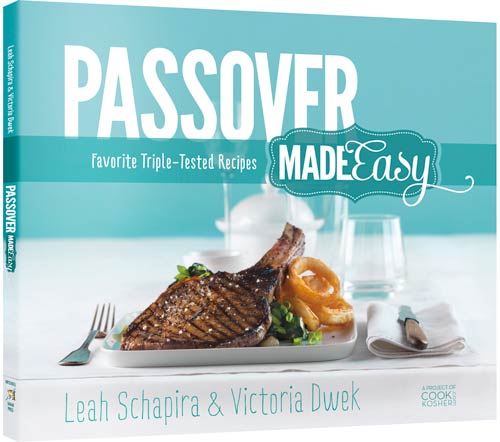 Print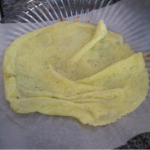 Basic Passover Crepe
---
12

large eggs

3/4 cup

potato starch

1 cup

water

1 teaspoon

salt
---
Instructions
In a blender (or using an immersion blender), beat eggs.
Add potato starch, water, and salt.
Blend until smooth.
Lightly grease a crepe pan or skillet.
Heat over medium-high heat.
Add 3-4 tablespoons batter and swirl the pan to coat the bottom with a thin layer.
Let cook until crepe is firm and edges appear golden, about 1 minute.
Flip crepe, using a slotted spatula.
Cook for 15 seconds and flip over onto plate.
Repeat with remaining batter, re-greasing pan as necessary.
Stack crepes as they are completed.
---
Recipe Card powered by
Print
Brisket Eggrolls
---
1/2

pound brisket (

2 1/2 cups

cooked shredded meat)
Salt, to taste
Coarse black pepper to taste

1/4 cup

oil, divided, plus more for frying

1

medium onion, diced

1

medium red onion, diced

1 1/2 tablespoons

sugar

1 1/2 tablespoons

lemon juice

1/4 teaspoon

salt
Pinch coarse black pepper

3 tablespoons

orange juice

10

(6-inch) Basic Passover Crepes (see above)
---
Instructions
You may skip the first step if you are using leftover meat.
Season brisket with salt and pepper.
Heat 2 tablespoons oil in a sauté pan over medium heat.
Sear brisket for 3 minutes on each side.
Lower heat, cover, and cook brisket for 1-1 ½ hours, checking periodically.
If meat seems to be burning, lower heat further.
Shred meat.
Set aside.
Heat 2 tablespoons oil in a sauté pan over medium heat.
Add onions and sauté 10-12 minutes, stirring occasionally.
Add sugar, lemon juice, salt, and black pepper.
Sauté 5 additional minutes.
Stir in orange juice; taste to adjust seasoning.
Remove from heat and stir in shredded meat.
Place 2 tablespoons onion-meat filling towards the bottom-center of each crepe.
Roll, eggroll-style: fold up bottom to cover filing.
Fold in sides, then roll-upward to close.
Heat 1 inch oil in a sauté pan over medium-high heat.
When hot (eggrolls should sizzle when slipped into the pan), fry eggrolls until golden, about 3-4 minutes per side.
---
Recipe Card powered by