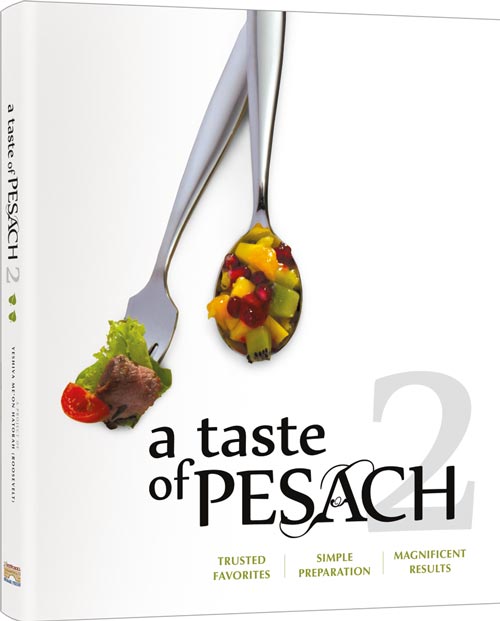 A Taste of Pesach 2: Trusted Favorites, Simple Preparation, Magnificent Results
At this point I could be done with my review. The cover of "A Taste of Pesach 2" pretty much sums up how I feel about this new cookbook. I thoroughly enjoyed going through and checking out which recipes I wanted to make. The answer? Nearly all of them. That's saying a LOT.
This cookbook is thoughtfully organized. The Table of Contents is broken into logical categories, but there is a little bonus – each line in the index is underlined so it's easier to read. Clever. Neat. Thoughtful.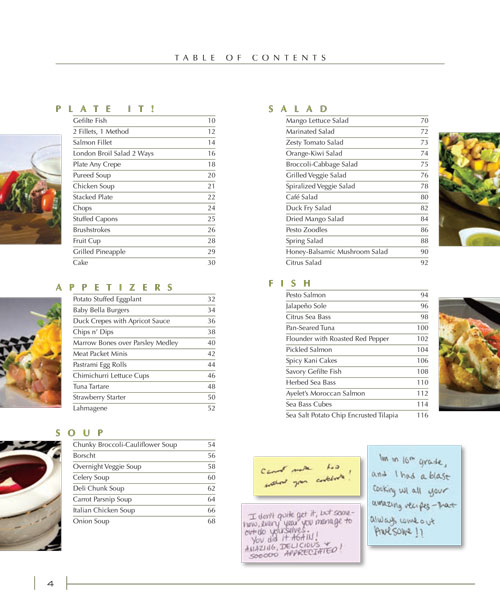 I really loved the plating tutorial section of the book. I have never seen a plating tutorial in any of the cookbooks I have reviewed or owned. It's possible that I just don't remember, but as far as I know I've never seen it. It's pure genius I tell you. Even as a foodie who photographs food, I learned a lot. The examples are really pretty, and easy to do. There are options so you can mix and match to have beautifully presented plates, that aren't exactly the same every meal.
The photography in A Taste of Pesach 2 is colorful and beautiful. The recipes look appealing and drool worthy. It's true. I had a tough time deciding which recipe to test. I wanted to taste each one. Right away!
For the GFE (Gluten Free Eater) in me, this book really hits a home run. Nearly all the recipes are Non-Gebrochts, i.e. gluten free. Fabulous. I'll use this book year round.
I ended up deciding to make the Praline Chicken. Yum. Just YUM! Sweet. Crunchy. Crispy. Juicy. Just. Plain. Amazing. To be fair I did have a small issue with this recipe. It is totally unhealthy. If you are reading this review and have an issue with sugar and fat, stop right here. I decided to let all of that go. The Praline Chicken is freakishly delicious – even though it's not so good for you. I really don't even see a way to fix it to make it healthier. It's Praline for heaven's sake. Just FYI, I liked it so much I plan on making it the second day of Pesach. It's. That. Good.
The only thing I did change was that I used 2 ½ pounds of chicken instead of 1 pound. I had to add a few more eggs and pecans, but kept the remainder of the recipe the same. I guess that had I left it with just one pound, it would have been cloyingly sweet. Bottom line – use more chicken, eggs & pecans, and this recipe is perfect.
If you want to purchase this great cookbook you can buy it on Amazon:
Print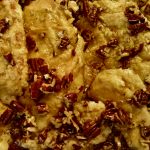 ---
Description
Author's description: Depending on how sweet you like your food, you will either love this dish or really dislike it. Over Sukkos I served this dish to my in-laws, who love all things sweet. The platter was cleaned to the bottom. Conversely, when I served to my parents, it went untouched, passed over for the more savory dishes on the table.
---
1

pound skinless, boneless chicken breast halves

2 cups

potato starch

1

egg, lightly beaten

1 cup

oil for frying
Praline Sauce
1

stick (1/2 cup) margarine

1 cup

brown sugar

1 cup

maple (or pancake) syrup

1/2 cup

chopped pecans
salt to taste
pepper to taste
---
Instructions
Preheat oven to 350°F. Line a plate with paper towel.
Prepare one shallow dish with beaten egg and one shallow dish with potato starch. Dredge chicken in potato starch on all sides; tap to remove excess. Dip dredged chicken in the beaten egg and then coat with potato starch a second time.
Heat oil in a large skillet over medium heat. Fry chicken until golden brown and no longer pink inside, about 5 minutes per side. Drain on prepared plate.
Prepare the praline sauce: Melt margarine in a saucepan over medium heat; stir in brown sugar, maple syrup, pecans, salt, and pepper. Bring the mixture to a boil; cool for 1 minute.
Place chicken into a 9×13″ pan; pour praline sauce over chicken.
Bake, uncovered, until sauce is bubbling, 10-15 minutes.
---
Notes
Sharon Matten's Notes
I used 2 1/2 pounds of chicken when making this chicken. I added extra egg and pecans to account for the increased amount of chicken. Considering the sweetness of the sauce, using additional chicken helped to counteract the extreme sweetness of the sauce. It was delicious as a result.
---
Recipe Card powered by
And now for the photo steps:
Make sure to check out my Everyday Gluten-Free Passover posts on Chicago Now! I'm doing an entire series on Canned Passover Macaroons recipes. It's true. Check them out!
Finally…don't forget to enter my giveaway with Sophistiplate! You can win service for 16!! Contest ends 3.18.18 at 11:59pm CST. Here's a link to the contest.