Ingredients
For the Dressing
1/2 cup balsamic vinegar
1/2 cup honey
For the Salad
8 cups spring mix salad
3-4 large peaches, halved
1 tablespoon extra virgin olive oil
1/2 cup feta cheese (can be vegan)
1 small purple onion or 1 large green onion, thinly sliced
1/2 cup Candied Pecans
Lindsey's Grilled Peach Salad is the perfect mix of fresh, juicy grilled peaches, sweet and crunchy candied pecans paired with tangy (vegan) feta cheese and rich honey balsamic dressing.   It's an instant family favorite!
Instructions
For the Dressing
Combine the balsamic vinegar and honey in a small saucepan.  Simmer over low heat for around 10-15 minutes until the dressing reduces and thickens slightly.
Remove from heat and set aside to cool.  Can be stored in the refrigerator until ready to use.
For the Salad
Place the halved peaches in a medium bowl.  Drizzle with the olive oil.
Heat a grill pan or grill until hot.  Set heat to medium.  Place the peach halves cut side down on the grill.  Grill for approximately 10 minutes on each side, or until the peach halves have grill marks and are softened.  Remove the peaches from the grill, and allow to cool.
If the pits are still in the peach halves, they should be easy to remove with a paring knife.  When the peaches are cool enough to handle, cut them into cubes.  
Place the spring mix into a large salad bowl.  Top with the diced peaches, feta, green onions, then the candied pecans.
Drizzle the honey balsamic dressing over the salad and toss to combine. Serve immediately.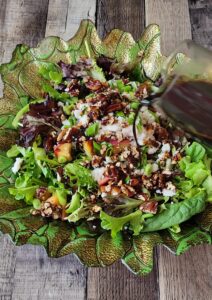 Tips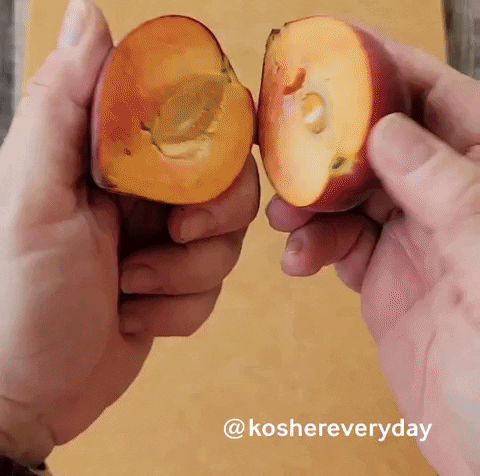 This is how to split the peach into two halves. You can leave the pit in the peach until after it's grilled. You can use vegan or dairy feta cheese, or if your guests aren't fans of feta you can leave it out completely.