IT'S HERE! Susie Fishbein"s new cookbook "
Kosher by Design Brings it Home
"!!! After travelling the world doing cooking demonstrations, and after selling 480,000 copies of her super popular cookbooks, Susie Fishbein is bringing us unique and exotic recipes from all over the world. To quote Susie " While travel is truly one of life's pleasures, and there is a thrill and gratification to seeing the world, there is nothing like the comfort found in bringing it home."
To start, the photos in the book are breathtaking. I wanted to go to France, Italy, Mexico, and of course Israel – no wait…I almost
felt like I was there
through the gorgeous photos of the interesting places that Susie has gone. And the food! Flavors from around the world like: Petit Farcie, Arancini, Coconut Lime Pargiyot Skewers, Ranchero Soup, Moroccan Harira, Carmel Spa Pomegranate Almond Salad, Lentil and Tuna Salad (which I made!), Rosemary Lavender Chicken, Udon Chicken Noodle Bowl, Freekah Pilaf (yes that's really the name!), Lemon Tiramisu, Halvah Baklava (YUM!) and Glazed Donut Twists…just to name a few.
As always when doing a review I set out to try one of the recipes from the book. I picked Lentil and Tuna Salad. It looked so pretty in the book, I simply couldn't wait to try it. A heads up though, with many of the recipes you need to prepare a little in advance. Some of the ingredients are not those that I stock regularly in my pantry. I took a trip to Sunset Foods, which carries many more gourmet and international ingredients, and was able to get the French Lentils, and most of the other ingredients for the recipe. I wasn't able to get Italian tuna with olive oil, so I got the best tuna with olive oil I could find. And yes, French lentils are different than regular lentils, and did make a difference in the quality of the salad. Susie gives clear instructions for each of her recipes, so even if some of the ingredients are foreign (it is an international cookbook after all – there are going to be some unique ingredients in the book!), you can still prepare the recipes like a pro. As you can see from my photo the result was pretty close to Susie's (yay us!). We felt very rustic eating the salad Motzei Shabbat, as if we were in a little town in Tuscany.
The salad was pretty quick to prepare and was unique and delicious! If your family would prefer another protein other than tuna in the salad, you could even substitute chicken, or chorizo and it would be delicious (if not authentic).
This is another beautiful book by Susie Fishbein – it could even be a coffee table book! Just make sure you serve your coffee with one of Susie's fabulous international desserts like French Napoleons or Almond Bobka Ring.
Now….guess what!!! You can win a copy of Susie Fishbein's book "Kosher By Design Brings it Home" or other great stuff!! Here's a picture of what you can win!!!


Simply click on the link below to enter. It's that simple. Awesome right?


If you don't win, you can always buy the book on amazon – super simple…here's the link.
Print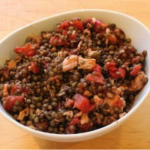 Lentil and Tuna salad
---
1

carrot, peeled

1

rib celery

1/2

white onion, peeled

1 1/2 cups

French Puy lentils or lenticchie di Castelluccio

6

whole black peppercorns

2 teaspoons

red wine vinegar

1

(15-ounce) can diced tomatoes coarse sea salt or kosher salt

1

(200-gram) can tuna, preferably Rio Mare or other Italian tuna packed in olive oil; don't drain
leaves from

4

sprigs fresh thyme

1/8 teaspoon

cayenne pepper

2 tablespoons

extra-virgin olive oil

2 teaspoons

balsamic vinegar sprigs of fresh thyme
For garnish
Maldon or other flaky salt
---
Instructions
Fill a medium pot halfway with cold water.
Add carrot, celery, onion, lentils, peppercorns, and red wine vinegar.
Bring to a boil.
Place the tomatoes into a strainer to drain; discard liquid.
Set aside.
Check the lentils after about 20 minutes, although they may need closer to 30 minutes.
Not all lentils cook in the same amount of time, so you will need to taste one.
They should be slightly al dente, not mushy and falling apart but not hard.
When the lentils are almost done, add 1 teaspoon coarse salt.
Stir.
Drain the lentils, rinsing in cold water to stop the cooking.
Pick out and discard the carrot, celery, and onion.
Place lentils into a large bowl.
Add drained tomatoes and tuna with its oil.
Add the thyme, cayenne, olive oil, and vinegar.
Stir.
Season to taste with more coarse salt, at least ½ teaspoon.
Drizzle with additional olive oil; garnish with a sprig of fresh thyme and a small pinch of Maldon salt.
---
---
Recipe Card powered by