I know I have been talking a
lot
about grilling lately – it's just that with summer comes
more
grilling! It just can't be helped. We don't want to heat up the kitchen by turning on the oven, and the weather is usually so nice it's great to be outside (with the exception of rain and 100°+ temperatures)! I was talking to my dear cousin Tziporah this week and she was telling me about a recipe that her
husband
David came up with –
GRILLED MEATBALLS
! Basically, you make really flavorful meatballs, and instead of cooking them in an oven, browning them in a skillet, or just cooking them in the sauce, you actually grill the meatballs first – before putting them in the sauce. Can you imagine how amazing the flavor of
DAVID'S GRILLED MEATBALLS
is? You get the moist and smoky grilled beef,
plus
the infused flavor of your favorite sauce. In addition, you can put a
lot
of meatballs on the grill at a time, a huge time saver. Incredible…David you are a genius!! Theoretically, you could even grill the meatballs, let them cool without sauce, put them in an airtight container and save them for a rainy weekend that you can't grill…grilled food all the time – a concept right?
I am officially dedicating this blog to my cousin Tziporah who lives in Teaneck, NJ. I love Tziporah – she views the world through the same glasses as I do (scary, but true). Tziporah and I spend a lot of time sharing recipes, and she (and her Mom and Dad) were the ones that convinced me to finally go to Kosherfest with them last year. When Tziporah and I were at Kosherfest, she literally pulled me to a display of crackers (yes, crackers!). These were not just any crackers, they were pareve Sour Cream and Onion crackers! The samples were incredible! Tziporah told me that she had an amazing salad recipe that used those crackers. Wow! Tziporah is an excellent cook, and I was very excited to try out the salad recipe she gave me. I ran some recipe modifications by Tziporah, tweaking the recipe a little by reducing the oil, adding more shredded cabbage, and changing the sugar to Splenda – and when it was done, it was one of the best salads I had! The dressing and crackers gave this incredibly healthy salad a great flavor and crunch! I'm sharing this recipe with you because I figure, after all the grilled meat recipes, I should probably include a healthy salad to offset all the beef!!
If any of you happen to run into Tziporah, please say hi for me and give her a big hug!! I'm so excited…already bought my airplane tickets for this year's Kosherfest in NY! Can't wait to see you Tziporah!! I really miss you!!
Print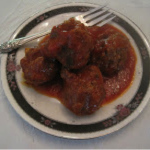 David's Grilled Meatballs
---
2

pounds lean ground beef

1

large onion, chopped

2

cloves garlic, crushed — or

2

cubes frozen crushed garlic

1 cup

bread crumbs

2

large eggs

2 tablespoons

olive oil

2

jars favorite pasta sauce
---
Instructions
Preheat grill to medium heat.
In a large skillet, sauté the onions and garlic over medium high heat until slightly browned.
Set aside and allow to cool.
Cover a large cookie sheet with waxed paper.
Set aside.
Place the ground beef in a large bowl.
Add the onions, and remaining ingredients.
Mix well.
Using a scoop, scoop ground beef mixture, then roll into meatballs.
Place meatballs on prepared cookie sheet. When all the meatballs are formed, place them on the grill.
Grill for 10 minutes, rotating halfway through and meatballs are nearly cooked through.
Pour pasta sauce into a large stockpot.
Add ½ jar of water to each empty sauce jar, swirling to get the remaining sauce out of the jar.
Add the water to the sauce in the pot.
Place the grilled meatballs in the pot, and cook over medium heat for 30 minutes.
Serve hot.
---
Notes
Notes
You can freeze half the meatballs, and use a single jar of sauce instead of two.
Serve the finished meatballs over a bed of your favorite rice for an elegant appetizer.
Recipe Card powered by
Print
CRUNCHY SUMMER SALAD WITH SOUR CREAM & ONION CRACKERS (PAREVE)
---
For The Salad
2

heads romaine lettuce, thoroughly washed and cut into bite size pieces

4

large scallions, thinly sliced diagonally

1

bag shredded cabbage or coleslaw mix

1 pint

grape tomatoes, halved

1

large cucumber quartered and thinly sliced (optional)

2 cups

sour cream and onion crackers, plus additional for garnish
For The Dressing
1/4 cup

canola oil

3 tablespoons

light mayonnaise

1/4 cup

Splenda

1 teaspoon

salt

1 1/2 teaspoons

yellow mustard

1/4 teaspoon

ground black pepper

1 tablespoon

soy sauce
---
Instructions
In a large salad bowl, combine all the salad ingredients except the crackers.
Toss to evenly distribute the vegetables.
In a small mixing bowl, combine all the dressing ingredients.
Mix until completely blended.
Pour the dressing over the salad and toss to completely coat the vegetables.
Allow the salad to sit for 10 minutes (in the refrigerator if possible) to blend the flavors.
Add the crackers and toss until evenly distributed.
Garnish with additional crackers and serve to your happy guests and family!!
---
Recipe Card powered by