There must be 30 things to do with matzoh…
Paul Simon sang "There must be 50 ways to leave your lover…"
While it might be tempting to "Slip out the back, Jack" or "Make a new plan, Stan" when presented with all the Passover matzoh that we're supposed to consume, I'm telling you "You don't need to be coy, Roy"..
Just listen to me.
So…what's the deal with Passover Matzoh anyway? Wouldn't a nice loaf of bread or challah be more festive?
Here's why we eat matzoh instead of leavened bread on Passover:
When the Jews were fleeing Egypt after being slaves for 400! years, they didn't have time to let the dough rise on their bread and so they were left with the equivalent of matzoh. According to Chabad.org, the Jews also ate matzoh while they were slaves in Egypt. Matzoh is a symbol of poverty and slavery – another reason that we eat it during the Seder and throughout Passover.
But…it also means that there is a lot of matzoh in our homes during Passover.
To get you into the getting-ready-for-Passover mood…here are 30 things you can do with your Passover Matzoh.
You're welcome.
You could use it as a frisbee. I recommend the round ones for this – they are more aerodynamic.
Babies are notoriously messy eaters. By using a matzoh bib, when they are done eating their meal, they just eat the bib.
Pee mats for dogs. Matzoh is very absorbent.
Toilet Paper. Trust me when I tell you that some of the toilet paper I used in Europe wasn't far off from matzoh paper.
Make a kite. While you might have some aerodynamical problems…you could always attach a few balloons to make it float.
Matzoh Farfel Guinea Pig Litter…although I would never really do that to my babies. Meet Jiggly, Patches and Coco!
Make a puzzle. This is a great activity for restless kids. Give them a few broken matzoh's and challenge them to put the matzoh back together again. Telling them that there are multiple matzoh's in the pile…optional.
If you really love matzoh you could make it into wall tile to enjoy Passover all year long.
You could make the matzoh into bird feeder. When the birds are done eating the bird food they could eat the bird feeder.
Braille Book. It's just mean. Don't do it.
Use it as a Tic Tac Toe board. You won't be bored!
This Matzoh House is courtesy of The Kitchn.
Make a Picture Frame that's always as sturdy as heavy cardboard and attractive too!
Matzoh Vase courtesy of designmegillah.com
Textured wallpaper is all the rage now, right?
Build a Dog House for Fido. Just don't leave it out in the rain!
Your little kids will love a Hot Wheels car garage made out of matzoh. And just think…no chametz in this toy!
Matzoh Meal "sand" in a sandbox. The kids won't even know the difference…really.
Make a Checker Board with square matzoh for the white spaces and round matzoh for the white pieces. If you feel like being a sore loser at the end of the game, just eat the pieces.

Throw it away (thanks for this one Adina Matten)

Wear it as a hat courtesy of zazzle.com
Very large Playing Cards
Make a Matzoh Spy Drone. No one would suspect a flying matzoh drone as being a spy drone.
Earrings courtesy etsy.com
Ninja Throwing Stars because it's what my oldest son suggested.
Make a sled because you never know what the weather will be like in Chicago at any given time.
Tae Kwon Do boards for black belt testing. Messy but effective.
Roof Shingles
Baby Mobile, fun to look at but beware of babies with long arms…

Just eat the darn stuff!
Thanks to all my friends/followers and family who came up with these awesome suggestions!
I'm sure you're looking for Passover recipes…
I'm here to help make it way easier for you and reduce your pressure with my book "Shabbos Under Pressure". I've found that using my electric pressure cooker to prepare for Passover, makes the cooking way easier and more efficient. For example, instead of cooking a huge pot of chicken soup on the stove for three hours, taking up valuable space on my stovetop, I can make even better soup in just an hour/hour and a half in my Instant Pot. I've even put together a Shabbos Under Pressure Passover Recipe Guide to help you convert the recipes in the book to Passover friendly recipes. If you don't already have "Shabbos Under Pressure" now would be a great time to order it to ensure that you receive it with enough time to plan and cook your Passover meals.
You can order it here: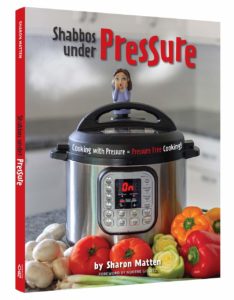 Here's the Passover Under Pressure – The Shabbos Under Pressure Passover Guide: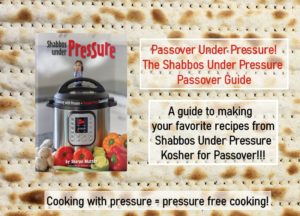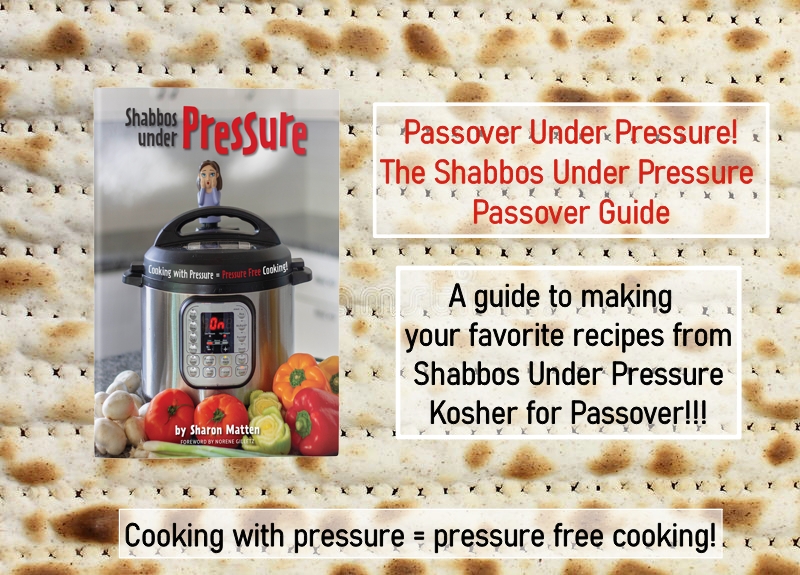 Make sure to follow Kosher Everyday on Facebook and Instagram so you don't miss the latest and greatest Passover recipes and fun from Kosher Everyday!