As I write this article, it's around 3 am and I'm enjoying the peaceful view out of my kitchen window. The first Chicago snow is gently falling, coating the sleeping world in a blanket of beautiful pristine white. By tomorrow we'll hear the neighbors shovels scraping the sidewalks outside, the ginormous street plows will have covered our cars with mounds of snow, and the infamous Windy City winter will be back in full force. But for now, I'm enjoying the beauty of winter in my hometown, Chicago.
So…last week I promised you more Chanukah Rice Latke recipes! The Rice Latke concept started with a desire to make latkes with something other than potatoes of any type. The possible ingredient combinations are endless. Endless! I promise just one recipe today…just one really, really, really good one!
Remember growing up, savoring the warm, cinnamony, sweet, rich rice pudding with plump juicy raisins peeking through the rice? Ok, so maybe it wasn't a thing in your house but it was in mine. Later, as I pretended to be an adult, I found a version of rice pudding in the refrigerator section of the grocery store…similar but SO not the same. When I started pondering different rice latke recipes, the Cinnamon Raisin Rice Pudding Latkes brought me back to a very favorite memory. Today's latkes are sweet, comforting, and delicious…imagine serving latkes for dessert!! I topped my Rice Pudding latkes with a scoop, or two, or three of cold, creamy, sweet vanilla ice cream. And when the ice cream started to slowly melt down the latkes, my diet went completely out the window. Sigh. Believe me when I tell you IT WAS TOTALLY WORTH IT!!!
If you have any special rice recipe memories, please send them to me and we'll transform them into Chanukah latkes!
Finally, I know that some of you will be spending your winter breaks in Israel this year, and I wanted to make sure to tell you about a special gem of a restaurant. Earlier this year, at the beginning of summer I was in Yerushalayim for the wedding of a very close family friend (or as we say – family!) and was looking for gluten free places to eat (the gluten free part is a story for another time). A bajillion people recommended going to the awesome Agas V'tapuach on Yaffo. I got there around lunch time and had the privilege of spending time schmoozing with the founder and owner of the restaurant, Jonathan Ottolenghi, an Italian Jew from Milan. It was incredibly fascinating talking with him, and I even got to video him talking about the development of his fabulous gluten free pizza. I'll include the video and photos at the end of the post, but I want to make sure that you include this restaurant in your plans. The gluten free pizza and pasta are outstanding and the standard, glutenous dishes are incredible. And BTW – this year I"H I'll be in Israel for the beginning of Chanukah…maybe we can meet for pizza!!
Please make sure to leave your comments and suggestions below!!!!
Print
Cinnamon Raisin Rice Pudding Latkes
Author:

Prep Time:

15

Cook Time:

45

Total Time:

60

Yield:

2

1

1

x
---
Description
These latkes are sweet, comforting, and delicious. Top with a scoop, or two, or three of cold, creamy, sweet vanilla ice cream. When the ice cream starts to slowly melt down the latkes…OMG!!!
---
2 cups

basmati rice

2 tablespoons

olive oil

1

large onion diced

4 cups

vegetable stock

1

15 ounce can coconut milk

1 cup

raisins

½ teaspoon

ground nutmeg

1 tablespoon

cinnamon

1/8 teaspoon

ground cloves

¼ cup

sugar

½ teaspoon

sea salt

3

large eggs

¾ cup

all-purpose flour (can be glu

ten

free)
olive or canola oil for frying
---
Instructions
Heat oil in a large pot over medium heat. Add onions and sauté until onions are clear. Add rice and stock and bring to a boil over medium-high heat. Reduce heat to low. Cover the pot and simmer for 15-20 minutes until all the stock is absorbed. Off heat and let the rice stand for 5 additional minutes. Fluff with a fork and allow the rice to cool.
Add the coconut milk, raisins, nutmeg, cinnamon, cloves, sugar, salt, eggs, and flour. Mix until completely combined.
Heat oil in a large skillet over medium-high heat.
Using a large soup spoon or ice cream scooper, scoop around 1/3 cup of rice mixture into the pan. Press the ball flat with the spoon or scoop making sure that the rice all sticks together into a latke shape. Repeat until the pan is filled with latkes but not crowded. Fry the latkes until the bottom is golden brown, then turn and repeat with the second side. Do not flip the latkes until they are golden brown or they might fall apart. Repeat with the remaining rice mixture. Serve hot with cool, creamy, vanilla ice cream.
---
Notes
You can use non-stick vegetable spray instead of frying in oil, while the latkes will be way less oily they won't be quite as crispy.
---
Recipe Card powered by
Making the Cinnamon Raisin Rice Pudding Latkes:
And now the bonus feature! Agas Ve'Tapuach & owner Jonathan Ottolenghi !!!
(please note: I did not receive any compensation from Agas Ve'Tapuach other than eating some excellent food!)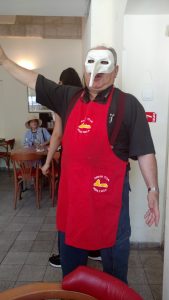 Final bonus…watch #10 sink the shot!